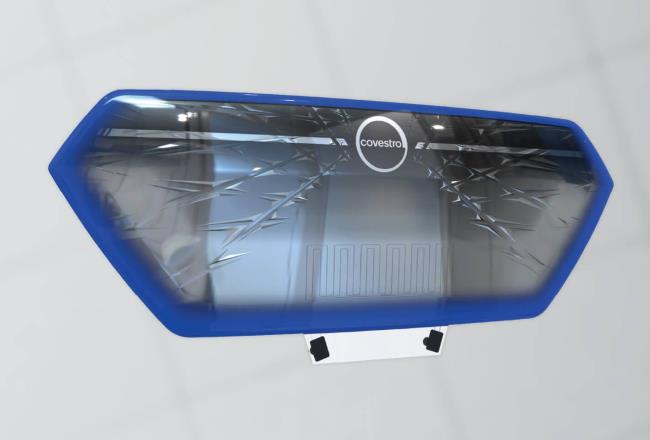 Story
Pioneering grille panel assembly is a designer's dream
With a solid track record of predicting automotive trends and technologies, we've earned the street cred, so to speak, to forecast what we'll all see on the road next. And what we see excites us. Our latest prototype grille panel assembly embodies our vision of the way cars will soon integrate look and function.
Bold and beautiful: Grille panel assembly wows with functionality and style
There is a phrase that states you can't have it all. Well, forget what you've heard, for when it comes to this Covestro grille panel assembly prototype, you can have it all … in fact, more than you've even imagined!
Crafted with industry leaders, this front grille checks all the boxes.
Looking for aesthetics? Check!
With a pioneering (non-metal) black-metallic and body color appearance on its seamless outer surface, this grille panel immediately turns heads. And we further amp up the "wow" factor by incorporating true 3D styling and signature lighting using integrated LED illumination systems for edge-glow, a hidden-until-lit logo and lightbar, and display.
Looking for functionality? Check!
With sensor integration, a radar module is hidden behind and operates through the metallic appearance of a film. Electronics are integrated, as well, with an embedded heating-wire system to aid display and radar performance. This fabulous functionality gives designers the freedom to achieve different form factors and part-to-part variation.
Let's zoom in!
A closer look at our grille panel's inner and outer panel subassemblies
There are four "layers" to the grille outer panel subassembly. Working outside to inside, they are: hardcoat; outer-film; outer panel; and inner-film. Here are a few more details:
Outer-film: Utilizes Makrofol® DE film from Covestro that can be printed in body color and metallic ink, creating a futuristic appearance. Electrical connectors molded of Makrolon® CTI are incorporated, making it a plug-n-play module.
Outer panel: Formed using dual film, film-insert molding and 2K injection molding (which couples it to the inner panel). For this element, Covestro uses Makrolon® AG polycarbonate. This high-purity material is tailored for coated transparent glass-like applications and is available in a wide range of additive packages and colors.
Inner-film: This element includes interesting material innovations that enable functional features. For example, the electronic busbar can be printed directly onto the inner film. Also, it has a metallic look, but is created using a polymeric material laminated with Makrofol® DE film.
The inner panel subassembly is the carrier for three modules —display module, lightbar module and radar module. This subassembly is formed from our mineral-filled Bayblend® material using a two-component (2K) injection molding process to couple it to the outer panel.
Here are a few highlights of these modules:
Lightbar module: embodying an outer cover, heatsink, optical system, seal and inner housing. The lightbar heatsink manages the heat of more than 100 LEDs and is formed from Makrolon® TC polycarbonate, offering a significant weight reduction (up to 40% compared to an aluminum heatsink) while still maintaining the LED-case temperatures within 2-3 degrees C of a cast aluminum heatsink
Display module: a self-contained unit including the display, seal and covers
Radar module: securely attached to the semi-structural Bayblend® inner panel
Innovation … at your fingertips
The grille panel assembly is just one example of the many ways that Covestro polycarbonates and technical expertise come together to drive automotive ingenuity. Hop in and join us on the journey to what's next!
In collaboration with industry leaders, we developed a grille panel assembly that seamlessly incorporates the latest electronics and mobility trends. This latest application illustrates how our enabling technologies bring future auto experiences to life.
Key Benefits
Functional integration In-mold electronics (IME) of LEDs and two-component (2K) film-insert molding technology combine style and function
Heat dissipation Maintain LED-case temperature with 2-3 degrees C of aluminum with Makrolon® TC polycarbonate
Consolidation Fewer parts, processes and materials are needed
Lighter by design Use of Covestro plastics reduces weight versus traditional materials
Design freedom There is no need to sacrifice style or functionality. You can have it all!