Story
Desmopan® UP for high-performance TPU car protection film
In the evolving auto industry, one desire persists – personalized style. Yet customization requires protection to maintain visual integrity. This is where our materials for paint protection films (PPF) provide the ideal solution. With Desmopan® UP, we help PPF provide 5-10 years of robust surface protection.
Car paint protection: Fast-changing and market-driven
The PPF market is accelerating at a robust pace, fueled not only by the booming auto market but also by rising consumer awareness that focuses on surface protection.

A flawless, high-gloss paint surface is a point of pride for many car owners. TPU-based PPF products have shown consumers the possibility of keeping their car paint immaculate. PPF provides comprehensive surface protection for automotive paintwork, shielding it from scratches, stains and the elements. Once an optional add-on, PPF has now become the preferred solution for most car owners who, apart from protecting the value of their asset, also see the potential of enhancing the price point when it comes to selling the car as a used vehicle.

There is also a clear trend toward personalized PPF products. Customers have distinct needs and preferences for their car paint surface.

Film processors understand that tailored solutions are key to best serving PPF brand customers and maintaining the leadership in this market. While the means of paint protection vary, car owners demand choices that strike a balance between durability and affordability.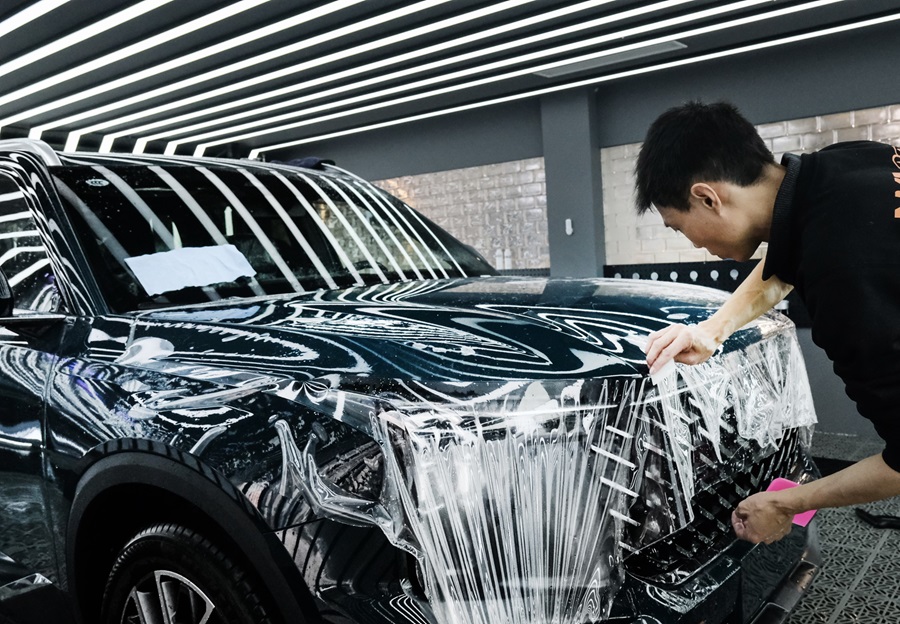 Inspiring material breakthroughs in vehicle surface protection through tried-and-tested insights.
PPF manufacturing is an integrated product development process focused on innovation. It relies on market insights, materials expertise, and value chain collaboration. Paint protection film systems add a protective layer that is nearly invisible onto a car body, and they are increasingly popular in mid to premium-class cars. PPF systems consist of a film core that is applied to the vehicle paint surface with an adhesive, along with a top coating and a protective liner on the new external surface.

Aliphatic thermoplastic polyurethane or TPU films have a clear advantage when it comes to ensuring PPF longevity and a transparent high-gloss appearance. TPU-based PPF has an estimated product lifetime of 5-10 years, while a protective film made of PVC has an expected 1-2-year lifespan.

The inherent physical and chemical properties of TPU make it ideal for PPFs to create top-of-the-line products. It's essential to go beyond just the base material. It calls for a thorough understanding of user needs, even co-creating with customers, to deliver what they really want. Additionally, having a reliable supply chain ensuring a steady material quality and availability is also vital for market success.
Desmopan® UP: Empowered advance PPF solution with durability, adaptability and aesthetics.
Desmopan® UP TPUs are the foundation of a TPU-based PPF solution that has been developed by Covestro. Through an agile innovation mindset and extensive R&D in surface protection, Covestro delivers customized polyurethane film solutions to customers in various industries such as wind turbine blade protection or smart device screen protection.

By leveraging strengths across the full value chain of diisocyanates, polyols and proprietary TPU production, Covestro provides end-to-end advantages in materials, processes and products. This empowers the rapid development of flexible, agile and highly innovative solutions.

Covestro's high-performance TPU portfolio provides a strong and efficient upgrade option for vehicle paint protection compared with other alternatives. Thanks to Desmopan® UP's enhanced and efficient surface protection, the paintwork continues to remain as good as new. Added value, customer satisfaction and an overall positive experience thus make Demopan® UP the preferred choice for car owners.

Desmopan® UP combines the physical durability of plastics and the flexibility of rubber. It maintains high strength and elasticity across a wide temperature range, boasting excellent optical clarity and resistance to yellowing.

These attributes allow PPFs based on Desmopan® UP to be easily adapted and integrated to fit a wide range of shapes and forms and achieve multiple surface finishes and effects. The films shield paintwork from scratches, swirl marks, UV rays and acid rain for 5-10 years, and even facilitate self-healing of minor blemishes and defects over time.

By delivering innovative and customized solutions to customers, Covestro is winning together with value chain partners to unlock an even greater potential of high-performance surface protection films.
"We believe that customers and the PPF market require not just material suppliers but also partners to jointly develop solutions. With our Desmopan® UP, engineered TPUs, and agile innovation capabilities, we're confident of delivering high-performance PPFs that are highly durable, adaptable and aesthetic. Covestro TPUs have the potential of being one of the preferred materials for PPFs."
Key Benefits
High optical clarity: Unparalleled adhesion presents paint gloss flawlessly.
Weather-resistant: Paint protection film resists yellowing, UV rays, chemicals, and acid rain.
Self-healing: The protective paint sealant fills in scratches and chips on the surface.
Design freedom: Superb color fastness and precise color reproduction enable more possibilities.
Durability: PPF using Desmopan® UP TPU provides up to 10 years robust protection against debris impact, damage and paint peeling.