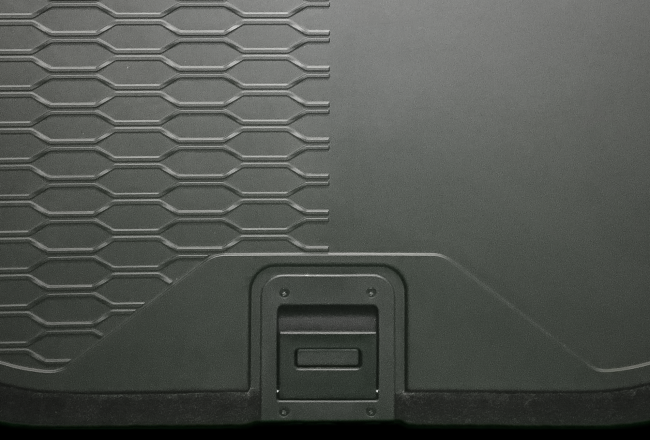 Story
Lightweight, durable surfaces for automotive applications
At Covestro, we offer a portfolio of polyurethane solutions that solve challenges facing the automotive industry. By collaborating with our industry partners, we keep a pulse on the changing needs of automakers and are continuously innovating to ensure that our solutions are up for the task.
Introducing U-SKIN, a polyurethane-based application for the North American automotive market
Recognizing the need for a strong, lightweight automotive component with a durable, tactile surface, our automotive team partnered with Valley Enterprises, a Gemini Group company, to address this gap. We teamed up to produce U-SKIN, an innovative material solution that integrates our Baypreg® and Bayflex® technologies. This combination of Baypreg® and Bayflex® results in a durable, lightweight polyurethane surface for automotive interior and exterior applications, including load floors.
Two innovative materials
Baypreg®

Baypreg®

The inner structure of the U-SKIN application consists of our Baypreg® "sandwich" composite, which is produced with polyurethane and reinforced with specialized materials. This high-strength honeycomb structure has been recognized by the market as extremely lightweight yet excellent in loadbearing capacity, meeting OEM load specifications while reducing the overall weight of the vehicle.

Bayflex®

Bayflex®

The Baypreg® composite is reaction injection molded (RIM) with our Bayflex® polyurethane elastic system. Bayflex® technology is specially-designed for the production of parts and surfaces demanding wear, friction and aesthetics benefits without sacrificing weight and mechanical properties. Producing a soft-touch, easy-to-clean surface, Bayflex® is extremely versatile and can be combined with other materials and finishes, such as carpet.
"This new U-SKIN technology has the potential to be used in a variety of automotive interior and exterior applications, and it will keep your automotive development at the forefront of industry trends like light-weighting and specialized surfaces."
Key Benefits
Lightweight: The honeycomb-structured interior of U-SKIN makes it incredibly lightweight, without sacrificing loadbearing strength.
Specialized Surface: Soft-touch, easy-to-clean, protective surfaces for automotive interiors.
High Traction: The surface of U-SKIN exhibits high traction compared to traditional carpet surfaces, minimizing the risk of cargo sliding during the ride.
Durable: Extremely wear resistant; water-, weather- and UV-resistant options also available.
Production: Integral B-side production process.