Story
Front end design makeover with polycarbonate
Shifting consumer tastes, autonomous technologies and electric vehicles are changing how cars look, particularly the front end design. Covestro is shining a spotlight on front end design with a forward lighting demonstrator and front grille concept.
Next-generation lighting

Automotive lighting is undergoing a major transformation that requires smaller and sleeker shapes, new thermal management strategies, reduced system costs, integration of advanced driver-assistance systems, and enhanced branding and aesthetics for automakers. Anticipating the challenges to bring new, advanced lighting solutions to market, Covestro is advancing materials, design and manufacturing processes to support automakers and tier suppliers.

The demonstrator showcases multiple forward-looking lighting components and supportive technologies including a dimensionally stable, two-component reflector with consolidated heat sinks; three-component collimator optic; integrated electronics such as a printed circuit board with LEDs; advanced edge-lighted and laser-etched surfaces; sensor integration; and progressive color and lighting options.

The demonstrator highlights the inherent advantages of polycarbonate for automotive lighting. Covestro offers a range of high-performance polycarbonate resins and polycarbonate blends with outstanding properties to meet the optical purity, heat performance, durability and processing needs for lighting applications.
The demonstrator's lighting components are designed with Makrolon® TC 8030, DS 801 and LED 2245 polycarbonate and combined with innovative designs, process optimization and part consolidation to result in a system that can be produced at reduced cost. Light weighting is also achieved with various techniques including part reduction, thin-walled designs and streamlined manufacturing processes. The innovative styling possibilities are on display with different light diffusion, transmission and color options.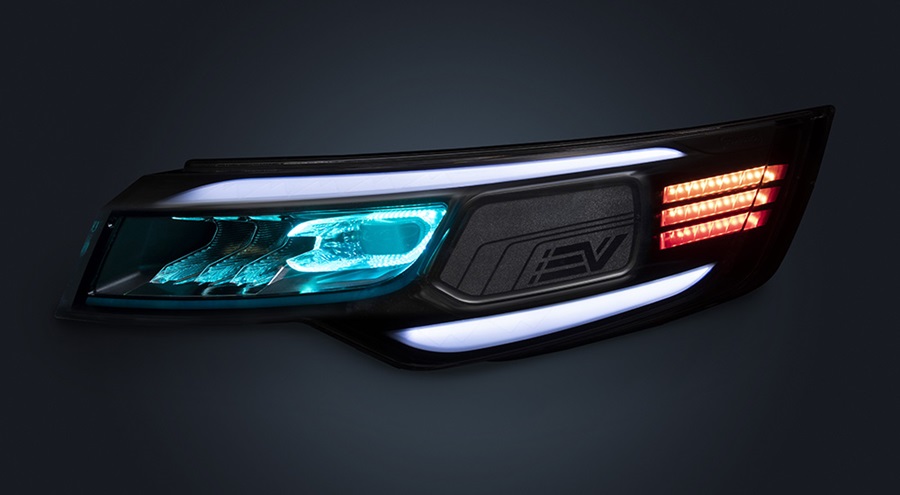 New 3D distinctive grille design
Grilles serve as the face of the car and are an important branding element for automakers. Electric vehicles require less cooling air, which means the classic, open front grille design that allows air to enter can be transformed to a closed grille, completely changing the look of a car. Signature light, 3D patterns and color effects can be integrated into front end designs by the use of a transparent and impact-resistant polycarbonate. The shift toward autonomous driving also requires sensors integrated into the vehicle's body to monitor its surroundings. In contrast to traditional exterior materials like metal or painted polyolefins, polycarbonate can hide sensors seamlessly without disturbing their operation.

The front grille demo part combines design with dynamic light and display integration. The seamless polycarbonate grille features a metallized 3D rear structure as a design element when not lit. With rear projection unit, the 3D structured front grille is a display for pedestrian communication. This highlights the unlimited possibilities of rear projection, which can also be used for high dynamic light effects or as a daytime running light.

The newly developed Makrolon® AG2677 ST grade in combination with the near-infrared (NIR) transmissive Makrofol® ST352 black tinted polycarbonate film enables seamless LiDAR integration into automotive exterior parts, including with silver printed design, and without post processing steps. The 2K molding technology shows opportunities for the integration of local light effects andholding fixtures for mounting or sensor integration.

Covestro developed technologies to seamlessly integrate functionalized films into the design. For instance, 5D film insert molding (FIM) combines rear 3D structures with color and decoration due to the design freedom enabled by printed Makrofol® films. Two-dimensional flat films are overmolded to create 3D shapes and provide high accuracy positioning on the B-Surface. Local dynamic heating of the mold enables a seamless partial integration of functionalized films on the A-surface and can be used for example for deicing to keep sensor areas clear.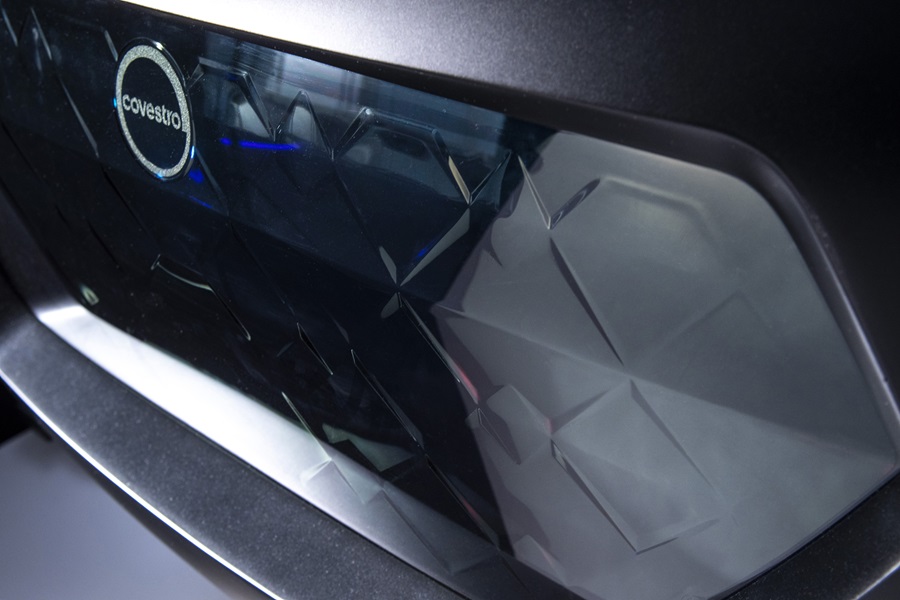 The forward lighting demonstrator and front grille concept explores new materials, design and processing techniques. Our polycarbonate portfolio meets today's requirements and we're proactively advancing it to meet the needs of tomorrow. Sensor integration, advanced thermal management and leading-edge styling are all possible with polycarbonate.
Makrolon® polycarbonate offers excellent heat- and impact resistance in combination with excellent transparency, surface quality and dimensional stability.
Lightweight polycarbonate materials provide high performance while reducing application weight.
Polycarbonate materials enable greater design freedom including the ability to customize light diffusion, transmission and colors.
Makrolon® polycarbonate and supporting production techniques allow for component and process consolidation.
Makrofol® Films enable freedom of design with printed dekoration.
Makrofol®ST is a special black version which could be also used for LiDAR application.