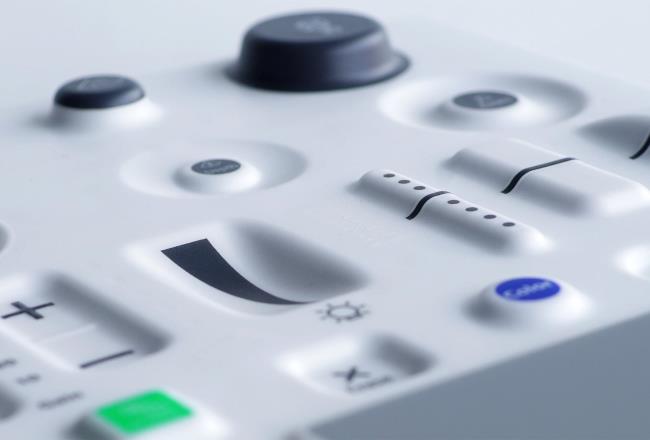 Case study
Makrofol® PC Film enables durable in-mold electronics (IME)
Our lightweight, scratch-resistant Makrofol® SR906 7-2 Polycarbonate Film enabled DuraTech Industries to apply in-mold electronics (IME) for the Watlow PM Plus™ industrial temperature controller. The PC film solution ensures a durable haptic touch surface on high-use, high-wear printed electronics.
DuraTech Industries is a worldwide supplier of high-quality custom label printing. The firm is now expanding into the commercial manufacturing of in-mold electronics (IME) components such as haptic touch control panels. This printed electronics technology must support effective, flexible human-machine interactions for DuraTech customers such as Watlow, a global supplier of industrial electric thermal solutions.

High-use control panels with buttons, sliders, sensors, and other haptic touch controls all demand molded plastic surface materials that work well with printed electronics. Beyond just attractive design, IME parts must offer an extremely reliable and robust substrate, for a uniform surface with no cracks or crevices where dirt and bacteria can accumulate. Controller device surfaces must be able to integrate conductive inks, LEDs, antennas and other electronic components, especially in automotive applications. The surface material must of course be scratch resistant and retain good aesthetics under heavy and repeated use in industrial surroundings.
DuraTech's customer Watlow was creating a new industrial temperature controller, the Watlow PM Plus™, replacing a legacy rubber button interface with a smooth haptic touch keypad. The new IME printed electronics interface had to couple simpler controls with simpler manufacturing, replacing cables with capacitive and conductive surfaces and inks.

In order to enhance the user experience, the challenge here was to deliver both responsive IME haptics and robust protection in the new temperature controller's surface material. Any consumer and industrial appliance made from a plastic mold must stand up to repeated use, scratching and handling, but at the same time, its responsive IME surface must also conceal any ribs, or sink marks from parts inserted beneath it. In search of a material solution for the Watlow PM Plus™ that would meet all these criteria, DuraTech turned to Covestro, who was able to offer the scratch resistant Makrofol SR906 PC Film as a suitable solution.
The PM Plus™ heat controller reduces the complexity of the front controls while eliminating dependence on cables and simplifying production. Makrofol® SR906 7-2 Film enabled DuraTech to configure a product for Watlow that offers an industry-leading user experience.
We developed Makrofol® R906 7-2 Polycarbonate Film specifically with in-mold electronics (IME) technology in mind. Its key innovation is a protective layer of flexible acrylic, which adds high scratch and chemical resistance and good aesthetics to the high processability of PC Films. It joins our wider range of durable Makrofol® PC Films which all offer tough, versatile surfaces that unite great formability and printability with high heat resistance over a wide temperature range.

Makrofol® SR906 7-2 features a velvet matte IME surface texture that enabled DuraTech to deliver an industry-leading user experience for the Watlow PM Plus™ heat controller. Fingers can smoothly slide across the UV resistant surface without sticking, as if it were glossy. The texture also hides sink marks, while the reverse surface of fine matte ensures printability.

The acrylic layer delivers chemical resistance to the cleaning agents used in industrial environments, while also withstanding scratching. At the same time, the IME-optimized film for printed electronics allows for lighter weight and reduced plastic part size, reducing the space and materials needed, with a corresponding reduction in CO2. Our team of specialists is available to help tune Makrofol® R906 7-2 Film for your printed electronics application.
* Watlow PM Plus™ is a registered trademark of Watlow Electric Manufacturing Company and is used by Covestro with permission.
We formulated Makrofol® SR906 7-2 Film specifically to meet an unmet need in the market. This textured film offers excellent graphics and a smooth touch surface, while hiding sink marks on the A surface. Printing electronics on our Makrofol® Film allows the part's weight and size to be reduced.
Key Benefits
Responsive haptics: Makrofol® R906 7-2 PC Film unites a good haptic response with a glossy feel.
Durable and flexible: A layer of protective acrylic enhances the flexible strength of polycarbonate.
Chemical resistance: A surface of Makrofol® SR906 7-2 stands up to chemicals and industrial cleaners.
Printing friendly A reverse surface of fine matte polycarbonate enhances the film's printability
Smooth: The acrylic velvet matte textured UV resistant surface also hides sink marks.