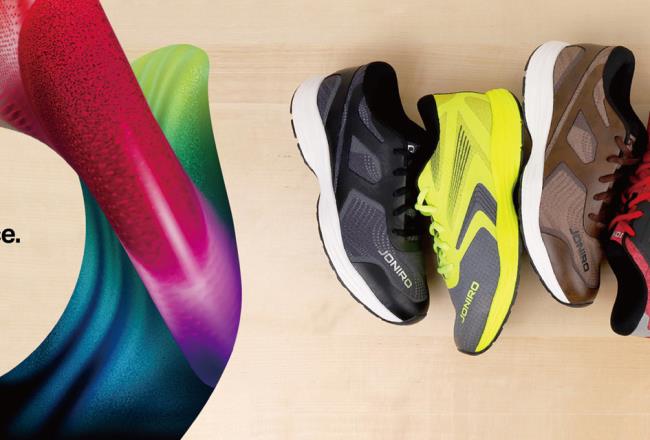 Case study
Chaei Hsin, a sustainable approach toward its circular economy vision
We developed a mass-balance certified Thermoplastic Polyurethanes (TPU) solution with Desmopan® CQ and Utechllan® CQ for our long-term partner Chaei Hsin, supporting this footwear manufacturer to better approach the circular economy. The collaboration not only caters to Chaei Hsin's demands for more sustainable materials but also brings our recyclable material innovations to a new level.
Chaei Hsin, a manufacturer of sustainable materials for customized running shoes, has long sought to bring creative design and comfort to its users, while taking sustainability into account. To incorporate the company's vision of a circular economy, Chaei Hsin needed to upgrade materials for its TPU film range and its sneaker brand Joniro® in a way that would uphold its original designs while adding sustainability and circularity. An ISCC Plus-certified mass-balance TPU solution from Covestro was the answer.
Chaei Hsin's previous attempts with other sustainable solutions incurred significant changes to the manufacturing process, which meant a high increase in costs, emissions, and defect rates, impeding its pursuit of a circular economy.
Nowadays as consumer's demand changing rapidly, it is crucial for Chaei Hsin to quickly adjust its supply chain and resource to better meet market needs. So they were in need of sustainable solutions that can help them raise productivity and efficiency.
To achieve circularity, we aim to realize complete transparency and help our clients in reducing their own carbon footprint. With mass-balanced certification, we now offer a drop-in solution that can instantly implement in the existing production processes without the need for technical modifications.

We developed an ISCC Plus-certified mass-balance TPU solution made with Desmopan® CQ and Utechllan® CQ for Chaei Hsin. The solution boosts its running shoe's sustainability and sharpens the brand's competitive edge in the consumer market, while also contributing to diminishing the environmental impact.

Featuring a varying share of bio content while delivering identical physical properties and quality performance, the Desmopan® CQ and Utechllan® CQ portfolio, as a more circular offering, is the ideal substitute for fossil-based materials. Chaei Hsin no longer has to make additional technical adjustments to reduce production loss while maintaining product quality. Under the existing manufacturing system, Chaei Hsin can now directly adopt sustainable materials from bio feedstocks attributed via the mass-balance approach, which can be directly adopted in production lines or manufacturing parameters, in line with Chaei Hsin's vision of a circular economy.

Our Desmopan® CQ and Utechllan® CQ series offer exceptional resistance to hydrolysis, radiation, oil greases, abrasion, solvents, and weathering, which provides excellent surface protection for Chaei Hsin's sports shoe brand, Joniro®, assisting Chaei Hsin to satisfy customer high demands for more personalized, comfortable, sustainable shoes.
"Covestro is our our long-term and trusted partner. We are pleased to now also use the new, more sustainable materials to protect our environment. Covestro's mass-compatible TPU solution has effectively solved our current challenges, and we can't wait to use more of Covestro's more sustainable materials to further transform our product portfolio."
Key Benefits
Sustainability The feedstock is generated with recycled plastics and biomass feedstocks, reducing plastic waste and practicing circular economy.
Durability Exceptionally good in resistance to hydrolysis, resisting radiation, oil greases, oil greases, abrasion, solvents, and weathering, providing excellent surface protection for sports shoes.
Drop-in No adjustments needed for existing production lines or manufacturing parameters with drop-in application.
Partnership Seamless cooperation with value chain partners to offer sustainable materials to the footwear industry while contributing to a circular economy.
Proximity to footwear manufacturing These new Desmopan® CQ and Utechllan® CQ series are produced in mainland China and Taiwan, ensuring shorter lead time and local technical support to the footwear value chain.