Story
Debonding for PU-glued laminates enables higher value recycling
To open up more circular, high value recycling streams for multi-material packaging which was not accessible for recycling, we have tested new debonding technologies for polyurethane (PU)PU-glued multi-material laminates that enable the separation of the layers in flexible packaging at the end of its useful shelf life.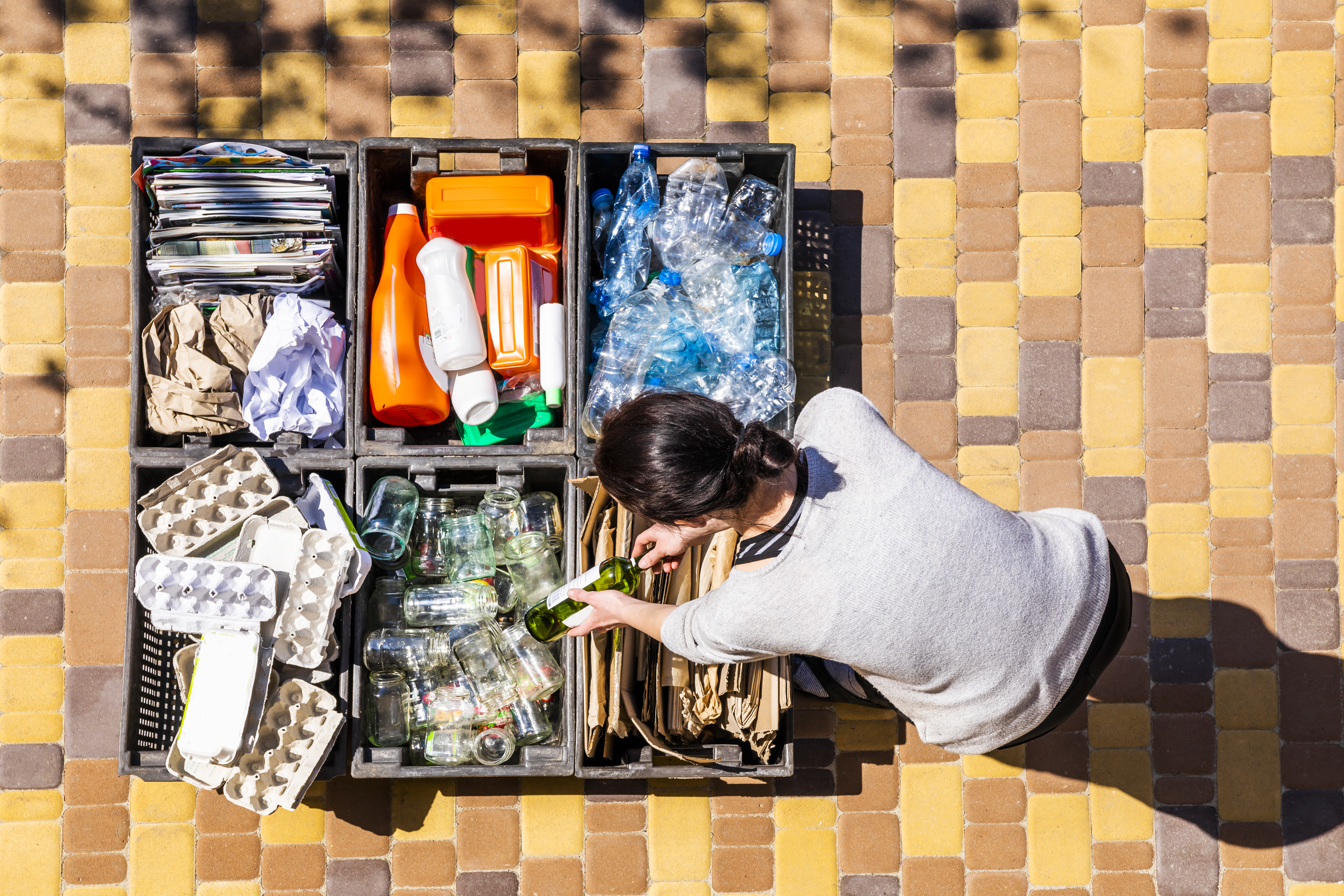 Multi-material PU-glued laminates: the key to popular efficient flexible packaging
Busier lifestyles and more single households are the clear trend in many industrialized countries. Consumers are demanding more convenient small portions and time-saving solutions in packaging. Flexible packaging is the most widely used form of packaging worldwide, offering a wide variety of formats to suit meals, snacks and other household consumer goods such as soaps and shampoos.

With flexible packaging, products can be packaged in easy-to-open pouches with built-in resealable flaps. Heat-resistant pouches and boil-in bags make it easier to prepare meals quickly. Crunchy chips, roasted coffee beans and crisp green salad can all retain their freshness.

Creating this sort of flexible and lightweight packaging means combining multiple layers as efficiently as possible to cover the range of required functions. Each layer in composite or laminate packaging solution must deliver on a specific set of performance criteria, from high chemical and temperature resistance to the ability to withstand harsh sterilization or a wet-filling processes. These multi-material laminates typically have been designed to maximize efficiency in the production, logistics and use phases.

PU adhesives enable a strong bond of several substrates in a single laminated packaging solution that can meet these challenging functional requirements. PU-glued laminates allow for effective and convenient flexible packaging.
We know how to form a strong bond using PU, and we also know how to make PU-glued layers easier to separate. We are utilizing this knowledge to help companies throughout the value chain to better exploit the residual value found in multi-material laminated items.
Flexible packaging dilemma: High efficiency versus difficult recycling
Every packaging format comes with specific advantages and disadvantages. Multi-material flexible laminates perform well in protecting the packaged good while using a limited amount of material. These thin, flexible packaging solutions are also beneficial for logistics chains, as laminates can also be transported more efficiently, lowering fuel consumption and reducing CO2 emissions.

Manufacturers are constantly looking for ways to optimize their packaging. Our raw materials for PU lamination adhesives help them stay competitive in the fast-paced flexible packaging market, while also meeting the strict EU guidelines for materials that come in contact with foods. When it comes to food safety, our proven raw materials for PU adhesives satisfy the strict requirements for food contact materials defined in Regulation (EC) 1935/2004.

However, flexibility and convenience also come with a flip side. Each material in a laminate solution has its own specific properties, and these layers are engineered with a strong bond to ensure high performance. After consumer use, it has been difficult to separate these layers for recycling, or to make them accessible for circular material streams. Instead, multi-material laminate packaging often ends up in landfills or gets incinerated.
In our lab, we assessed a range of different options for debonding PU laminates. Now we need to show that these good results are scalable. This is something we can only achieve in collaboration with partners along the value chain.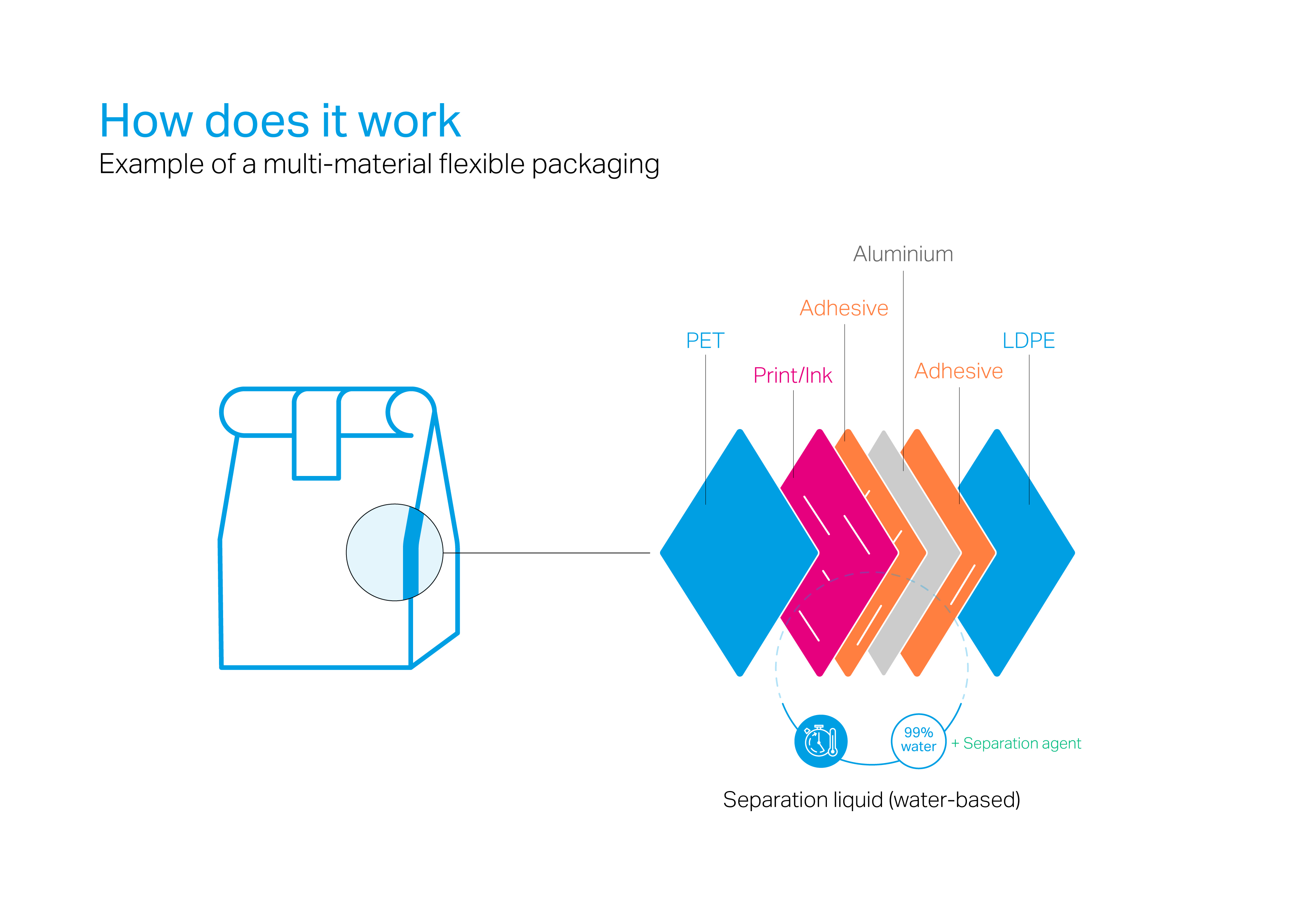 Debonding technologies make PU-glued multi-material laminates more circular
Manufacturers face the dilemma of rising consumer demand for recyclable packaging, yet also the desire for greater convenience. Drawing on our extensive polyurethane know-how, we have investigated solutions to the flexible packaging recycling dilemma. Our debonding approaches make it easier to separate the layers in multi-material laminates.

In our lab, we assessed a range of different options and found a way to separate PU-adhered layers in a comparatively mild environment using a combination of water, natural substances and heat. The separated individual materials can then be placed into relevant recycling streams to create higher value recyclates.

Achieving a fully circular economy is what drives our innovation efforts. Our results in debonding multi-material laminates show that these materials can be separated effectively. We are now seeking forward-thinking partners in the value chain to scale up the debonding of packaging laminates for higher value recycling streams.
Implementing a more circular economy means accelerating the transition from many different angles, not just in our own company. Developing more sustainable products, harnessing alternative energies, and making more materials available for recycling processes requires many other forward-thinking partners.
Key Benefits
Convenient: Resealable, individual-sized flexible packaging can be recycled easily.
More circular: Materials that were cut off from recycling streams can now be kept in the recycling loop.
Easy separation: Our PU debonding technologies rely on water, natural ingredients and heat.
Higher value: Separating high-performance packaging materials yields valuable recyclates.
Cuts waste: Debonding can prevent multi-material laminates from ending in landfills.