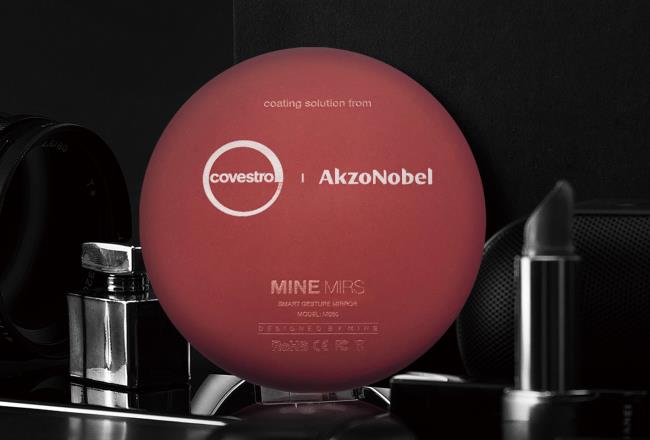 Case study
Silky touch and matt effect to rear covers of MINE smart mirror
Consumer electronic products are keeping upgrading with each passing day. With a rapid development of 5G network technology, smart and portable products have ushered in a new era of development opportunities.
In addition to high-tech functionality, consumers are expecting also fashionable appearances on new generation -products. As the protective outer layer of electronic products, coatings decide the appearance and texture of products thus have become one of the key focuses of the innovations in consumer electronic industry. Following the CMF trend, Covestro is driving innovations on coatings from raw material perspective and launched waterborne raw material solutions for soft-touch matt coatings. Covestro is collaborating with industrial partners along the value chain to accelerate the application of innovative coatings in end-product brands. The solution was successfully applied to MINE smart mirror back cover, demonstrating the changes in product appearance brought by innovations in coating raw materials, to inspire brands to explore more potential applications.
In recent years, most consumer electronic products have adopted a bright and colorful design style, which consumers tend to now find aesthetically less exciting. Consumer electronics brands are seeking unique aesthetic solutions in order to lead new fashion trends. Covestro is paying attention to consumers' favor of, and demand for, a soft feel ,and luxury matt style, and is innovating from the raw material perspective to launch a coating system with a customizable touch and matt effect to satisfy the diverse needs of consumers. In order to facilitate a fast product innovation in consumer electronics industry, Covestro has accelerated the application of raw material innovations in end-products by cooperating with value chain partners and brands together to drive new trends in appearance and texture for consumer electronics.
The increasingly diverse applications of consumer electronics result in higher requirements on the quality and appearance of coatings. Taking MINE smart mirror as an example, as a portable fashion item, its exterior coating not only needs to be durable to resist all kind of wear and scratches that may be caused during frequent usage, but also needs to abide by current fashion trends. As a coating raw material provider, Covestro needs to based on actual usage requirements and various application scenarios to provide customized solutions to help brands differentiate in the market, that could be not served by only one single formulation. Covestro needs to deliver fast innovations based on rich product portfolio meanwhile timely transfer the innovations into applications in end-products in order to facilitate the upgrading needs in brand to cater to consumers' tastes in surface finishing, e.g. touch feel and gloss, to lead fashion trends.
Covestro's raw material system for waterborne PU soft-touch coating, with its excellent performance and customizable haptic effects, is ideally suitable for more eco-friendly paint products.
Covestro's waterborne PU soft-touch coating solution has many advantages. High-performance Bayhydrol® and Bayhydur® PU aqueous dispersion is specially designed for two-component (2K) polyurethane coatings, which Significantly reduce the volatility of organic solvents, thus are safer for operators and end-users. Polyurethane provides excellent anti-fingerprint, anti-scratch, and abrasion-resistant properties, making the coating very durable.
In addition, at Covestro we have a rich product portfolio, enabling us to customize the coating systems with different haptic and gloss effects according to customers' preferences. We bring silk-like, velvet-like, or leather-like touches to product surfaces and provide various matt effects, allowing different appearance designs to lead fashion trends.
At Covestro we actively promote the applications based on our innovations in raw materials into downstream market, by cooperating with AkzoNobel, a well-known coating manufacturer in the industry value chain, to shorten the innovation cycle. We apply the waterborne polyurethane soft-touch coating, with silky touch and luxury matt finish to the rear cover of MINE smart mirror.
The mirror's back cover and light ring are made of Markolon® polycarbonate from Covestro. This material has a combination of properties designed to meet customer needs for mechanical, aesthetic, and environmental performance. The Makrolon® in the back cover contains up to 75% post-consumer recycled (PCR) content, with source certificates endorsed by TUV. This PCR-based PC has comparable mechanical performance to virgin PC. The light ring uses Markolon® RE. Because it has identical mechanical performance to virgin PC, Makrolon® RE is excellent for this optical application. At the same time, it can enable a potential up to 100% reduction in carbon emissions compared with virgin PC, at limited switching costs. In this way, both Makrolon® materials help customers to achieve their sustainability goals.
These innovations enable customers to address multiple market needs. The soft-touch, matt-surface coating solution creates a fashionable, premium look and feel, enabling customers to lead the color, material, and finish (CMF) trend. Out low-VOC, waterborne solutions and our efforts to integrate PCR material also help customers to meet growing demand for improved sustainability. Finally, our strong collaborations with original equipment manufacturers (OEMs) can shorten innovation cycles, as demonstrated by the fast completion time of this project.
PCR and RE solutions provide a mechanical and aesthetic performance that is comparable to virgin PCR and help us to further achieve more sustainable goals and still maintain competitive costs.
Why can Covestro's waterborne super matt soft-touch coating solution create unique out-layer for MINE smart mirror rear cover?
Coatings with a customized haptic effect, driving the fashion trend on luxury matt: The Bayhydrol® and Bayhydur® series with rich product portfolio can satisfy the customization needs on tailor-made coating systems with different finishes, giving product surface silk-, velvet-, or leather-like haptic effects and tunable light or supper matt gloss to enable a luxury appearance, help product differentiate from competing products.
waterborne system: more sustainable and low odor High-performance Bayhydrol®, and Bayhydur® PU aqueous dispersion is specially designed for two-component (2K) polyurethane coatings, which greatly dramatically reduce the volatility of organic solvents, thus are safer for operators and end-users.
Durable protection: anti-fingerprint, anti-scratch, wear-resistant The coating formulation based on a polyurethane system can provide advanced physical properties, which gives the coating excellent anti-fingerprint, anti-scratch, and abrasion-resistance properties, helping the mirror surface stay as shiny as new.