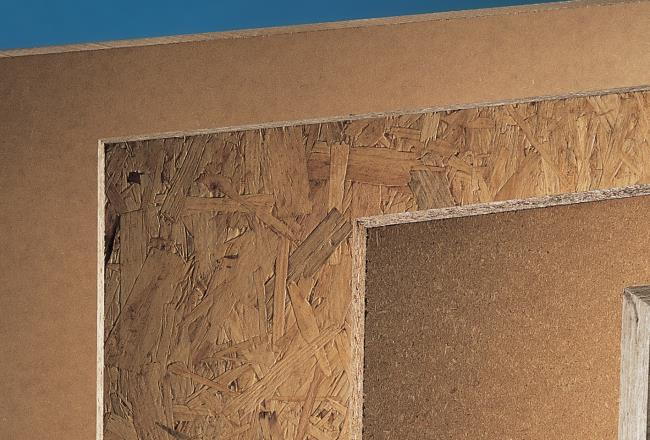 Application
Construction, wood & furniture: Proven binders for engineered wood assembly
Polyurethane binders offer outstanding material performance and productivity for engineered wood products. Our raw materials for polymeric MDI (PMDI) binders are based on decades of expertise and our longstanding collaboration with partners in the furniture, wood and construction industry.
Featured Brands
Polyisocyanates for a wide range of PU foams, coatings and adhesives
Key benefits
High strength: Excellent mechanical strength and a high strength-to-weight ratio.
Durable: Outstanding long-term stability under permanent load.
Fast curing: Fast-curing binders, even at low temperatures, for greater productivity.
Sustainable: Non-water soluble, emission-free gluing. No added formaldehyde.
Customizable: Suitable for the manufacture of specialty products (e.g. beams and LVL).
Polyurethane binders provide a versatile and efficient solution for the manufacture of engineered wood products such as OSB, MDF, chipboards, molded particleboard and lightweight wood fiber insulation. Our high-performance Desmodur® polymeric MDI (PDMI) binders have been used throughout the industry for more than four decades. Thanks to strong bonding with wood and other plant-based fibers, Desmodur® creates a tough, durable construction during the pressing stages. Highly crosslinked polyurea elastomers yield moisture-resistant sheets and moldings for increased protection against thickness swell. Fast-curing PDMI-based binders are also compatible with lower temperatures so manufacturers can benefit from increased productivity and energy savings as well as a more stable processing window. High-strength, economical PU-bound panels are suitable for outdoor applications and emissions-free indoor use.