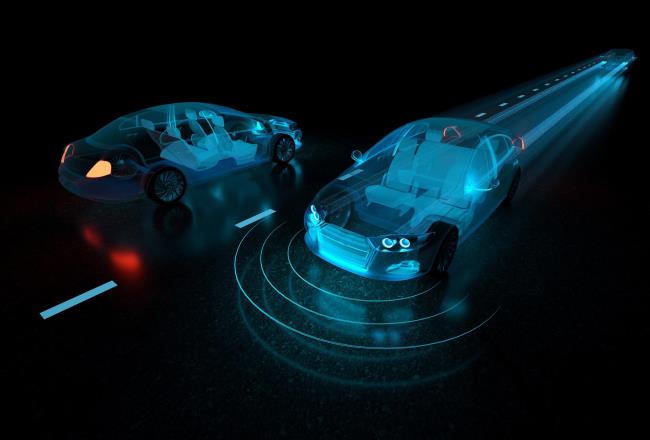 Case study
De-icing for LiDAR sensors: Canatu CNT and Makrofol® PC film
Light detection and ranging (LiDAR) systems are vital for autonomous vehicles, but ice, snow and fog can obstruct their ranging sensors. Together with Canatu, we developed a sensor cover lens made of Makrolon® AG polycarbonate resin with an integrated film heater on Makrofol® PC film.
Autonomous vehicles depend on light detection and ranging or LiDAR systems for unimpeded navigation. Their laser pulse sensors continuously map the vehicle's surroundings, detecting objects and quickly measuring distances and elevations with high accuracy. Unobstructed LiDAR sensors and 3D mapping make self-driving cars possible.

In contrast to RADAR which uses radio waves for remote sensing, LiDAR systems use pulses of laser light to create a 3D map of a vehicle's immediate surroundings. This means that winter weather presents a particular challenge for a LiDAR sensor's field of view (FOV). The buildup of ice, snow and fog on the cover lens can disrupt the continuous light detection, measurement and 3D mapping that autonomous vehicles rely on. In harsh weather, this loss in accuracy could even affect the detection and safety of nearby pedestrians.

Canatu is a global leader in carbon nanotube technology (CNT), with a focus on creating industry-transforming products for the automotive and semiconductor sectors. By jointly engineering a production-ready heated LiDAR cover lens that stands up to harsh winter weather, we are ensuring the measurement accuracy of the LiDAR data stream. This in turn enhances the reliability of the 3D mapping process, enabling autonomous driving in any weather.
By combining Canatu's expertise in carbon nanotubes and flexible transparent film heaters with our own in-depth knowledge of thermoplastic polymers and the film insert molding (FIM) process, we were able to achieve excellent results.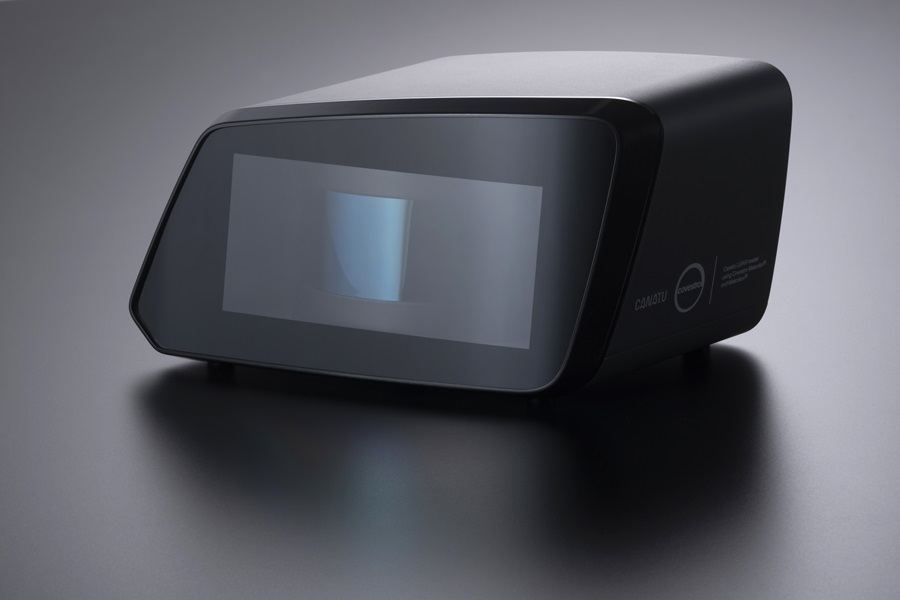 In the automotive industry, polycarbonate (PC) is a widely used material for optical lenses. This robust and lightweight alternative to glass is flexible enough to be molded into almost any shape. It has high heat stability and meets the demanding laser light transmission requirements of remote sensing LiDAR systems.
For laser sensor cover lens surfaces, 3D formed polycarbonate films provide excellent light transmission and diffusion, and can also be integrated with electronics, lighting, switches, and controls. This makes PC films ideal for LiDAR sensor cover components in autonomous vehicles.
The specific challenge here was to create a durable and lightweight sensor cover lens with an integrated film heater featuring high LiDAR transparency in the near-infrared range along with effective de-icing. The sensor cover lens required fast, evenly distributed, and energy-efficient de-icing over its whole surface. The heating process had to work without causing any optical distortion or deflection of the laser pulse signal which could impede the remote sensing and 3D mapping process needed for autonomous driving. In addition, the heated, transparent cover lens component had to be manufactured using a cost-efficient, easily customizable film insert molding (FIM) process.
The trend towards electric mobility and assisted driving creates a need for more functional exterior components. Maintaining a high-quality data stream from front integrated LiDAR sensors under all conditions is paramount. Canatu offers a promising technology for tackling this challenge.
In our joint solution, a Canatu carbon nanotube film heater is fabricated on Makrofol® polycarbonate film. This wire-free, integrated film heater provides high transmittance, highly effective de-icing and even heating over the entire sensor cover surface, without any optical distortion or negative effect on laser light detection performance. The heater can be flexibly tailored to match a customer's optical needs, heating performance criteria or brand design across a range of input voltages. The Makrofol® PC surface film offers high heat resistance, along with LiDAR transparency in the near infrared range and inherent 3D formability.
The LiDAR sensor cover lens was manufactured using film insert molding (FIM), a one-step process where the Canatu LiDAR heater on Makrofol® PC film was shaped and trimmed before being placed in an injection mold and back injected with robust, lightweight and laser transparent Makrolon® polycarbonate resin to provide the component structure.
The FIM process eliminates the need for multiple individual steps in creating functional plastic parts, and the demonstrator is already proven for production scale-up. The heated LiDAR sensor cover lens can also be further optimized with anti-reflective (AR) or hard coatings (HR) on the back and front surfaces, and Makrolon® AG or AX resin can be used to achieve different visual appearances without impacting the near infrared transmission rate of the lens.
The final molded component is strong, lightweight, LiDAR permeable and completely wire-free, ensuring the sensor's field of view (FOV) is free of ice, snow and fog. This enables high-accuracy remote sensing, measurement and 3D LiDAR mapping, and increased pedestrian safety when self-driving cars encounter snow and ice.
Uniting our expertise in thermoplastics with Canatu's CNT transparent film heater in this LiDAR sensor cover lens makes autonomous driving and LiDAR systems more reliable in harsh weather.
By combining Covestro's expertise in optical-grade polymers with Canatu's unique CNT film heater technology, we have jointly developed a functioning LIDAR cover lens combining high optical properties with effective heating. Together, we are enabling autonomous driving in any weather.
Key Benefits
High transmittance: The LiDAR cover lens has high transmittance at near infrared wavelengths.
Wire-free: Canatu film heaters are transparent yet conductive across the entire surface.
Even heating: Even heating keeps the sensor cover surface clear in all weather conditions.
3D formable: PC film substrates can be formed into any shape and processed using FIM.
Reliable: Our joint demo heated LiDAR cover lens provides automotive-grade reliability.