Story
Visualizing in-mold electronics
Swappable electrical and electronics (EE) demonstrator covers show our customers how in-mold electronics (IME) can be integrated into their applications. Embedded electronics will allow future plastic devices to become smaller and more intuitive for users.
Combining cutting-edge technology with advanced material solutions
The electronics we love are made possible by electromechanical components that are often bulky, made of non-matching materials, and carbon intensive. IME aims to make this hardware thinner, lighter, more reliable, and more sustainable. Seamless, smart surfaces are no longer simple enclosures, but can now incorporate embedded buttons and switches, lighting for visual communication, or screens that are hidden until needed. In addition to this, it is easy to achieve infinite customization thanks to a range of aesthetics and color, material, and finish (CMF) choices.

These features will allow future EE and Internet of Things (IoT) devices to become smaller, smarter, and even more intuitive, enabling better user interaction.
Showcasing a range of covers
Every application comes with unique requirements. Covestro has worked with its global engineering teams to develop multiple demonstrator covers, which work in tandem with our universal demonstrator base. Each cover integrates various functionalities, bringing different options to life for our customers. We have also identified technologies, material processing conditions, and processors that take the guesswork out of embedding IME in future IoT applications. Our goal is not only to assist our customers in visualizing how IME can take their applications to the next level, but also to help them with materials, technologies, and processing recommendations. As always, our customers profit from our global Covestro network of technology and innovation partners.
Introducing the Nighthawk
One example is the exquisitely designed Nighthawk demonstrator cover. We collaborated with TactoTek to create it, using Makrolon® polycarbonate resin and Makrofol® polycarbonate films. It features an OLED screen, capacitive touch buttons, and a slider, as well as vertical and side-firing LEDs, all integrated within a super-thin, sealed, polycarbonate structure.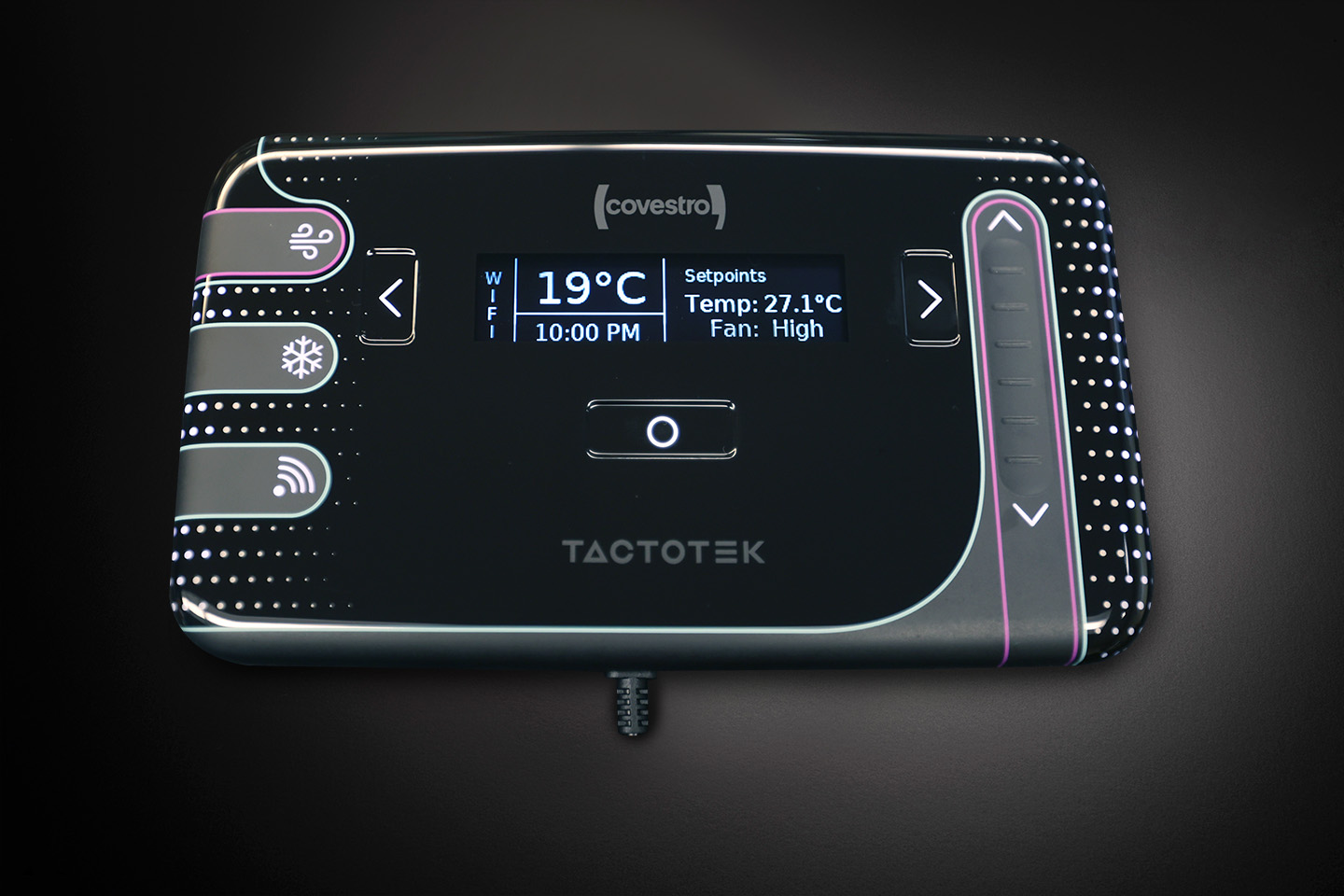 Aesthetics and CMF
At Covestro, we know the importance of aesthetics and CMF in device applications. We have an interconnected network of Color & Design Centers spanning the globe, and we provide cutting-edge color research and trend reports to assist our customers in delivering the most appropriate look and feel for their hardware.

But our solutions are about doing good as well as looking good. We also work hand in hand with designers to deliver material solutions that make important contributions to sustainability and circularity.
Beating the heat
As devices shrink while gaining added electronic functionality, engineers have to counteract the risk of increased heat generation in smaller spaces. Managing heat efficiently is important for prolonging the lifetime of electronics, batteries, and LEDs. The Covestro portfolio of thermally conductive (TC) materials enables passive cooling in a lightweight solution, which can help dissipate heat cost-effectively, even in complicated geometries. Our global engineering team has broad experience in providing proven TC solutions to our customers across diverse applications.

Circularity in focus
Consumers are demanding that future IoT applications make positive contributions to the circular economy. In response, we offer various options to help our customers reach their circular objectives. These solutions embody one or more of our Circular Design principles.
Customers can benefit from our circular and more sustainable materials, which are made using renewable resources and renewable energy, or they can select materials that feature post-consumer or post-industrial recyclates. Our plastics can feature intricate graphics or avoid inks completely, instead employing pre-colored polycarbonate combined with micro-texturing. Together, we will find the optimal solution, no matter your needs.
For that, engineers and designers need to balance multiple factors, delivering IoT devices to delight consumers. These factors include flame retardance, circularity, aesthetics and CMF, easy repairs or upgrades, good signal transmission, transparency to various sensor wavelengths, heat management, disinfectant resistance, and more – all wrapped up in an ever-smaller package to make a safe, robust material solution. Covestro can help deliver elegant and cost-effective solutions to make your applications shine!