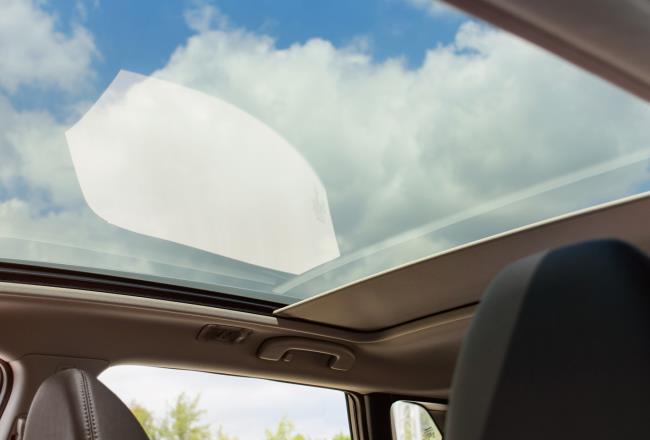 Story
Controlling automotive interior lighting with roll-up shades
Covestro Dureflex® and Platilon® TPU Films add flexibility and opacity to the textile lamination construction of automotive roll-up shades.
Panoramic sunroofs are becoming increasingly more popular and offer a roomier feel to car interiors. However, controlling the amount of sunlight entering the vehicle is an important consideration, as too much sunlight can lead to overheating of the cabin.
Therefore, roll-up shades are employed to reduce sunlight when needed by closing the shade and allowing light in, thereby lighting the interior, as the shade is opened.
In the past, sunroofs used a rigid sliding shade, which limited mobility as well as the potential size of the sun- or moonroof. As structural elements of the vehicle changed, large panoramic sunroofs were made possible. However, a new design was also needed for the shade, to improve its functionality and the amount it could potentially open.
A new concept utilizing thermoplastic polyurethanes from Covestro
A challenge that many automotive manufacturers face is finding the right materials that meets design and performance requirements. In the case of panoramic sunroofs, the ideal material must act as a hot melt and bond to the fabric being utilized, which is typically a polyester fabric. The film must also be able to keep its properties over a wide temperature range and must be of high quality. The film must also be thin enough to reduce the roll-up space, yet opaque enough for sunlight control. Finally, the film along with the fabric must meet the FR requirements for specification MVSS302.
Dureflex® and Platilon® thermoplastic polyurethane (TPU) films from Covestro offer high-performing material solutions for modern sunroof requirements. TPU film is a tough and durable material that is typically used for fabric lamination, making it an excellent choice for roller-shade applications.
In the past, when straight woven textiles or fabrics were used, light was able to pass through. This solution is acceptable in some climates, but not all. Roller shades made with a composite textile and opaque TPU film address this issue. These sandwich constructions are flexible and retractable on guide rails to the roller shaft hidden at the rear compartment of sunroofs. A small servomotor controls the shaft position and how much the shade is open or closed.
A new roll-up shade demonstrator was recently developed by Covestro and Loomia Technologies®, showcasing the integration of lighting and heating into the shade. This idea is more relevant now, considering the rapid adoption of electric vehicles. Since you will no longer have an internal combustion engine to generate heat, smart surfaces will be needed to bring comfort into the interior.
A range of appealing properties
Films from Covestro offer several appealing characteristics for automotive sunroof and moon-roof applications. Our Platilon® or Dureflex® TPU films can be used as textile laminates for sun protection in automotive sun roofs. They effectively block out sun and can be easily integrated in small spaces. Highly flexible, roll-up black-out TPU films also make it possible to create large-surface sunshades These textile-laminated films are lightweight and flexible. They manage light, save weight and decrease volume, when compared to the older slider-type shades. Covestro offers both flame-retardant and non-flame retardant TPU films suited for different construction designs and specification requirements.
Dureflex® PS8010 film is a UV-stabilized ester, 75 µm film available in grey or black, which passes MVSS-302.
Platilon® U and Platilon® BO are 25-75 µm thermoplastic polyester-polyurethane with PE-carrier. They are available in night black color and equipped with flame retardants.
These films are capable of being thermally laminated between the two textile layers or to one side of the textile and having a matte appearance to simplify the roll-up shade construction, thereby eliminating one textile layer.
Key Benefits:
Extremely lightweight and flexible TPU film thickness as low as 25 micron film after lamination with textile
Enhanced thermal bonding properties Low melting temperature aids fast bonding and color stability
Optimal sun blocking Color additives increase opacity