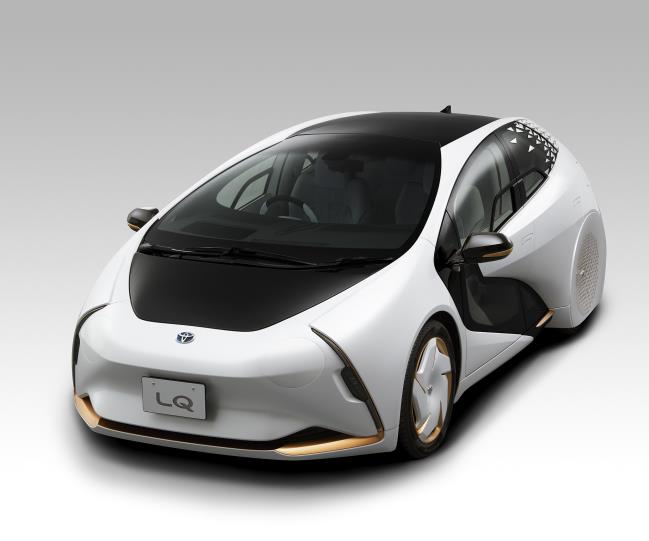 Case study
Black panel to lighting display: car hood with Makrolon® AG
The Toyota LQ is a futuristic working concept car that combines battery electric power with intelligent autonomous driving. Toyota chose tough Makrolon® AG (Automotive Glazing) for a transparent, lightweight car hood that can switch appearance between a seamless black panel and colorful display signage, which is an optional feature offered for the Toyota LQ. Covestro provides tailor-made exterior design solutions to customers with Makrolon® AG.
Our love affair with cars is stronger than ever, so the future of driving will be shared, autonomous and electric. The Toyota LQ is a battery electric concept car that offers a driving range of approximately 300 kilometers along with seating for four occupants. This innovative model features a sleek body design that promotes closer communication between the driver, the car and its exterior surroundings.

As the distinction between glazing and automotive exterior body panels starts to blur, Toyota's objective was to create a seamless, glass-like transparent panel that would appear black in the daylight, while also concealing signature lighting and an exterior display under the bonnet. Like all automotive exterior parts, it also needed to deliver resistance to scratches, abrasion, corrosion, impacts, and UV light.

Polycarbonate plastics such as Makrolon® AG and Makrolon® AG ST were a logical option to consider for automotive parts that need to combine attractive exterior design with impact resistance and transparency, free-form glazing for surface lighting, displays or sensors, but deliver these properties without the added weight and fragility of glass. For lightweight electric models, Makrolon® polycarbonates offer exterior design solutions.
In autonomous driving mode, the Toyota LQ model can communicate directly with pedestrians by displaying a message on the front hood panel. The core challenge was to create a glass-like exterior body part that could conceal the backside display in the panel completely whenever it is switched off, appearing black even in bright daylight, but also ensure high visibility and contrast for the signage beneath the polycarbonate panel whenever it is switched on.

At the same time, the exterior polycarbonate glazing solution demanded a neutral density that would not filter or alter the color of the underlying transmitted light, regardless of the panel thickness.

In parallel, the glass-like front hood body panel needed to be sustainably lightweight, impact-resistant and colorfast in exterior weathering. All of this needed to be achieved on Toyota's target for creating the LQ concept vehicle with a fully functional exterior and working parts.
Makrolon® AG transparent polycarbonate glazing enables a glass-like front hood that can display information to pedestrians as needed, while appearing completely black whenever the bonnet display panel is not in use, even in bright daylight. This versatility in exterior design will be a hallmark of electric models.

More than 20 years of experience in exterior automotive glazing applications went into tailoring this functional exterior solution for the Toyota LQ. Color properties were selected to ensure neutral glazing density and an aesthetic black appearance. In parallel, to accurately reproduce the saturation of the underlying signage, toning controls were enabled to suppress color shifts, so the original colors show through the polycarbonate glazing without distortion whenever the display behind the panel is turned on.

The panel compounding process was tuned to deliver a tough, seamless surface and a body part with very high resin purity. In addition, Makrolon® AG is using selected additives to deliver lightfast colors and to optimize the coating adhesion using our own patented methods. The final result is an impact- and heat-resistant, lightweight and transparent polycarbonate body panel that enhances the model's exterior design while helping the Toyota LQ communicate with people around it.
This is the first time that Toyota has chosen Covestro polycarbonates, and we are pleased that our tough, lightweight and transparent Makrolon® AG could meet the OEM's requirements for the body panels. We look forward to other close collaborations in connected, autonomous driving.
Key Benefits
Transformative: Makrolon® AG supports the ability to switch from opaque to full transparency.
Lightweight: Transparent polycarbonate delivers the clarity of glass but reduces the part weight by app. 40%.
Seamless: Glass-like surface gives coated Makrolon® AG polycarbonate panels a premium look.
Impact-resistant: Coated polycarbonate plastic parts deliver high impact resistance against stone chipping.
Safer: Display visibility can enhance pedestrian safety around autonomous vehicles.