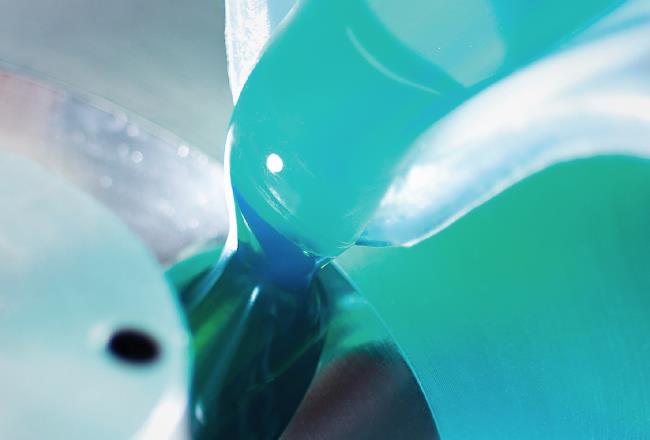 Technology
Quasi-MDI prepolymers: Choose from a broad hardness range with flexible features
Our Desmodur® quasi-MDI systems provide ultra-high performing polyurethane elastomers in a wide range of hardness levels. These materials are ideal for casting flexible parts that need to address health, safety or environmental considerations.
Featured Brands
Polyisocyanates for a wide range of PU foams, coatings and adhesives
As with classic MDI systems, our Desmodur® quasi-MDI prepolymers are prepared from MDI and various polyether and polyester polyols. They are low-viscosity products that do not require extensive heating and can be mixed at a low temperature with an additional polyol, a chain extender and a catalyst to produce final elastomers with excellent mechanical properties. Varying these three components provides access to elastomers with a wide range of hardness levels.

Desmodur® quasi-MDI prepolymer technology offers several advantages:

• Excellent mechanical properties
• Adjustable reactivity, i.e. selection of catalyst and mixture ratio
• Suitable for casting very large parts
• Viable alternatives to systems that may face regulatory restrictions
• Reduced energy consumption for greater sustainability

Quasi-MDI prepolymers are available in ether-based and ester-based options depending on required levels of hydrolysis-, chemical-, abrasion- and temperature-resistance for a given part or product.
Quasi-MDI ether-based prepolymers series: High-performance elastomers for low-temperature molding
In wet, warm surroundings, MDI-ether systems are necessary to prevent hydrolysis damage from water or acids and bases. Depending on the required performance level, we offer PTMEG and PPG versions. The PTMEG series is suitable for applications such as hydraulic seals, hydrocyclones and timing belts. The PPG series offers a very low compression set. These systems are intended, for instance, for low-temperature use and the manufacture of snow blades, screens or seals. Some systems in the series are also suitable for food contact applications.
Quasi-MDI ester-based prepolymers series: Hard wearing with exceptional mechanical properties
Quasi-MDI ester-based systems offer superior abrasion and tear resistance with excellent resistance to chemicals such as hydrocarbons, oils and solvents. These systems are an ideal choice for applications such as screens, scrapers, PIGs, concrete blades, sheets and vibratory bowls. The series' outstanding resistance to solvents also satisfies requirements for squeegee applications. In addition, we offer the Desmodur® quasi-MDI caprolactone-based series with excellent fatigue resistance, which is used for flip-flop screens and other applications.