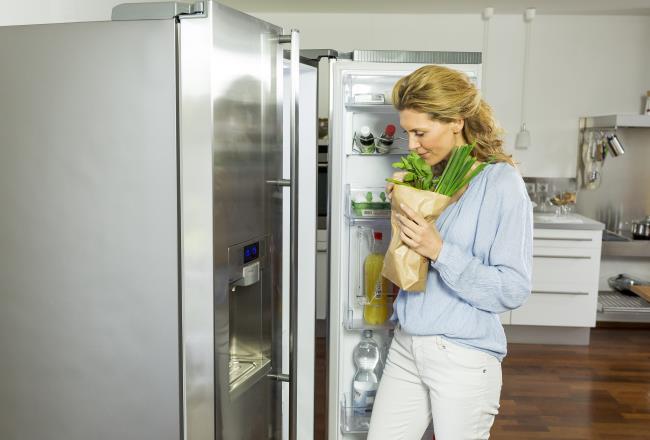 Story
Energy efficient PU foam for refrigerators with vacuum insulation panels (VIPs)
Energy saving refrigerators with vacuum insulation panels (VIPs) lower household electricity costs to keep food fresh. Our developed Polyurethane (PU) foam enables VIPs for particularly efficient fridge insulation. This rigid, open cell foam features a low thermal conductivity, and its low volume increases space inside the refrigerator.
Rigid foam insulation for VIPs that is 2-3 times lighter than standard solutions
Vacuum insulation panels (VIPs) insulate refrigerators efficiently while consuming only relatively little space.
Due to its unique production procedure, our developed rigid foam features very fine and open cells and a lower heat conductivity compared to conventional insulating PU foams. This PU foam is therefore a perfect solution as core material for vacuum insulation panels (VIPs) encapsulated in a barrier film under vacuum. Such open cell PU-based vacuum insulation panels are 2-3 times lighter than other VIP core materials.
In addition, a refrigerator that features our unique PU-based VIPs is a more sustainable total solution fit for recycling. Household appliances with PU-based VIPs combined with conventional polyurethane in the additional insulation parts can be recycled easier compared to other VIP-refrigerators with inorganic core materials.
Low thermal conductivity means lower electricity consumption
The newly rescaled EU energy labels for household appliances, published by the European commission in 2021, call for innovations in the appliance sector. For refrigerators, one way to reduce the total energy consumption is with VIPs, which have very low thermal conductivity. This reduced heating up and lowers the refrigerator's energy use, which reduces household electricity costs. Introducing our low thermal conductivity, low volume rigid PU foams as core for VIPs allow our customers to provide more energy efficient fridges and freezers to their customers.
Vacuum insulation panels: Better for the household, better for the world
One of the United Nations' Sustainable Development Goals is to ensure sustainable consumption and production patterns (SDG12). Our PU-based VIPs have lower material consumption compared to other VIP core materials. When the appliance is in use, electricity efficiency is higher thanks to the low thermal conductivity and low k-factor of the foam used for VIPs. When the refrigerator reaches the end of its household life, the efficiency continues. Polyurethane-based VIPs make refrigerator and freezers easier to recycle, as the different insulation parts are made of more uniform materials compared to multi-material insulated refrigerators with non-PU-based VIPs.
We developed polyurethane foams with a low thermal conductivity for the use as core material in vacuum insulation panels. With this innovation, we support our customers in producing more energy efficient refrigerators and thereby contribute to more sustainable households.
Key Benefits:
Energy efficient: With their very low thermal conductivity, VIPs lower electricity consumption.
Low volume: The average weight of our rigid foam is 2-3 times less than other core materials.
More total space: Because they are smaller, VIPs maximize room inside of a refrigerator or freezer.