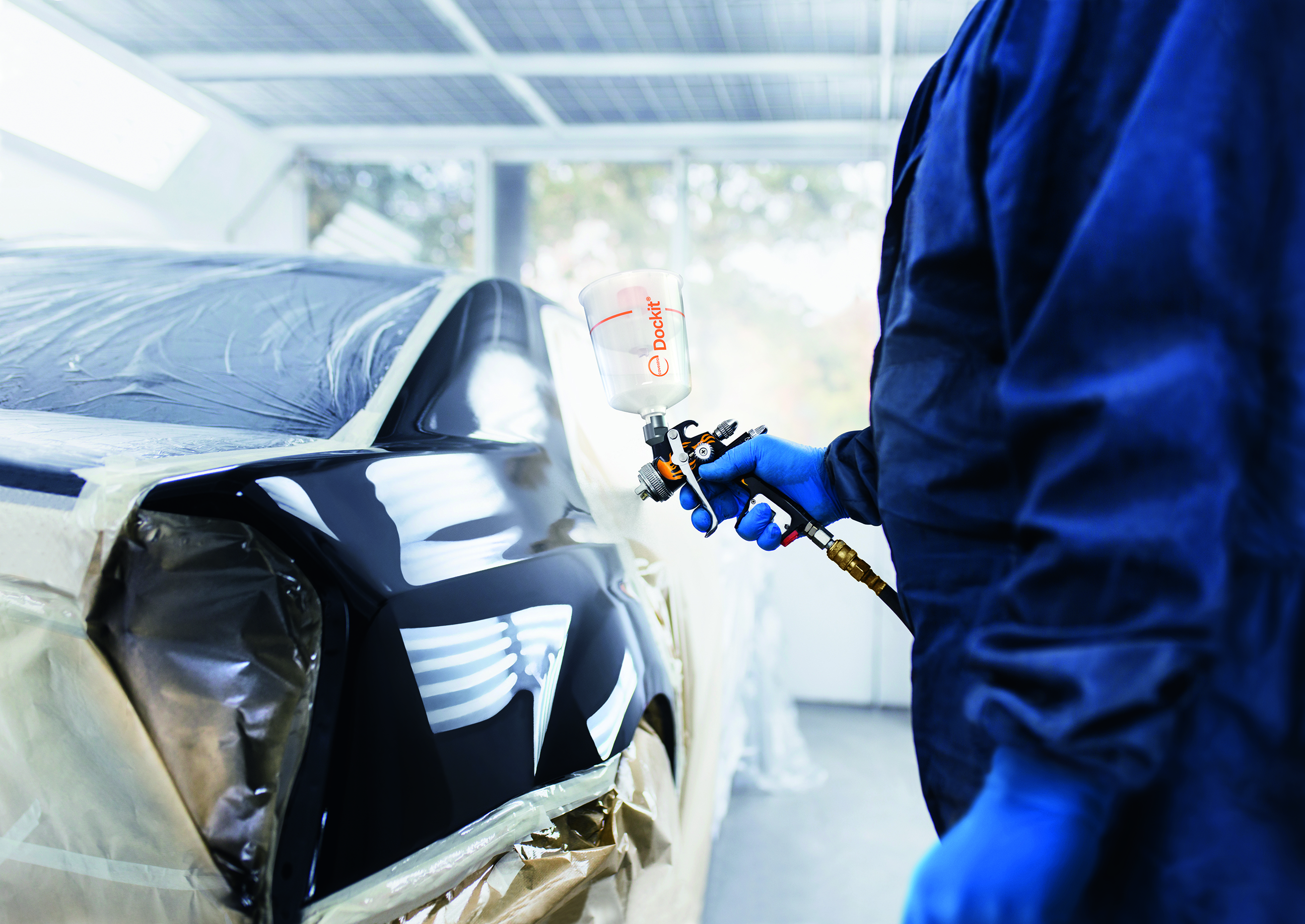 Story
Time to shine: the new 2K Clear Coat Capsule from Covestro
With Dockit® you can prepare 2K clearcoats for automotive refinishing in seconds. The novel packaging solution contains clear coat and hardener in the perfect mix ratio. At the press of a button, the clear coat is ready for use and can be applied as usual using a spray gun. Time to shine!
A professional vehicle finish without time-consuming mixing
As a professional, you rely on modern clear coat systems with hardener for automotive refinishing. In the process, you prepare the two-component clearcoats by hand – a routine that costs valuable time every day and where mistakes can happen.
To significantly simplify coating preparation, we have developed the innovative Dockit® capsule system. With the new 2K clear coat capsule, the desired clear coat is ready for paint in seconds. Simply press the button, shake the capsule and screw it onto the spray gun – that's it!
This way, you save yourself the manual mixing of clearcoat and hardener and can immediately start applying the paint to the vehicle as usual with your spray gun.
Easy clear coat preparation: three simple steps – one capsule
Dockit® simplifies the preparation of the 2K clearcoat by combining the entire mixing process in a single capsule. This contains clear coat and hardener, precisely proportioned in two chambers. At the push of a button, the components flow into one another – the coating is ready exactly when it is needed. This allows you to concentrate fully on what really counts: a flawless finish that delights your customers!
Quickly and safely achieve glossy paint results
The manual preparation of 2K clearcoats is part of the daily work in many paint shops. Even if measuring, weighing, and mixing the components are purely routine tasks for a seasoned expert,all in all, these tasks still take time away from the actual painting process. And if a mistake is made when preparing the clearcoat, the result can also be affected. In the worst case, financial losses are the consequence.
So play it safe: With the 2K clear coat capsule, you can achieve a glossy finish quickly and reliably.
The 2K clear coat system: by professionals, for professionals
With Dockit®, you perform automotive refinishing as professionally as you're used to. You do not need any additional equipment: the set can be easily coupled with your spray gun via adapter. Not looking to change your usual clear coat? You don't have to, because most common 2K clear coats can be used in Dockit® capsules. So everything is as usual – only better!
Clear coat preparation in three easy steps:
Push it

Pressing the top cap allows the hardener to flow into the clearcoat.

Mix it

Shaking causes the two components to mix in a very short period of time.

Dockit®

The capsule screws onto your usual spray gun and is ready for use.