Case study
Enabling more sustainable sportswear for Team Sonnenwagen
Since 2017, Covestro has sponsored the student solar car collective Team Sonnenwagen Aachen. Now, our partly bio-based INSQIN® PU dispersion has been used as a binder for textile technology company Huafeng's HAPTIC® coating, to make the team's branded shoes and shorts more sustainable.
Our partnership with Team Sonnenwagen aims to support the team in its pursuit of a more sustainable future for mobility. We do this by providing high-quality material solutions to get the team through the tough Bridgestone World Solar Challenge – such as our waterborne INSQIN® materials.

These materials have been used for the team's solar cars themselves – enabling them to demonstrate what new carbon-neutral mobility concepts can look like. But we can also play a role by providing more sustainable textile polyurethane (PU) coating solutions for the team's clothing and footwear. For this year's solar race, we wanted to demonstrate how these materials can further reduce the team's CO2 footprint, while still enabling new design features.
Indeed, reducing emissions is a key trend across the textiles industry. However, this can be particularly challenging in the manufacture of sportswear and footwear. These products are often made from polyethylene terephthalate (PET) and printed with a PU coating to achieve the required performance, appearance, and durability. As the pressure to work more sustainably increases, manufacturers will need to find ways to further reduce the environmental impact of their PU textile coatings.
In addition, customer-specific designs, including customized painted shoes, are a growing trend in the footwear industry – but the coating technologies currently used often fail to deliver the required performance, and can only produce 2D visual color effects. Team Sonnenwagen needed a more versatile solution with a lower environmental impact.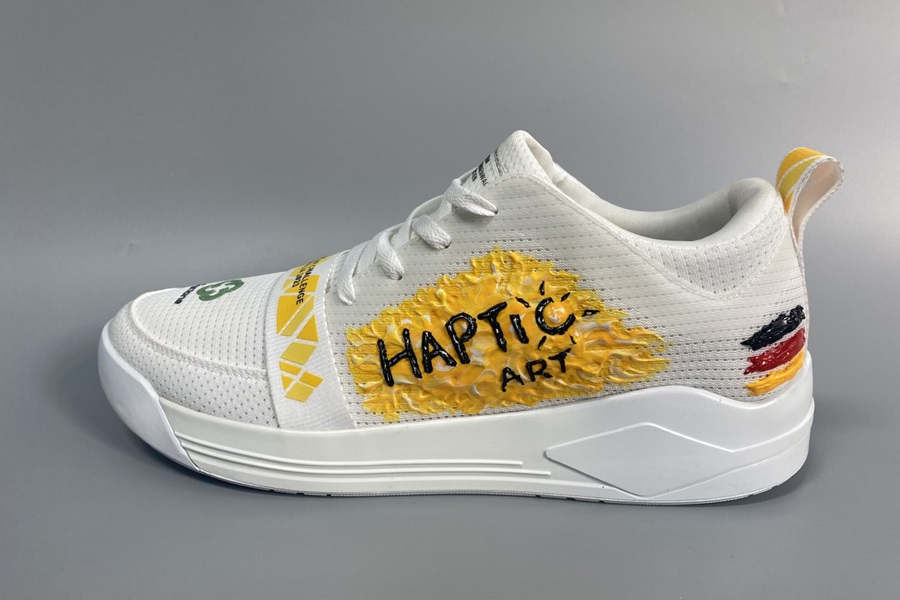 Thanks to Covestro's Impranil® CQ solution, we were able to develop a partly bio-based version of our HAPTIC® Art ink for Team Sonnenwagen. With impressive design and environmental benefits, it's an important expansion of our aesthetic and functional textile coating capabilities. We look forward to continuing to enable more sustainable textile printing together!
Compared to solventborne coating resins, our waterborne INSQIN® coating resins can already reduce CO2 footprints by up to 45% – but we knew we could improve this further. In fact, we had already worked with Chinese textile printing technology company Huafeng on a more sustainable sports shoe in 2021. So, what better partner to help us enable more sustainable textile coating for Team Sonnenwagen's new equipment?
For the 2023 Bridgestone World Solar Challenge, we teamed up again to develop a new textile coating system for the team's official sports shoes and shorts. Specifically, we contributed our partly bio-based Impranil® CQ DLS/1 PU dispersion (part of the INSQIN® range), to Huafeng's new fully waterborne HAPTIC® Art textile coating system. 50% of the renewable content used in this coating came from our partly bio-based Impranil® CQ dispersion.
Thanks to its high solids content and thixotropic properties, this new textile coating system, which was recently awarded the ISPO Best Product Award, enables very high coating thicknesses. This makes it great for producing beautiful 3D effects and detailed images on fabrics. For Team Sonnenwagen's shoes, Huafeng worked with a selection of local artists to produce some stunning painted designs. These coated images have passed a series of standard tests for properties such as flexibility, adhesion, and resistance to hydrolysis, washing, and abrasion.
What's more, the garments themselves are also made with more sustainable materials. The fabrics for the shoe uppers and the shorts are made from recycled PET (rPET) Cyclone yarns derived from PET bottles collected in Fujian Province and other nearby Chinese provinces. The shoe uppers are 100% Cyclone rPET, while the shorts are 86% Cyclone rPET and 14% Spandex for maximum comfort.
Together, the HAPTIC® Art ink system and rPET Cyclone yarns enable a significantly reduced environmental impact. Compared to shoes made from conventional waterborne PU and virgin PET, Team Sonnenwagen's sports shoes emit approximately 260g less CO2e per pair produced. Around 80g of this saving is due to the use of our partly bio-based Impranil® CQ polyurethane coating materials*.
In short, our unique collaboration has delivered environmental, aesthetic, and performance benefits – a great way to support Team Sonnenwagen as they seek to drive a more sustainable future for mobility.
*According to internal calculations.
Our new official equipment looks fantastic – and we're particularly excited about its sustainability benefits! Combined with its excellent performance, it fits well with our vision for a more sustainable mobility future. We're grateful for the continued support of Covestro, Cyclone, and Huafeng with its HAPTIC® products as we pursue this vision.
Key Benefits
More sustainable: 260g less CO₂e emissions per pair of shoes than conventionally produced footwear*.
Durable: Good flexibility, adhesion, and resistance to hydrolysis, washing, and abrasion.
Eye-catching: High solids content and thixotropic properties enable striking 3D designs.
Waterborne: Reduced emissions for improved environmental and worker safety.
Partly bio-based: Use of Impranil® CQ PU materials reduces reliance on fossil-based resources.
We're very proud to have contributed our partly bio-based Impranil® CQ PU dispersion to this new textile printing system. Thanks in part to this solution, Team Sonnenwagen's shorts and shoes now have even stronger environmental credentials. This technology will open new opportunities for sportswear manufacturers to create products that look great and have a reduced environmental impact.