Case study
Desmocomp® for low-maintenance, high-performance FRP fences
Fraunhofer IGCV is a leading composite plastics research institute in Germany. The institute used Desmocomp®, a UV- and weather-resistant aliphatic polyurethane, for new fencing on its campus. The new outdoor fencing demonstrates the advantages of fiber-reinforced plastic (FRP) composites over classic building materials.
The Fraunhofer-Gesellschaft based in Germany is a world-leading applied research organization, prioritizing key future-relevant technologies for business and industry. Among its 76 locations is the Fraunhofer Institute for Casting, Composite and Processing Technology IGCV in Augsburg, a long-term partner of Covestro in composite materials research and development.

The institute had outgrown its existing space, and decided to shift some of the supply logistics from within the building to a newly-built outdoor area on their Augsburg campus. The specific task was to find a suitable material for the fences around this new logistics area. This also presented an opportunity to benefit from the talents at the Fraunhofer IGCV technical center, and to work with us in highlighting the advantages and applications of composite plastics versus conventional construction materials.
We are happy to see this project come to life, as it combines the UV- and weather resistance of our Desmocomp® PU resin matrix with glass fiber reinforcement and pultrusion processing to create a modern material for fencing. It offers an innovative alternative to classic construction materials.
Building construction and similar outdoor surface applications like fencing generally demand a low-maintenance solution, so traditional materials such as wood, steel or concrete are still popular here.

The material for the new fences at Fraunhofer IGCV had to demonstrate the wider potential of composite materials across the board. This solution had to combine excellent anti-corrosive properties with exceptional durability and toughness, along with a reliable, long-term resistance to UV light and weathering, which some composites struggle with. At the same time, the material had to be cost-effective to actually produce. All of this had to be achieved without sacrificing on visual appeal, and given its prominent location on the Fraunhofer IGCV campus, the fencing material had to exude a modern, innovative character.
Through a number of joint research projects with industrial partners, significant achievements have been made in the field of composites. The PULaCell research project - for the development of bio-based high-performance construction applications - funded by the German Federal Ministry of Food and Agriculture (BMEL) serves as one example for the excellent industry cooperation.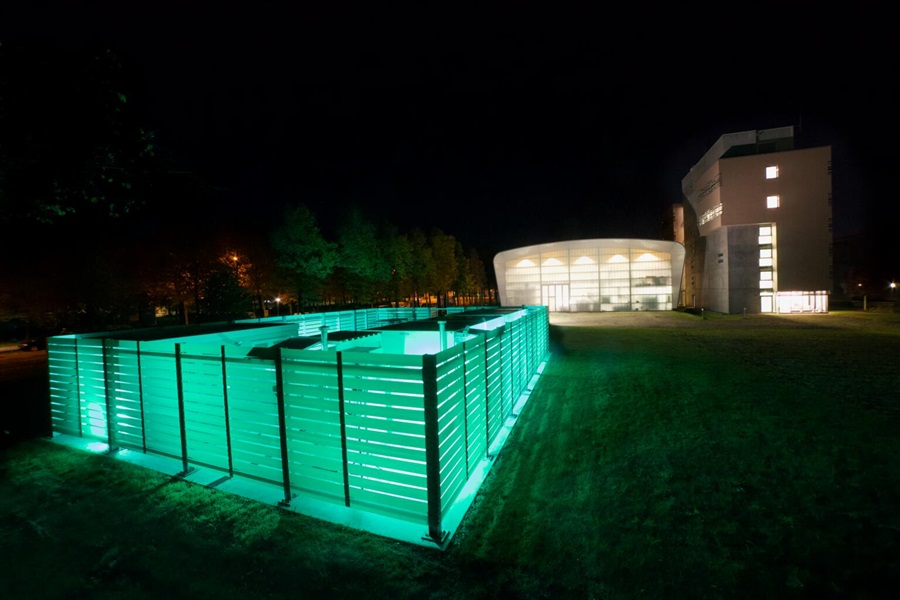 The core of our joint solution with Fraunhofer IGCV was Desmocomp®, a lightweight, aliphatic polyurethane resin matrix system suited for fiber-reinforced plastics (FRP), offering inherent long-lasting resistance to UV light and weathering as well as flame resistance. It also enables a degree of translucency for interesting visual effects.

Fraunhofer IGCV reinforced our Desmocomp® matrix with glass fibers and then used pultrusion, a highly efficient and cost-effective manufacturing technology, to produce light, strong fence panels. Within just a few days, more than 1,000 meters of continuous composite fencing was created and ready for assembly. The panels were cut to size and later trimmed and drilled using water jet cutting. A partially translucent surface gives the FRP fences a modern and innovative appearance that suits both their location and the organization's image.

Using Desmocomp® PU as the base matrix for the FRP fencing meant that Fraunhofer IGCV could incorporate their internal expertise and build on our long-term research partnership in the field of composite materials. This solution exhibits exceptional corrosion resistance and long-term durability, while allowing a modern translucent visual effect.

The fences prove that innovative fiber-reinforced plastic composites can show better performance and be easier to handle than traditional construction materials, while also cutting transportation costs and the associated energy consumption. High-tech composites made with Desmocomp® PU can pave the way for increased productivity and improved sustainability in the construction industry.
The latent translucency of the glass fibers in combination with the matrix system creates a wonderful optical appearance underlining the research focus of Fraunhofer IGCV. This opens a wide range of possible applications resulting from the materiality and durability.
Key Benefits
Weather resistant: Desmocomp® displays long-term resistance to UV light and weathering.
Low maintenance: PU requires little upkeep and no UV stabilizers and coatings.
Strong and light: Desmocomp® provides strong, lightweight matrix for FRP composites.
Easy processing: Desmocomp® aliphatic resins cure quickly and are well-suited to pultrusion.
Flame resistant: Desmocomp® PU resins are in class Bs1d0, in line with DIN EN 13501-1:2010-01.