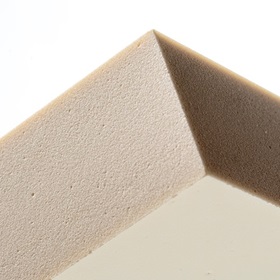 Baydur® combines freedom of design with versatile functionality
Baydur® polyurethane provides enormous versatility thanks to its highly adjustable properties. It is used in the cost-efficient production and the ease with which it combines with other materials makes it popular in the construction, transportation, sport & leisure, medical, electronic and furniture sector.
Baydur® meets the needs of many applications in terms of weight reduction, strength, durability, flame resistance, aesthetics, and processing efficiency. And all these qualities can be further enhanced in the combination with other materials, such as wood, metal, or coatings.
Due to this feature our Baydur® products are suited for a variety of applications such as interior wall cladding which requires an accurate reproduction of surface details.
The material's strength and toughness also make it suitable for heavy-duty applications such as concrete production boards for the construction industry.
The adjustable material properties such as viscosity of our Baydur® leads to efficient processing (Reaction injection molding foam | Technology by Covestro | Covestro AG) by even using large mouldings at low pressures to produce polyurethane integral foam.
Overview of products: Baydur® 20 (e.g. Baydur®33BD32): Extra light and form stable; Baydur® 40 (e.g. Baydur®31BD26), Baydur®60 (e.g. Baydur®VP.PU 60IK20): The versatile construction material; Baydur® 110: Specialist for the thin walled and large parts: Baydur® GS: Solid and robust.
Featured Products
Black dyed ready-for-use polyol formulation without phasestability for the reaction with Desmodur® 44V10 L to produce ski cores in the density range of approx. 400 kg/m³

Ready-for-use, flame-retardant polyol formulation, which is suitable for fillers and can be processed with Desmodur® 44V20 L. The system is optimized for the discontinuous production of decorative strips in the density range of 200 to 350 kg/m³

Polyol formulation for the reaction with various Desmodur® types by the RIM method to produce moldings in the 500 to 700 kg/m³ range.
Key Benefits
Multi-talented: Durable, moisture resistant and impact resistant.
Light and strong: Low weight combined with mechanical strength
Easily combinable: Reinforce the characteristics you're looking for by creating composites with other materials.
Variety of surfaces: Looks great and holds detail in applications such as interior wall cladding