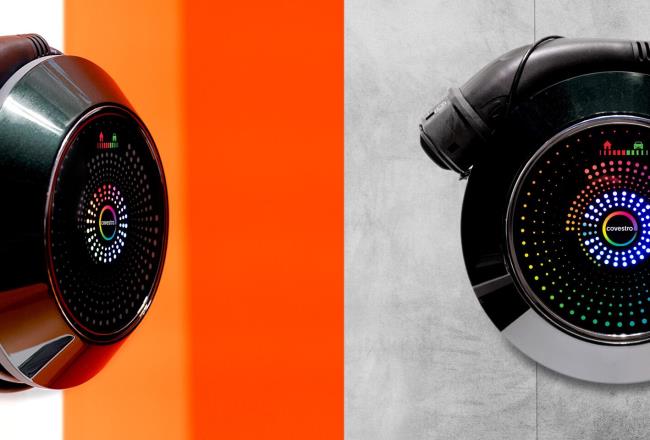 Case study
Covestro, LEONHARD KURZ and Sumitomo (SHI) Demag join forces to design a more sustainable EV wallbox charger
Demonstrating the potential of our more sustainable Makrolon® RE and Makrofol® material solutions to power the electromobility revolution, Covestro joined forces with leaders in thin film technology and injection molding, LEONHARD KURZ and Sumitomo (SHI) Demag to envision the next generation of wallbox chargers for electric vehicles (EVs).
The new wallbox design demonstrator uses Covestro's Makrolon® RE and Makrofol® material solutions in combination with design technologies from LEONHARD KURZ and injection molding technology from Sumitomo (SHI) Demag. The partners visualized together sustainable charging in a "vehicle-to-grid" concept. This means that the vehicle battery is used as a buffer storage unit that releases electricity to the grid to compensate for power fluctuations.
The wallbox design demonstrator showcases an application for the new, more sustainable Makrolon® RE polycarbonates as material solution for EV chargers. Equipped with a display, backlighting, and touch controls, the wallbox offers a wide range of design possibilities to power the future of electromobility.
"The wallbox charger of tomorrow will no longer be purely functional but will become a true design feature – visually appealing and with a range of smart capabilities. In addition, it will be designed to be produced in an efficient and resource-saving manner, leading to improvements in sustainability."
Representing enhanced versatility both in terms of design and functionality, the wallbox design demonstrator offers a range of possibilities for technology integration. Due to their superior performance qualities, transparent Makrolon® RE polycarbonate and Makrofol® films are well-suited to backlight and sensor integration. They are compatible with in-mold decoration (IMD), film insert molding (FIM), and hot stamping production processes. Using the latest technologies from KURZ and Sumitomo (SHI) Demag, Covestro material solutions enable a streamlined manufacturing process and unlock an advanced array of functional and design possibilities.
"The wallbox design demonstrator illustrates a unique fusion of design, sustainability, and innovative technologies for stylish wallbox chargers. This combination enables a high level of individualization and design flexibility, as well as enhanced sustainability credentials."
Demonstrating a wide range of features to power the next generation of EV chargers, the wallbox design demonstrator is a clear step forward in the evolution of lower-impact electromobility design. The wallbox anticipates a renewable electricity future with its bidirectional charging capabilities. This gives it the power to switch between charging the vehicle via a home solar system and supplying the electricity grid from the vehicle's charged battery (V2G). With all these features, the wallbox design demonstrator confirms why using Makrolon® RE and Makrofol® is a forward-looking choice for producing EV charging applications.
"Flexibly expandable and thus cost-efficient production solution, with the core of an extremely energy-efficient and precise all-electric injection molding machine."
Key Benefits
Reduced CO₂ footprint Makrolon® RE is ISCC PLUS certified product with a significant carbon footprint reduction in comparison to conventional polycarbonates.
Efficient production Made using in-mold decoration (IMD), film insert molding (FIM), and hot stamping.
Customized design Countless design variations are possible in one production step.
High-quality drop-in solution Makrolon® RE grades have identical high-performance properties to standard Makrolon® grades
Preserve fossil resources Mass-balanced raw materials from biological waste and residues largely replace fossil feedstock