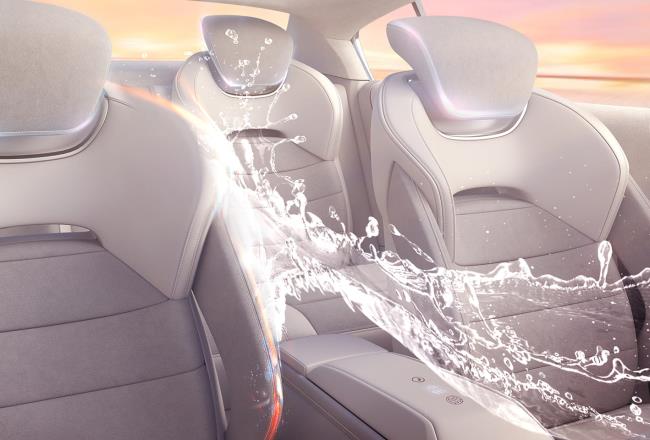 Story
Covestro materials take auto interior design in a bold new direction
The automotive industry continues to evolve, facing unprecedented challenges and opportunities, from enhanced connectivity to the development of alternate fuels and evolving regulations related to VOC emissions and sustainability. These megatrends are redefining the role and function of auto interiors.
Empowering performance

Our waterborne PU technology INSQIN® enables flexible, adaptable and durable materials with a premium look and feel. The product features empower performance even in the thinnest layer and create inspiration for material applications. INSQIN® offers consistent qualities sought by automakers and drivers: durability with a premium look and feel. In fact, our INSQIN® waterborne polyurethane technology produces synthetics that deliver a look, feel and performance that is similar, if not better, than genuine leather. The technology is also light weight, enabling it to be incorporated into innovative interior designs and integrated with the latest technical equipment.
Waterborne polyurethane synthetics: a great alternative
INSQIN® is produced at state-of-the-art facilities that do not use solvents, for a lower VOC impact on the environment. Because of this, waterborne polyurethane synthetics produced using INSQIN® offers a lower carbon footprint than traditional wet-processed materials. This makes it possible to save up to 95 percent of water and 50 percent of energy compared to a non-waterborne polyurethane production. The environmental benefits are also backed up by a a third-party Life Cycle Assessment that shows water-based technology reduces global warming potential by 45 percent.
Drivers today increasingly want an intelligent, enjoyable and healthy in-car experience. This is creating greater clamor for smart, functional and attractive interior design. Harnessing INSQIN® waterborne polyurethane technology, Covestro is fully equipped for these changes and evolving demands. Our high-tech polymers combine amenities with functionality, allowing materials to be used for diverse applications in seats, door panels and headliners.
Proven for their excellent material properties and functionality, our polyurethane synthetics are preferred by many industries such as auto, furniture, and sports footwear and apparel.
New solutions based on decades of innovation
Our OEM partners not only benefit from the strong differentiation potential offered by our new INSQIN® technology, but from our 80-year legacy in innovation and proven track record in the auto industry.
INSQIN® technology combines excellent durability with a premium look and feel
INSQIN® technology gives OEM partners and consumers a more sustainable choice
Waterborne polyurethane synthetics made with INSQIN® technology offer a look, feel and performance that is similar, if not better, than genuine leather