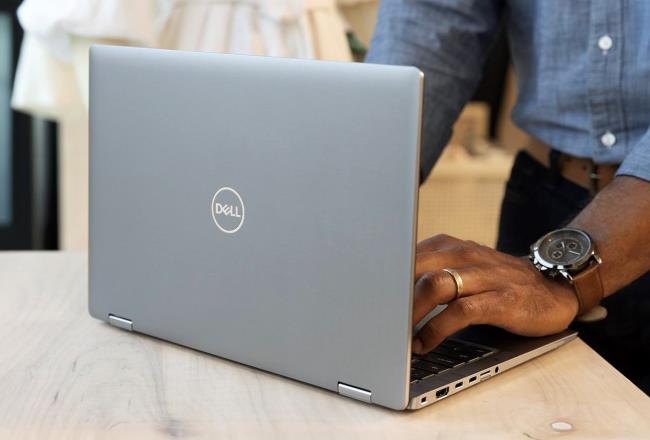 Case study
Dell Technologies and Covestro work to move the closed loop forward
At Covestro, innovative recycling is a priority, plastic waste is a valuable raw material, and the path to circularity is possible. To show this, Covestro and Dell Technologies worked together to address some of today's toughest questions around closed loop recycling of notebooks.
As the teams began their work, they identified two major areas of question. First, when attempting to re-use plastic after it has been used in an application, there is a limited supply of high-purity material available. Polycarbonate manufacturers, like Covestro, typically seek high volumes of transparent plastic which can be ground-up after its first life, and re-incorporated into new plastics—thus bypassing raw materials made from petroleum.
A possible solution to this challenge is to first identify plastic which is used in a specific, high volume application, then recover a sufficient quantity after its "first life", and finally re-grind and re-incorporate it into plastic, which is then used to make the same application. This is called a closed loop. The plastic obtained from such a closed loop will already contain the additives required to meet the application specifications and, when in high volumes, the plastic produced will serve as a reliable feedstock to re-use in the same application.
With several million notebooks manufactured every year, only a very small fraction are currently recycled – meaning there is great opportunity here.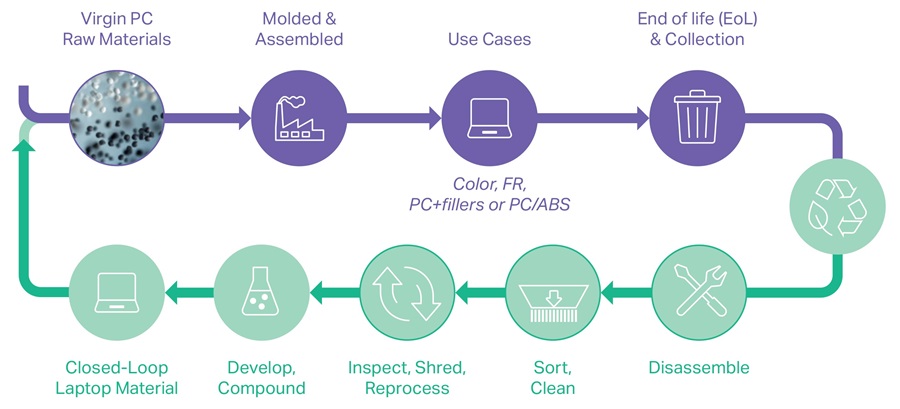 With a steady supply of high-purity material identified, the challenge remained: Are engineering properties, such as tensile, impact and flame retardance retained when these plastic components (both painted and un-painted) complete the closed loop?
The study, conducted jointly with Dell Technologies, used Covestro Bayblend® PC/ABS plastic, which contains a mineral filler, is flame-retarded and also contains 30% post-consumer recyclate (PCR). This material is formulated to meet the demanding engineering specifications of Dell Technologies for use in notebook parts.
The molded notebook parts were ground-up, following which, 20% re-grind was added in each subsequent loop, thus gradually increasing the recycled content in the plastic after each loop:
• The starting material contained 30% recycled content
• The plastic created after the 1st loop contained 44% recycled content
• The plastic created after the 2nd loop contained 58% recycled content
• The plastic created after the 3rd loop contained 72% recycled content
It was discovered that when a well-defined source was used to create the re-grind, the engineering properties of the new plastic material created did not deteriorate markedly and were similar to the starting plastic, even after three recycling loops. Interestingly, there was also little effect observed when the recycled parts which were ground-up had been painted.
Since the average lifetime of a notebook is 3 to 8 years, going through three of these closed loops would keep plastic notebook components in circulation from 12 to 32 years, while retaining the demanding engineering properties which Dell Technologies specifies. The results were shared at ANTEC® in 2023.
The results of the closed loop recycling study may potentially be replicated in other consumer and business segments, where high volumes of parts are made, by using well-defined plastic materials. Examples include network devices, servers, home automation devices, smart speakers and other mobile devices.
Let's talk to find out how Covestro can assist in the development of a closed loop for your application.

About Dell Technologies
Dell Technologies (NYSE: DELL) helps organizations and individuals build their digital future and transform how they work, live and play. The company provides customers with the industry's broadest and most innovative technology and services portfolio for the data era.
Key Benefits
Flame retardant Meets strict flammability standards and thermal requirements
Impact resistant Strong yet lightweight
Aesthetics Offers design flexibility that is a designer's dream