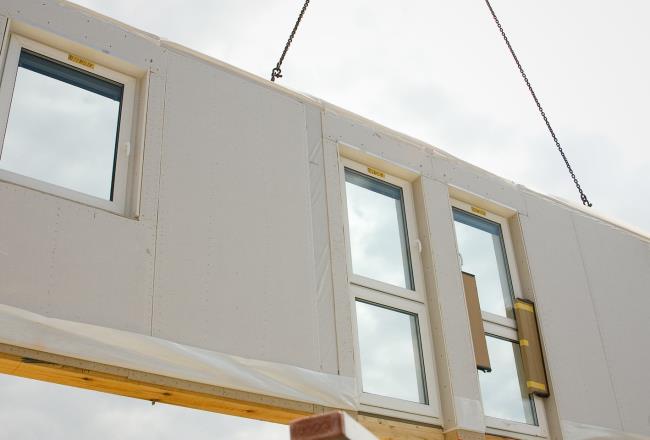 Application
Walls, facades & roofs: Energy-efficient, economical and fire-safe insulation solutions
Our spectrum of PU raw materials and PU systems provides many advantages for construction including low-cost production and installation, customized solutions, a highly reliable supply network, durable performance and a better overall energy balance than conventional materials.
Featured Brands
Versatile PU dispersions for eco-friendlier, low VOC coatings and adhesives

Polyisocyanate crosslinkers that enhance waterborne PU coatings

Polyol blends for flame-retarded PU insulation foams in construction

Baytherm®: Low-density, high-insulation PUR foam for cold and hot applications. Ideal for refrigerators, containers, heating pipes, and boilers

Polyisocyanates for a wide range of PU foams, coatings and adhesives

A wide range of polyols for high-performance polyurethane applications

Prepolymers for low-VOC elastic sealants and adhesives
Key Benefits
Great versatility: Foamed panels can be cut to any size, foamed and combined with numerous facings.
Excellent energy balance: PU saves about 70x more energy over its lifecycle than is needed to manufacture it.
Superior insulation: Polyurethane offers unbeatable insulation over conventional materials.
Long-lasting durability: Resists aging, mechanical and chemical strains, and moisture.
More living space: PU enables a thinner insulating layer and thinner walls than other materials.
We offer wide-ranging solutions for high-performance insulation, coatings and weatherproofing. Polyurethane offers a host of benefits for construction, such as its high intrinsic fire safety, low carbon footprint and good economic efficiency. For rigid PU boards, panels and metal-faced sandwich elements, our complete, ready-to-foam systems are designed for numerous insulation requirements, from walls and facades to pitched and flat roof constructions. In addition, our highly versatile spray foams provide intelligent, tailored solutions for energy-efficient, economic climate control. Finally, our solutions also extend to wall coatings and liquid waterproofing membranes that rely on PU dispersions.
Insulating panels: Rigid PU foams for versatile, lightweight and effective insulation
We supply all the raw materials, auxiliaries and flame retardants required for custom-formulated rigid PU foam-based insulating panels for every need – from walls and floors to ceilings. Rigid PU foam made from products like our Baymer® system combined with Desmodur® can easily retain heat thanks to its low thermal conductivity. This enables builders and homeowners to reduce heating energy by more than 50 percent, especially in older, poorly insulated buildings. Lightweight polyurethane insulating panels are also quicker to install and keep construction costs in check.
Thermal insulation of facades: High-performance energy barriers
Our raw materials for rigid polyurethane foams enable high-performance insulation for building exteriors that stands up to moisture, weathering and variable thermal loads. Compared to conventional insulating materials, PU offers the highest insulating performance due to its extremely low thermal conductivity. In fact, a facade insulated with polyurethane can even achieve a passive house standard. This high insulating capacity also makes thinner solutions possible for more living space.
Metal-faced sandwich panels: Thermal insulation for demanding environments
For structural applications, we offer high-performance insulating systems like Baymer® or Baytherm® together with Desmodur® isocyanates and prepolymers. Because of their high adhesion strength, these polyurethane systems can be paired with facings such as surface-treated aluminum, sheet steel, or fiberglass-reinforced composites during the foaming process. Metal siding lends added stability in structural applications, while a polyurethane-foamed core effectively absorbs heat, vibrations and other loads.
PUREWALL™: Prefabricated PU wall panels for affordable residential construction
PUReWall™ is a prefabricated panelized wall for residential construction that can be assembled quickly, with minimal jobsite construction waste. Its innovative design replaces traditional exterior sheathing with a combination of polyisocyanurate continuous insulation on the exterior and spray polyurethane foam (SPF) in the wall cavity, which can be varied in thickness to meet the building requirements of any climate zone. PUReWall™ not only provides a continuous energy-efficient weather barrier but also a structural wall solution thanks to the new SPF formulation.
Wall coatings: Polyurethane brings long-lasting protection, sustainability and brilliance to facades
Our polyurethane dispersions based on Bayhydrol® polyols and enhanced by Bayhydur® polyisocyanate crosslinkers provide a number of key advantages for modern wall coatings. These fast drying, durable and elastic coatings offer excellent resistance to chemicals, weather and UV radiation. Low dirt pick-up properties make them even easier to clean while their waterborne, low-VOC formulations reduce odors and solvents from emissions for a coating solution that's sustainable through and through.
Waterproofing membranes: Tough yet flexible protection
For long-lasting protection of facades and other building structures, industry professionals often turn to liquid polyurethane waterproofing membranes. Elastic membranes formulated with our Desmodur®, Desmophen® and Desmoseal® S polyurethane systems protect a wide variety of substrates from water damage. Liquid PU membranes provide seamless coverage with superior adhesion, even on irregular surfaces or around in-built structures. Customizable and rapid-curing PU membranes are easy to apply and tough yet flexible, so they can expand and contract with normal structural movements.
Pitched roofs: Practical, effective insulation for new structures and conversions
We offer the raw materials for polyurethane insulating boards for challenging pitched roof constructions. When installed over rafters, robust yet lightweight polyurethane boards provide an effective membrane, even around openings such as vents and chimneys, as well as a weatherproof layer during construction. Rigid PU foam also withstands chemicals and wood preservatives. In attic conversions, the inherent insulating capacity of slim-line PU boards minimizes heat loss through the roof while maximizing usable space for homeowners.
Flat roofs: Effective, economical insulation in a thinner layer
Our insulation solutions provide a variety of benefits for flat roofs. The rigid polyurethane foam core provides effective insulation as well as good fire performance – all in a thin, lightweight package. The panels are easy to handle and do not block sunlight from skylights or similar apertures. They also provide a durable solution with high compression strength. Foamed PU panels effectively withstand moisture and are suitable for a wide range of applications from regular flat roofs to green roofs, parking decks and balconies.