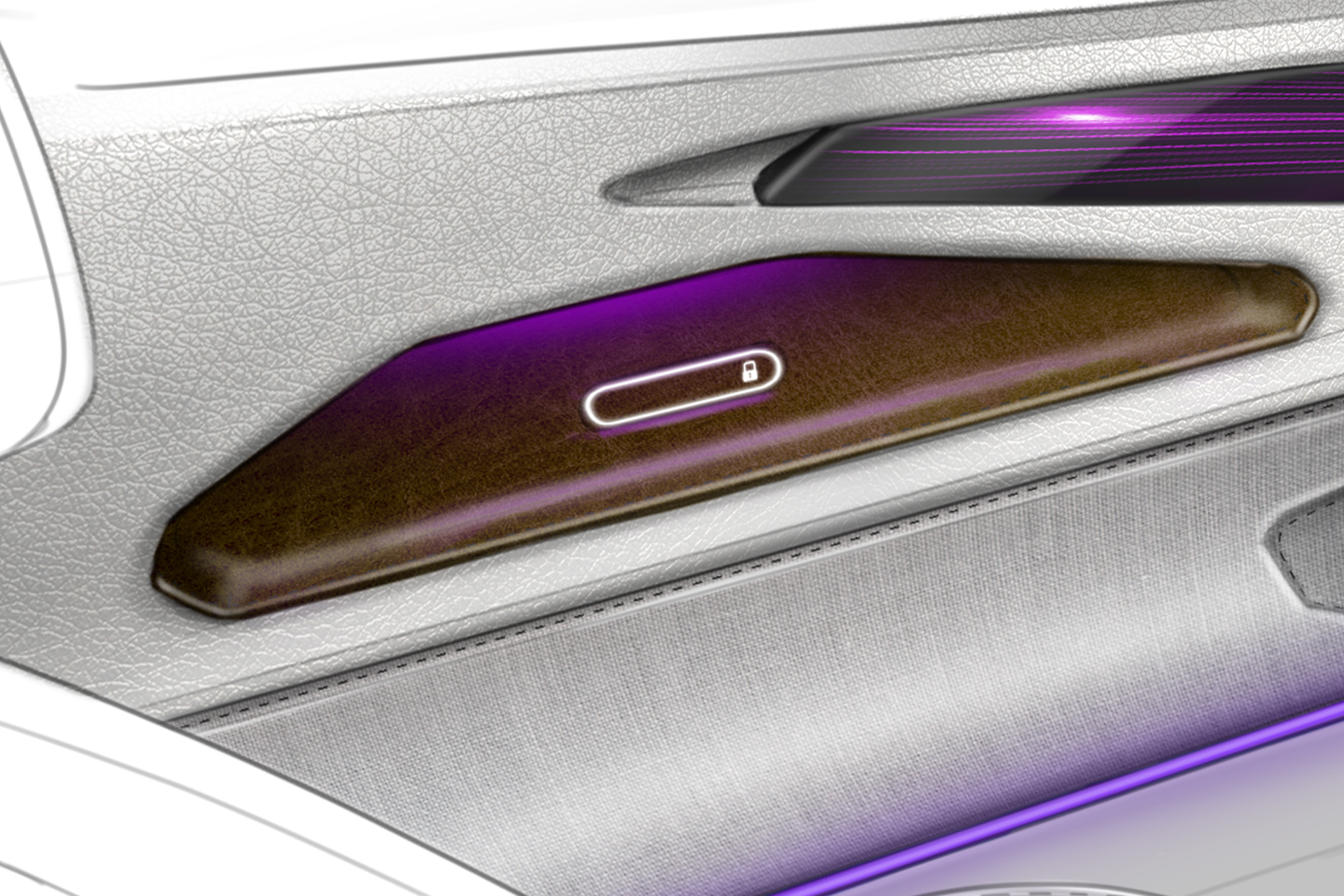 Story
Multi-material smart surfaces boost the IQ of car interiors
Automotive engineers face a tough challenge. How do they meet consumers' desires for car interiors that are both highly intuitive and exquisitely beautiful? The answer is simple: materials that bring the brains and the beauty to smart surfaces, making the sky the limit for new designs.
Materials make in-cabin experiences memorable
Exterior styling and performance have been top-of-mind for OEMs for years. But now, they are turning their attention inward, preoccupied with what a memorable in-cabin experience looks like, feels like and performs like.
In other words, the customer experience is everything. Today's vehicles ideally present an escape for consumers — a luxurious reprieve from everyday pressures.
Engineers tasked with dazzling today's drivers understand that there must be no distinction between form and function in a car's cabin. Consumers want their car to improve their mood—an important aspect of improving their quality of their life.
To deliver this experience, engineers are now moonlighting as interior designers by building out interior living concepts for cars. Drivers want automotive living spaces that complement their aesthetic tastes — tastes that can be a moving target or vary widely from person to person.
Among the car interior trends we're seeing, OEMs are introducing new patterns to car surfaces. In particular, natural materials and surfaces with an authentic look and feel are trending — for example, wood grains, fabric-like woven textures and textiles, cork and stone.
So that designers can create these surfaces with polycarbonates that can be backlit, Covestro developed a dedicated material that can balance the stiffness of glass and the ductility of polycarbonate while keeping the transparency effect; this is Makroblend® OM 845G.
Demand is also high for futuristic, tech-forward and complex designs with curved 3D shapes and 3D relief-type designs. In these instances, you're more likely to see metal-like surfaces and geometric patterns incorporated.
These are tall orders for design engineers, making it necessary for them to build out multi-material surfaces that check any number of functional boxes.
Only one supplier offers a family of polycarbonate dynamic enough to help engineers bring all of these designs to life: Covestro.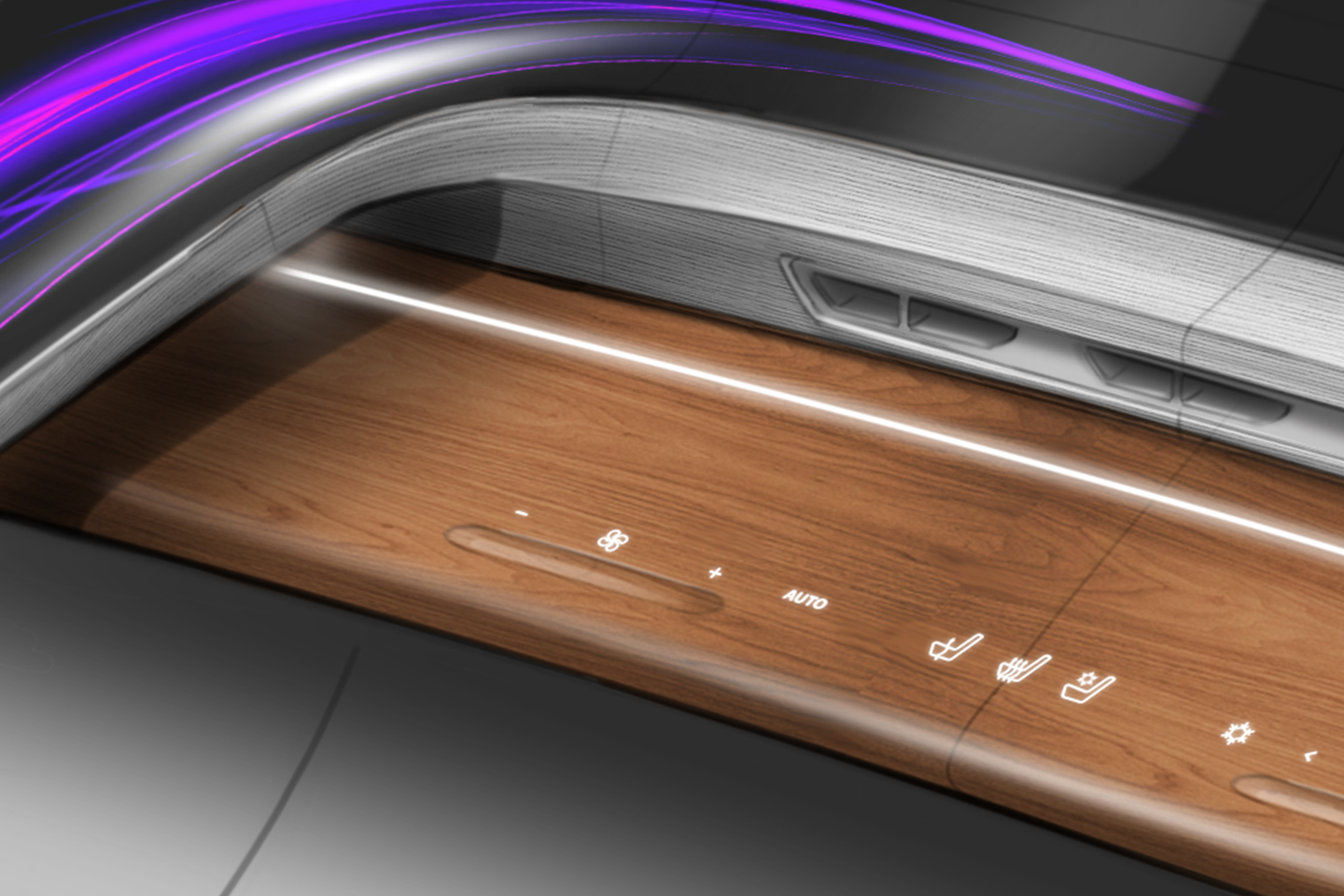 Multi-material car interior surfaces with beauty and brains
Beauty is only surface deep. Today, even the most aesthetically pleasing car surfaces must contain multitudes of smart technology.
Back-lit touch, hidden-until-lit surfaces and haptic human-machine interface (HMI) features are now mainstays of dashboard design and interior door trims. Engineers must integrate decorative surfaces with ambient lighting features, edge lighting and functional electronic displays that permit drivers and passengers to adjust switches and sensors for everything from seats and windows to stereo systems and temperatures.
Important design considerations include weight, transparency and heat resistance. Makrolon® Ai is a highly transparent and consistently pure material ready-made for aesthetically demanding parts. Not only does it offer homogeneous coloration, numerous colors and degrees of transparency and translucency, but its optimized thickness reduces weight, improves cycle time, minimizes material consumption and contributes to lower system costs.
Polycarbonates with a built-in support network for maximum design freedom
With Covestro as a polycarbonates supplier, OEMs can rest assured not only that they're choosing industry-leading plastics but that they have a global network of partners on standby to guide them to achieve their next big car interior innovation.
This network includes experts in mold making and coatings, machine manufacturers, adhesive system suppliers and film experts, and color competence and design centers in every region.
And because Makrolon® Ai polycarbonates have been tried and tested across industries, it's quick and easy to put new (fully compliant) designs into production — with complete confidence in consistency, uniformity and supply.
"Engineers have a million and one things to consider when it comes to creating a premium car interior today. Drivers want sleek, smart surfaces that not only look cool but that actually improve the quality of their lives. We understand OEMs are under pressure to provide all the bells and whistles. Our polycarbonates help take the pressure off, so that the focus can be on maximizing creativity rather than compliance or cost."
Key Benefits
Choice A vast portfolio maximizes choice of colors and design freedom
Convenience Quick and simple global access
Customization Ability to create completely new effects
Assurance Tried and tested products across multiple industries and applications
Cost Efficient processing with low scrap rates and affordable overall production costs