Story
E-mobility solutions drive sustainability forward
From the first all-plastic car at K 1967 to the automotive concepts of tomorrow, innovation has always been at our core. Each year we develop new materials and technologies that continue to push boundaries in sustainability and mobility. These solutions are a crucial part of our commitment to help solve global challenges, such as climate protection and resource conservation, and make the world a brighter place.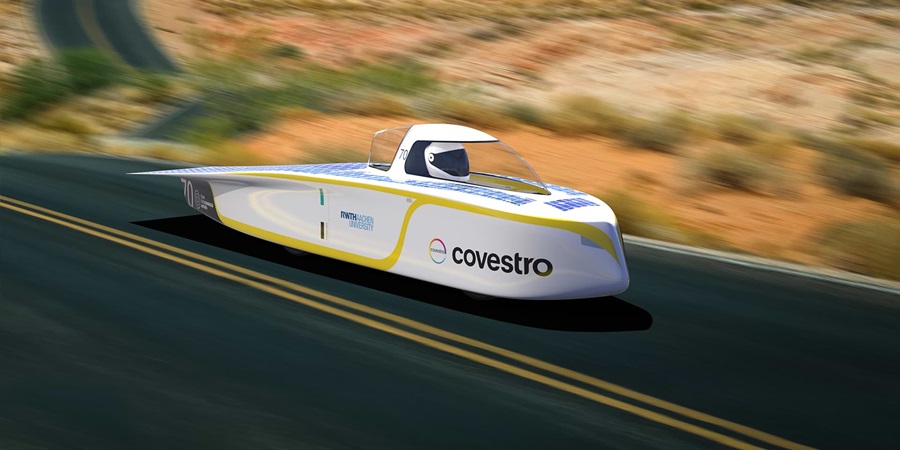 At Covestro, we believe the sky is the limit. That's why in 2017, we supported students from RWTH Aachen University and FH Aachen at the Bridgestone World Solar Challenge, where our materials drove them across the finish line as they received the award for "Best Newcomer." Now, we're kicking it up a notch as the main sponsor of
Team Sonnenwagen Aachen
, helping them in their drive for sustainable solutions through e- mobility.
Next month, a new team will take up the challenge again and battle approximately 40 teams from five continents in the world's most challenging solar race. This race is not for the faint-hearted. It requires the skilled team to drive roughly 3,000 kilometers across the Australian desert – all without a drop of fuel.
This isn't just a race, but a testament to how the right materials combined with sustainable thinking can propel new electromobility (e-mobility) concepts forward. With our lightweight yet robust and flexible materials, we're helping the team make their mark in e-mobility.
The future of the
automotive
industry lies within the next generation of designers and engineers, which is why we are dedicated to helping young talent discover the high-tech solutions of tomorrow. This opportunity gives this impressive group of students a platform to express their creative ideas and uncover applications for state-of-the-art materials. Their passion and forward-thinking mindset, combined with our drive to continually take e-mobility one step further, allows us to challenge the limits of what's possible.
Curious to know more? Check out our
landing page
and follow us on
Facebook
,
Twitter
and
LinkedIn
as we reveal the materials, applications and technologies powering Sonnenwagen.