Tech-oriented buyers prioritize the cabin experience
After taking a backseat for the past couple of decades, car interiors are now in sharp focus for both OEMs and consumers. Trends such as automation, connectivity, electrification and shared services have forever changed the way cars are configured. They've also whet consumers' appetite to enjoy new in-car experiences. On their must-have list: futuristic HMI systems and technology.

Drivers have come to expect new vehicles to dazzle them with large interactive display screens and haptic surfaces that make for a great user experience. These displays can be used for GPS navigation, connecting to other Bluetooth devices, playing the car stereo, or even tweaking a vehicle's onboard systems, like the lights, temperature, or even to keep tabs on passengers' health.

Today's drivers are seduced by gently curved surfaces, tablet-like black screens, 3D projected displays and elements that only become visible when required. And these features generally aren't shrinking violets. Drivers prefer prominent displays that enable a safer, smarter and sexier driving experience.

Engineers who are challenged with creating improved HMI touchscreens for radio, GPS navigation or other Bluetooth devices to market face numerous challenges. They must ensure all new innovations meet expectations for performance, design and functionality. That means delivering nothing less than high-performance, dimensionally stable display frames and casings, and scratch-resistant surfaces that are both high purity and low weight. Specially made for automotive interiors, Covestro's Makrolon® Ai polycarbonate meets all of these standards and then some. of these standards and then some.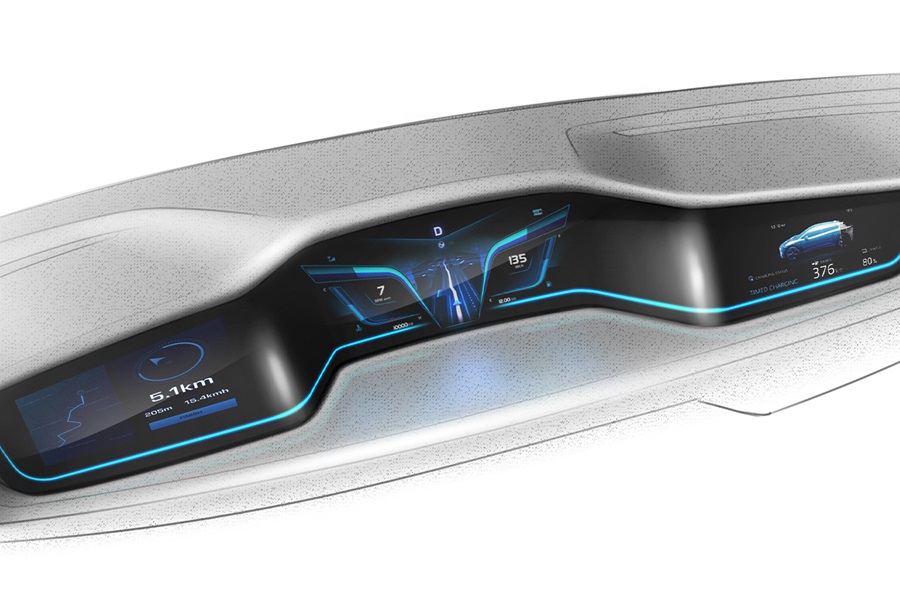 Makrolon® Ai — Covestro's automotive interior grade polycarbonate — is driving car displays into the future.
Wow-worthy 3D displays, touchscreen technologies and black-until-lit screens are making many mechanical knobs and switches obsolete. Creating complex touchscreens with capacitive touch function also requires enormous ingenuity on the part of design engineers.
With Makrolon® Ai — a high purity optical polycarbonate — engineers can enjoy maximum creative freedom without constraints. Makrolon® Ai display technology delivers a glass-like appearance as well as the highest level of functional integration with HMI systems and other integrated sensors.
Transparent Makrolon® Ai creates the highly desired black panel effect, but this polycarbonate can also be used to unleash the power of brilliant colors in various degrees of transparency and translucency. And the options don't end there — this polycarbonate can create micro texture patterns and even the look of a metal surface.
Makrolon® Ai can also be used to go beyond conventionally shaped display designs, bringing even XXL screens to life.
Fast track in-car display innovations with Covestro
Need to put the pedal to the metal on development speed? Partner with Covestro. When they choose Makrolon® Ai, OEMs gain access to an entire ecosystem of technology partners globally. Everyone from mold makers to machine manufacturers to adhesive and optical bonding suppliers, coating suppliers and more are available to help our partners navigate from prototyping through to full production.
For example, when help is desired, we offer in-house color matching services. And our in-house coated film solutions ensure surfaces are protected and optical requirements are met.

Scalability, viability and speed are also critical, as interior displays need to be ready to be mass-produced as soon as possible. With regard to regulatory safety, Makrolon® Ai has been tried and tested. And our high-efficiency processes ensure low scrap rates and affordable production costs.

Our job: to mind every little detail so design engineers can concentrate on their next big, brilliant idea. What do we mean by thinking of everything? Whether it's regulatory safety requirements and head impact risks in the case of an accident, or common processing and application challenges such as glare, reflection, weathering, scratches and abrasions, or how important it is to have material that's both globally available and inter-changeable, we're focused entirely on development execution speed, cost savings, safety and collaboration.

Partnership with Covestro means confidence in what you're creating.
"The options for large car interior touchscreens are really endless — the possibilities with 3D, eye-level projections are especially exciting — and our highly transparent and high purity Makrolon® Ai polycarbonate is made to keep design engineers dreaming big and turning concepts into real products. Among the types of technology it enables, we're seeing XXL sizes, curved 3D shapes, safety-replacing glass components, optical performance, touch, sensors and cameras, aesthetic surface design patterns, back-lit multi-material surfaces and more."
Key Benefits
Purity High purity optical polycarbonate for brilliant colors and high color homogeneity
Design freedom Give the people what they want — create futuristic car displays that are as sexy as they are smart
Cost Efficient processing and low scrap rates contribute to lower costs
Partnership An extensive partner network can bring forth solutions to any challenge
Competitive differentiation Our preoccupation with user experience, safety and design flexibility keeps you ahead of the curve
Style Bring luxe glass- or metal-like surfaces to car interiors