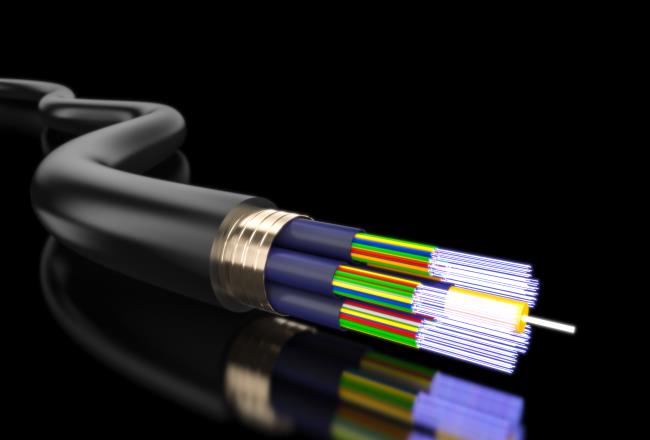 Story
Future Connections Today: How Covestro coatings for fiber optics are shaping the connections of tomorrow
Digitalization needs are evolving rapidly, and fiber performance is key to the reliability and durability of current and next generation mobile networks moving toward 5G. Market leader Covestro uses unique technical capabilities to identify solutions and deliver high performance fiber coatings for the world's telecommunications market.
Our innovative solutions are built on 40 years of technical experience, research and development and close partnerships that enable the sustainable success of fiber makers, cable producers and telecom partners.
We're working day and night to bring the dream of a connected world to reality. We aspire to nothing less than connecting everyone in the world – everyone in this generation and for generations to come.
We believe in a future of community that will connect all people
The world is on the verge of a new era. One where people and their devices are all interconnected. The more we connect, the more creative people become, the more prosperous societies grow, and the closer people feel with one another.

At the heart of this connectivity is fiber. We provide advanced optical fiber coatings that ensure tomorrow's connection can perform to its full potential. We are in a key position to introduce science today that will help shape the future – Covestro's approach of Status Next.

Our materials connect the billions who remain without a fast internet connection or any internet connection at all. One day in the future, the entire world will be connected in a single, global community. We are focused on making that future of community happen sooner rather than later – quite literally at the speed of light.
Challenge: We never stop thinking about progress (UV)
Over the past 20 years, the global fiber optic cable market has grown by an average of 12% every year. How do manufacturers around the world deliver higher-performance end-products while continually improving the efficiency of their manufacturing practices? One answer is UV LED (ultraviolet-light-emitting diode) cure. This coating technology helps minimize the environmental impacts of fiber optic production processes by replacing the conventional, energy-hungry curing systems used for fiber optic coatings with UV LED cure.
We recognize the challenges of moving toward a more sustainable UV LED-curing technology, while maintaining key performance attributes such as high-speed cure.
Key benefits of using UV LED cure coatings
Saving energy UV LED lamps have the potential to significantly decrease energy consumption compared to traditional microwave curing lamps.
Saving money UV LED curing systems can reduce the production cost of optical fiber thanks to their long life, low noise, and ease- of maintenance.
Saving the environment UV LED lamps further benefit health and the environment because they do not contain mercury, and do not generate ozone – both can be harmful if not properly controlled.
How Covestro contributes to a more connected world
Status: Optimizing fiber optic cable communications
Microbending happens when small bends in the fiber axis cause attenuation and signal transmission loss. This is usually caused by fiber being forced onto cabling materials and fiber-to-fiber contacting points, or fiber being pressed onto a rough surface.
It is a major challenge for the industry, but the quality of a field-tested coating system can make a huge difference in tackling microbending performance.
Next: thinking big for tomorrow's connected world
The optical fiber coatings applied to an optical fiber are a critical component of today's high-speed fiber networks – ensuring the high performance and longevity needed to last for 20 to 30 years. This is precisely how high-speed internet became a reality. And we produce more than 50% of these coatings.
For example, our DeSolite®, Cablelite® and Bufferlite® materials have been in the field for over 30 years now – protecting fiber from environmental field stresses while ensuring signal reliability. And these materials are still going strong!
Leading the way in fiber optic coatings
We are one of the world's leading suppliers of UV-curable coatings for optical fiber materials. These coatings leverage the power of optical fiber – improving design capability, field deployability, and performance.

We also create inks, matrix materials, tight buffer materials, splicing compounds and specialty fiber coatings for optical cable and fiber. The result: high-quality and reliable applications for optical fiber built on 40 years of experience working with industry leading fiber makers, cable producers, and telecom partners to meet the ever-changing needs of a digitalized world.
Download
Next Generation Optical Fiber Coatings with Excellent Accelerated Aging Performance

Investigation on Application of Biomass Raw Materials to Optical Fiber Coating Agents

UV-Curable High Temperature Resistant Dual Layer Coating System for Specialty Optical Fiber Applications
Key Benefits
Protective Coatings: Protects delicate glass, withstands field deployment, minimizes signal interruption and distortion.
For Fiber Manufacturers: Energy savings => 80%, less Helium, superior microbending properties, high-speed draw, faster cure.
For Cable Producers: Our coatings, inks, and matrix provide energy savings up to 80%, superior fiber protection, flexible cable design, and high quality 'inking'.
For Network Owners: Reduce lifetime costs, increase fiber lifespans of at least 25 years, lowers risk of cold temp failure.