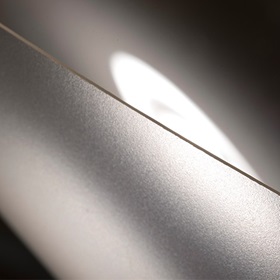 Makrofol® for a wide variety of polycarbonate films
Makrofol®films particular strengths include high heat resistance, transparency as well as impressive toughness and elasticity over a wide temperature range. The films also offer good stiffness, and outstanding electrical insulation properties, as well as abrasion and weathering resistance.
Makrofol® films really are multi-talented. The different types of Makrofol® polycarbonate films offer specific strengths. They can be formed cold, hot and enable top-quality printing with standard inks using screen or digital printing. The transparent, translucent, opaque or coloured films are noted for their outstanding graphic quality. They vary in different finishes and thicknesses. With a coating further key properties can be obtained. Depending on your precise needs these can offer you: good optical, UV protective and scratch resistant grades. Special Films for ID documents enable security features to be integrated. Special grades are tailor-made for light management solutions for automotive interior application including light-scattering, light-guiding and light diffusing.
Featured Products
extruded film, both sides gloss, tighter thickness tolerance and higher optical quality, good heat resistance, excellent impact strength, good printability, good formability, standard thicknesses 175 to 500 µm, for coating applications and served in 2D / 3D graphic applications
Key Benefits
Versatile: Customized solutions for specific applications available.
High heat resistance: Tough and elastic over a wide temperature range.
Transparent: Enables top quality printing and allows maximum design freedom.
Good optical and thermal properties: Great for lighting products of all kinds.
Durable: Resistant to abrasion, weathering and chemicals.