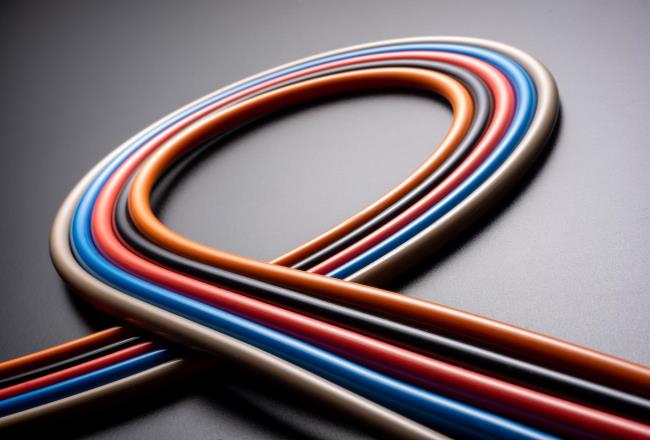 Case study
Pneumatic tubes made of Desmopan® 9845D
From electronics and transportation manufacturing to food processing, pneumatic systems are used in a variety of industrial settings. Pneumatic tubes are used to convey pressurized air to actuators, valves, tools and other devices.
To meet customer expectations, the ideal tubing material for pneumatic systems should deliver 100% hydrolysis resistance and an extreme abrasion resistance, all while making it easy to process.
Additionally, for food processing purposes, the tubing needs to comply with regulations set by regulatory authorities in the U.S. and EU due to possible direct contact between the product and the tube. The tubing material needs to also meet UL Yellow Card standards for low inflammability.
Due to its versatility, durability and flexibility, thermoplastic polyurethane (TPU) offers many advantages for pneumatic tubing applications.

For a customer with a production cycle of one week without downtime, we developed a TPU material that offered a wide processing window and consistent, high quality. The material can withstand high burst pressure and low creep under working conditions.
Desmopan® 9845D delivers toughness and durability. Pneumatic tubes, made with Desmopan® 9845D offer highquality, high burst pressure and low creep resistance. Compared to alternative TPUs, the processing lines can run quicker, as the material is very stable. It is also less sticky, making it easier for end-users to handle.
It is available in a Good Manufacturing Practice (GMP) version, which fulfills U.S. FDA and EU 10/2011 regulations for food processing applications.
Why Desmopan® 9845D is the right solution
Versatility: Extensive range of applications from -40°C up to 105°C.
Ultra-durable: Offers 100% hydrolysis and microbe resistance and high abrasion resistance.
Ease of use: Easy to process even at high extrusion speed.
Specialized: FDA and EU 10/2011 compliant and UL Listed with a Yellow Card.
Intrinsically soft: Free of plasticizers and halogens.