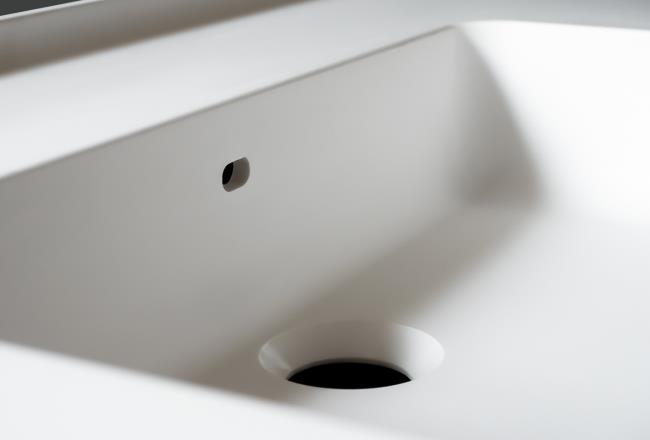 Case study
Solid-surface Arfinio® technology expands washbasin design
To help washbasin manufacturer Alt_Bath meet multiple demands, Covestro and Arcesso developed a reaction-injection-molding solution using aliphatic polyurethanes. Previously thought impossible, this breakthrough has helped Alt_Bath create lighter, more durable, repairable washbasins with more design freedom.
Arcesso Dynamics is a Spanish medium-sized manufacturer of custom polyurethane products, including bathroom furniture. It specializes in meeting the high technical requirements of demanding industries, and focuses strongly on research and development.
Arcesso's customer Alt_Bath wanted to develop a washbasin using reaction injection molding (RIM), in order to achieve a low weight. At the time, this was only considered possible using an aromatic system with an aliphatic coating. However, Arcesso wanted to make the washbasin easier to repair than with typical aromatic systems.
"The Arfinio® technology enabled us to design a stronger, easier-to-repair washbasin, which is beautiful and pleasant to the touch."
To achieve the right combination of weight, performance, and repairability, Arcesso needed to find out how to use RIM with an aliphatic system.
The aliphatic chemistry would deliver high-performance properties, while the RIM process would enable a lighter, truly seamless material with more design freedom.
However, at the time, this combination was considered impossible by the industry – including Covestro.
"Arfinio®'s lightweight, resistant properties and quick, easy manufacturing process are ideal for bathroom furniture, which often has complex shapes and must perform well over time."
After Arcesso discovered a way to adapt the RIM process for use with aliphatic systems, we further developed the solid surface technology Arfinio®. This breakthrough solution is also the first practical use of new chemistry and manufacturing technology in the solid-surface world.
The resulting Arfinio®-based washbasin can be made at least 50% lighter than traditional solid-surface basins, and offers more design freedom since the mold can easily be adapted to complex shapes.
The basin is also easier to repair than RIM-produced surfaces using aromatics, and as a monomaterial, can be recycled. Finally, the aliphatic chemistry delivers warm, pleasant haptics, and antibacterial additives can be added on request to create a hygienic surface.
In this way, the Arfinio® technology is enabling Alt_Bath to offer a more attractive, easy-to-repair, and longer-lasting solution to its customers.
Key Benefits
Design freedom: RIM process makes creating complex shapes simple
Durable and repairable: Arfinio® is a monomaterial, making repair easier, and has excellent resistance
More circular: Besides being durable, Arfinio®-based products can also be recycled
Lightweight: Arfinio®-based products can be at least 50% lighter than standard solid surfaces
Attractive to end-users: Haptics and antibacterial possibilities improve user experience and safety