Case Study
cardyon® for more sustainable automotive interior parts
cardyon® from Covestro is an innovative polyol made with up to 20% CO₂ instead of fossil raw materials. FoamPartner, a global supplier of PU foams for the car industry, applied cardyon® to its new OBoNature™* family of sustainable decorative foams for interior headliners, door panels and car seats.
As part of our long-term commitment to sustainability and innovation, Covestro developed cardyon®, a groundbreaking polyol made with up to 20% CO₂. By reusing CO₂ as material source, our technology reduces the use of fossil feedstock and offers a more sustainable solution in the market. We worked with FoamPartner, a Swiss-based global leader in foam technology to enable a new range of OBoNature™ decorative foams based on cardyon® for use in car interior components, increasing sustainability in the automotive sector.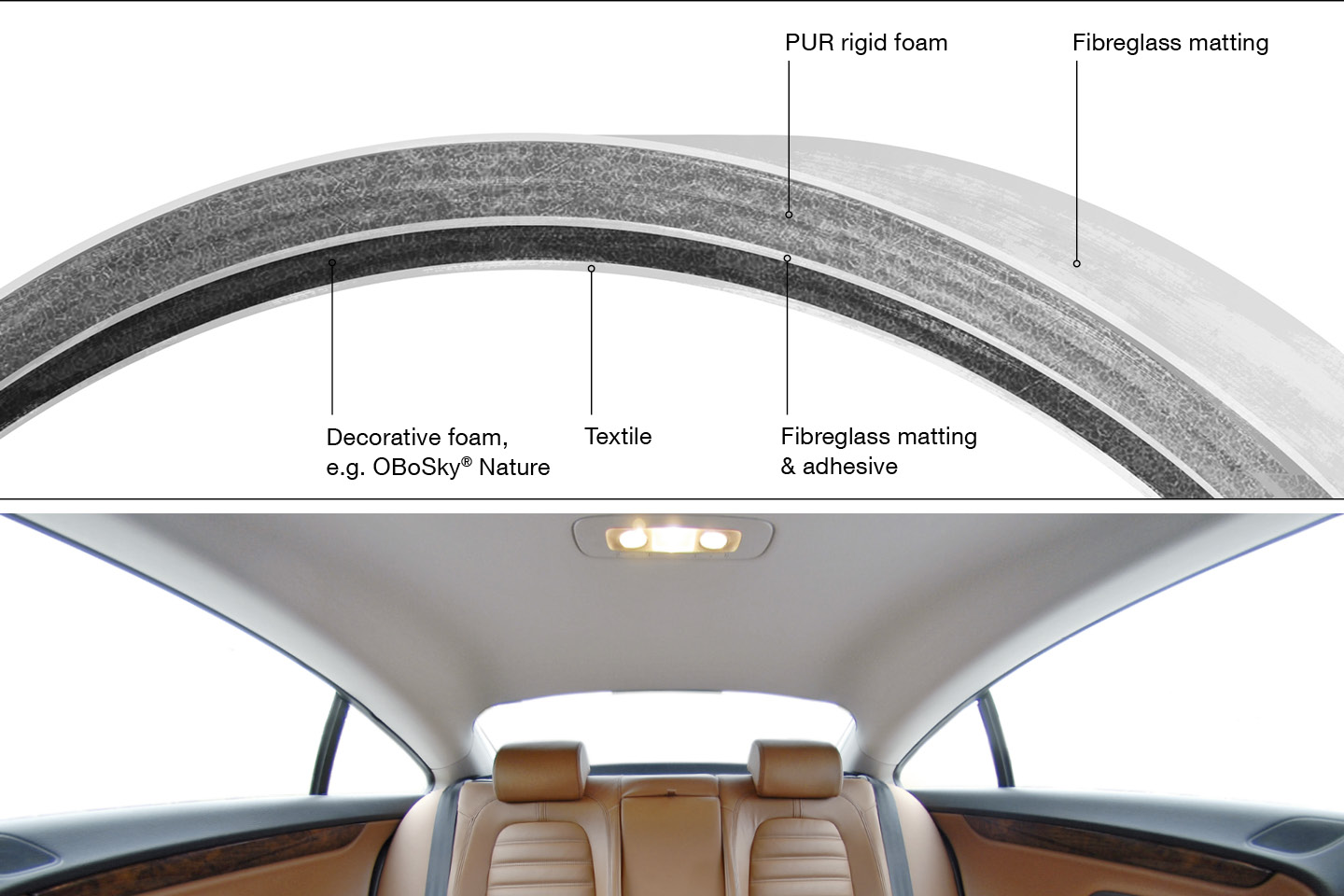 FoamPartner wanted to create a new line of more sustainable, decorative foams for automotive interiors. The material solution had to be low in emissions and highly durable while offering excellent laminating behavior for faster manufacturing. Flame lamination is a widely-used process technology that bonds a thin layer of foam to another substrate, usually a textile. The challenge was to develop a low-odor foam with high performance, while also incorporating sustainably sourced polyols.
Together with FoamPartner, we were able to prove that high-quality polyurethane foam parts can be created with cardyon®. This highlights our commitment to sustainability through alternatively sourced raw materials.
Using its polyurethane foam expertise, FoamPartner applied cardyon® as the material solution in its new sustainable OBoNature™ product family, for use in headliners (OBoSky® Nature), door panels and armrests (OBoTrim® Nature) as well as car seat covers (OBoSeat® Nature). Covestro provided material expertise and product samples, and cardyon® was the ideal ingredient. The result of the development was a foam with low emissions excellent mechanical properties, excellent durability, as well as good laminating behavior.
*Please note that this is a FoamPartner product range and does not belong to the Covestro cardyon® product range.
"Novel materials like cardyon® are extremely important for the development and responsible production of sustainable foams. We are pleased to work with Covestro as one of the innovation leaders in the use of alternative raw materials."
Innovative cardyon® enhances sustainability for automotive interior components:
CO₂ as raw material: Made with up to 20% CO₂, cardyon® partly offsets the use of fossil raw material.
Contributes to closing the carbon loop: Carbon dioxide is reintroduced to the value chain as a raw material.
Commitment to sustainability: Using cardyon® demonstrates corporate commitment to sustainability.
Less fossil resource use: Innovative cardyon® reduces use of scarce fossil resources such as crude oil.
Innovative: Award-winning new raw material is produced with leading-edge technology.