Case study
Innovative composites for head-turning wheelblades
Automakers are looking for new ways to differentiate new EV models from top to bottom—including the wheels. With Maezio®, the Continuous Fiber-Reinforced Thermoplastic (CFRTP) Composites from Covestro, one automaker is doing just that while meeting performance and production goals.
NIO
, a leading Chinese electric vehicle manufacturer, was looking for an innovative carbon composite look for the wheels of its mass-produced all-electric SUVs, the ES6 and ES8. It was time to replace the old-fashioned carbon fiber woven look with a new fresh look. Instead, NIO envisioned wheels with bolted-in carbon fiber wheelblade inserts, designed to give the vehicle a high-end aesthetic appeal with a lightweight flavor and improved aerodynamics.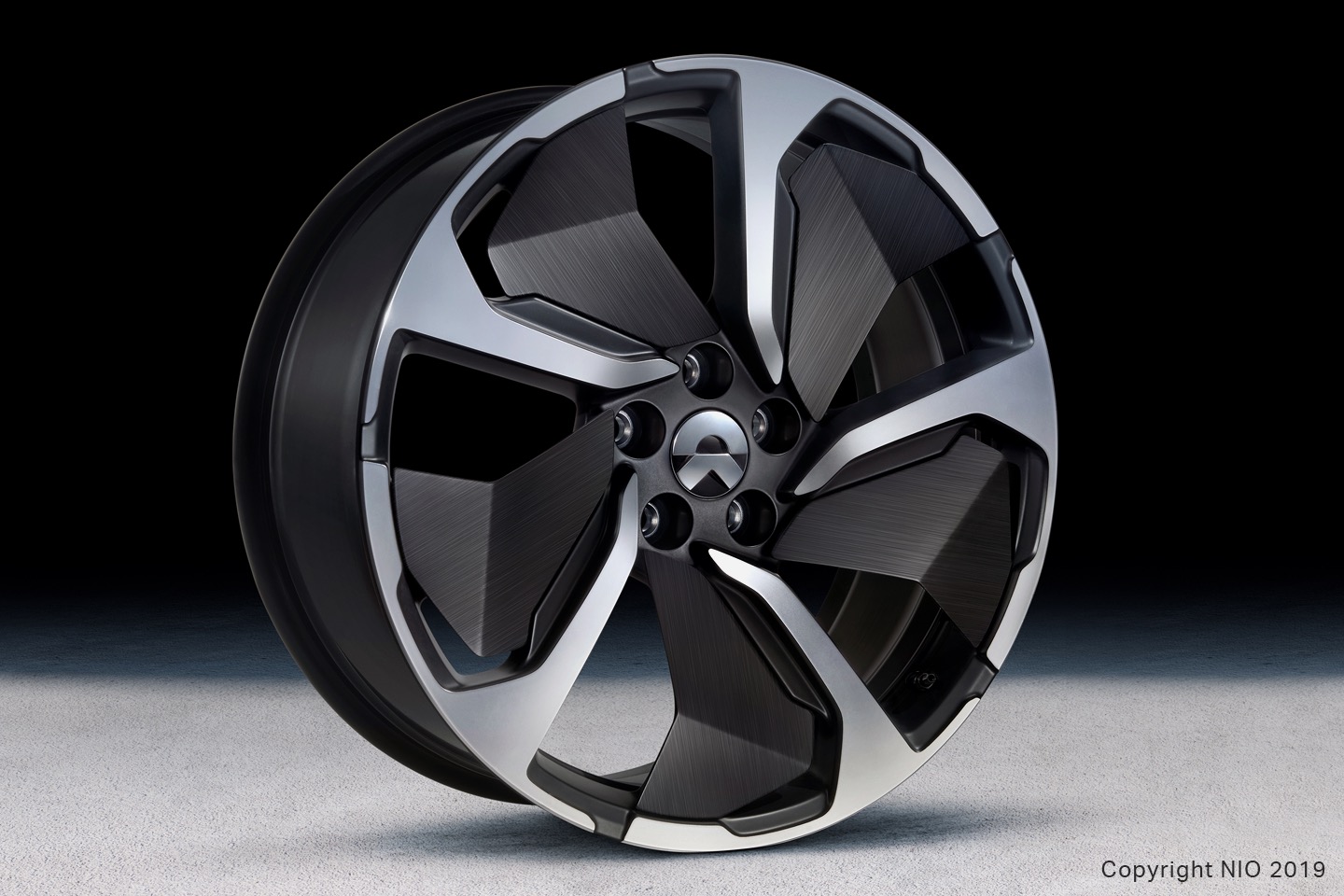 The requirements for automotive exteriors are demanding. Parts have to display high scratch-, weather-, ageing and chemical resistance. Crucially, wheelblades also need high heat resistance during braking. This means the wheelblades not only have to look good after years of use but also have to perform on an everyday basis under tough conditions. On top of this came an additional aesthetic challenge: NIO wanted a matt coating, which is a serious long-term challenge for exterior applications as small scratches make a matt coating more glossy.
Enter Maezio®, continuous fiber-reinforced thermoplastic composites. The unidirectional carbon-fiber look of Maezio® makes it a perfect fit aesthetically, offering an eye-catching look that is decidedly different from the traditional woven-fabric look of carbon fiber.

Thanks to the polycarbonate matrix, Maezio® is compatible with a wide range of coatings and decoration processes for designing unique surfaces. This enabled the development of a matt-coating system that not only retained the beauty of the unidirectional fibers but also provided the necessary protection to pass rigorous safety and performance requirements, such as impact, chemical and weather resistance. Moreover, the Makrolon® polycarbonate on which Maezio® is based displays high thermal stability qualities so the wheelblade insert can survive braking-induced temperatures of up to 150° C.
"Maezio® composites are a very unique material because they redefine the connection between beautiful design and carbon fibers. They have set a new aesthetic direction with the unidirectional strands of fibers that remind me of the flowing shapes of rocks within the Antelope Canyon. It feels dynamic and full of energy."
Maezio®: an innovative solution for wheelblade inserts
Aesthetically attractive: A new and refreshing alternative to the traditional woven-fabric look of carbon fibers.
Technically robust: Fulfills rigorous safety and performance requirements in combination with a matt coating system.
Scalable: Easy processing and high productivity of thermoplastic composites.
Sustainable: Sustainable solution thanks to outstanding material recyclability.