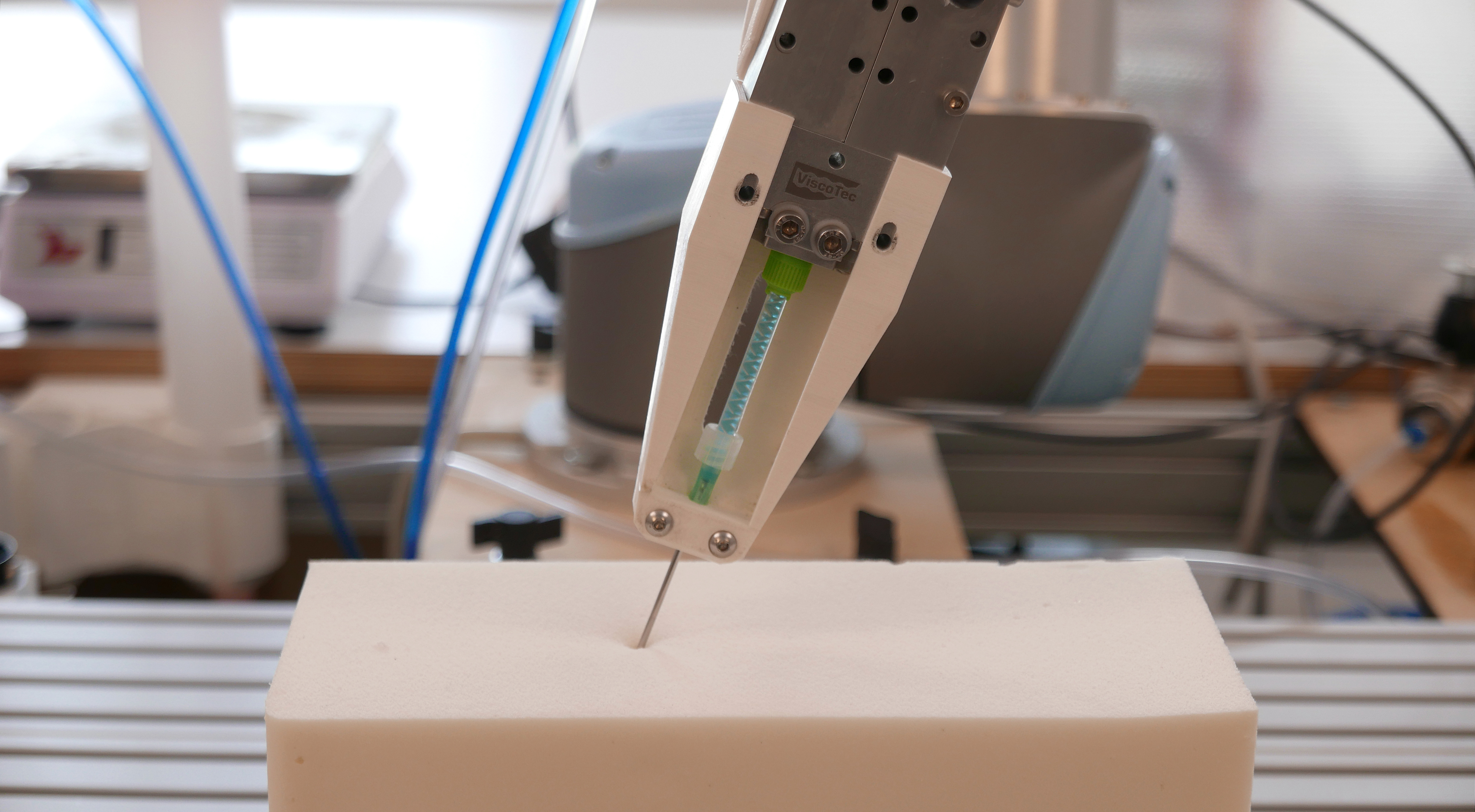 Story
InFoam printing: Foam follows function
Soft polyurethane foam finds use in many products from car seats to orthopedic inserts. With InFoam printing a customized skeleton can be injected into the foamed material, giving it the function and firmness to suit almost any purpose - enabling the personalization of products derived from mass production.
3D printed skeletons open up customized solutions
The core idea behind InFoam printing is that soft polyurethane foam can be promoted to provide almost any function by adding a 3D printed skeleton to it. A hardening resin is injected into the foam with a robotic arm that follows a computer-aided design (CAD) to give the foam its desired structure, behavior and firmness. Even within a single foamed product, dedicated parts can be functionalized differently. For example, a car seat can provide comfort in the center portion of the seat on the one hand, and, on the other hand, stiffness and support inside the side bolster.
This technology had its genesis at the Covestro Makeathon 2016, a five-day student event that challenged aspiring architects, product designers and industrial engineers from the Münster University of Applied Sciences to find new applications for existing materials from Covestro. The innovation has since attracted multiple honors, including the Interzum Award in 2017.
Easy personalization of foamed mass products
Many end-consumer-oriented companies see InFoam printing as a great way to deliver personalization without the need to change their whole production process. Digitalization of the design in combination with the 3D printing process means customized foam products derived from mass production techniques.
We strive for a range of partnerships to demonstrate how this technology can help companies establish their innovation leadership. For example, in sports footwear, high-performance running shoes could be adapted to the end-consumers' feet and tuned for a specific rebound, giving the manufacturer a key advantage over the competition. As one further example, a pair of gaming headphones could be designed for a comfortable custom fit, enhancing a brand's image by addressing the end-consumer needs through an influential opinion leader.
Well-being and sustainability
A customized mattress that ensures a better night's sleep, a car seat that minimizes fatigue and reduces the danger of accidents, or orthopedic inserts that correct a walking issue all do much more than underline a brand image. These individualized products improve the personal well-being of every consumer and contribute to sustainability.
The InFoam printing process injects polyurethane-based structures into polyurethane foam. For example, in the mattress industry this technology helps to reduce material consumption by avoiding the need for multiple foam densities. Furthermore, there is no need for metal springs and other added parts that are otherwise designed to improve the sleeping comfort.
The mono material product solution also makes recycling simpler because there is no need to sort and separate intertwined parts or mixed materials.
"The core idea of the project is to inject a kind of skeleton structure into flexible foam in order to modify the properties and behavior of the foam after curing. This opens up completely new possibilities for flexible foams in various applications, such as mass customization and the adaptation of properties to individual customer requirements."
Are you ready to print your function InFoam?
We're looking to develop easy personalized solutions across industries for target applications from shoes to headphones, mattresses and many more applications.
Are you interested in partnering with us to explore further functionalization of mass products and targeted solutions to fit customer needs? Get in touch with us!
"The dedicated functionalization of products from mass production is a challenge we are already facing today. Using InFoam printing, a customized skeleton can be injected into soft foam, and therewith help for example mattress producers to maximize the end-consumer's sleeping comfort."
Key Benefits
Innovative Enhance your image as a technology leader and creator of individualized foamed mass products
Task-matched A customizable internal skeleton can give soft foam almost any function
Individualized Create completely personalized products supporting mass production technology
Finely tuned comfort Tune products like car seats or mattresses to perfectly match a single customer need
Recyclable Polyurethane-only material eliminates complicated separation during recycling