Case study
Scaling new heights: Maezio® UD tapes in tree climbing shank
Maezio® UD unidirectional carbon fiber tapes conquer new applications, showing how thermoplastic composites with lightweight design are a good choice for safety-relevant tree climbing shanks, replacing thermoset or metal materials while enabling mass production and improving the recycling potential.
Tree climbing can be a recreational activity or a functional task connected with forestry, maintenance or harvesting. No matter what the purpose, tree climbing shanks are essential gear for personal and occupational safety. These wearable brackets with integrated stirrups and tree climbing spikes are designed to bear the full dynamic load of the climber, and to lessen the burden on the feet and calves during ascent or when perched on a stub or branch. Up to now, shanks have been traditionally made of steel, aluminum or thermoset-based composite materials.
The European Regional Development Fund (ERDF) funded a consortium of companies to structure a new type of tree climbing shank system based on continuous carbon fiber reinforced thermoplastic (CFRTP) technology that can produce lightweight, extremely durable composite parts at scale cost-effectively.
The lightweight construction effort was led by
Cato Composites BV
, a Dutch specialist in the development of CFRTP components, working for its customer Burkhard Baumsteigtechnik. This provider of Distel brand tree-climbing technology wanted to replace its existing lightweight design tree climbers made from thermoset resin composites with a newer part that would perform just as well or even better in its mechanical weightbearing, but also meet more stringent chemical and environmental requirements. At the same time, it should offer efficient part processing at higher volumes and can thus be manufactured at a competitive cost. Cato called on the simulation expertise of Reden BV and the composite material and system processing know-how of Covestro to answer their customer's needs.
The first challenge in developing this new type of tree climbing shank was to equal or exceed the high mechanical loadbearing performance of the existing part, and to meet all relevant ASTM (American Society for Testing and Materials) standards, including maximum loads of up to 330 kg on one foot. In parallel, the challenge demanded achieving a component weight lower than an equivalent aluminum part and on a par with or lighter than the existing thermoset shank. Improved recyclability of the part compared to thermoset resin materials was also a requirement. And finally, Cato Composites needed to reach a competitive part cost in combination with a mass production capacity of more than 5,000 units a year, which would enable Burkhard to tackle new and larger market opportunities. For Covestro, this meant the chance to prove its thermoplastic composite technology and process expertise in a new application area.
Maezio® UD tapes enable composite parts with maximum performance at minimum weight. Our proprietary Cato variotherm compression molding VCM) technology enables high-volume manufacturing of parts with a net-shaped quasi-isotropic tape lay-up. This means minimum material waste and built-in quality.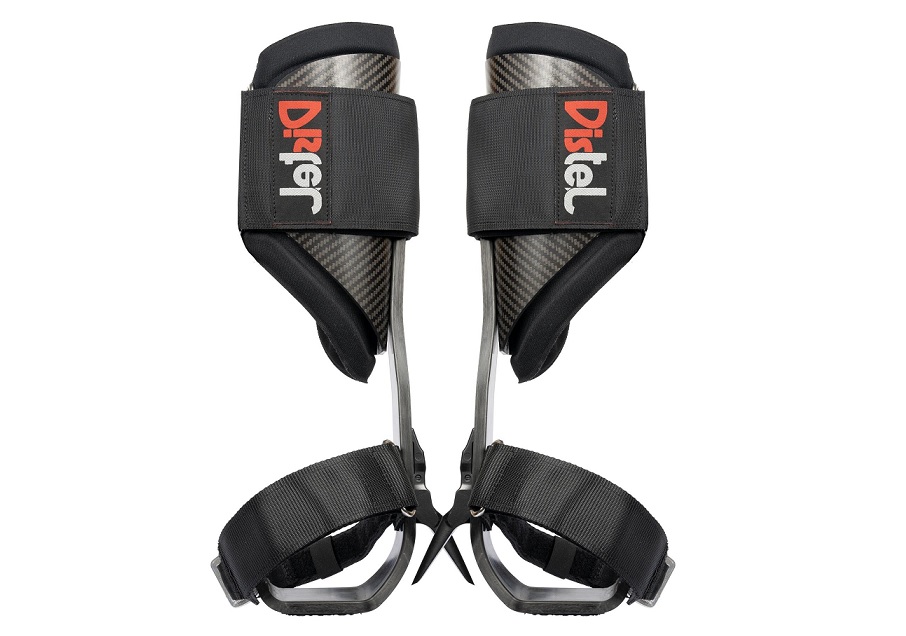 Carbon fiber-reinforced polycarbonate Maezio® UD tape was the material solution to the tree climbing shank dilemma. The unidirectional fiber lightweight construction delivered the required loadbearing and premium surface quality coupled with efficient processing in comparably short cycle times. The thermoplastic matrix also allows for easier recycling than a thermoset-based composite, for less waste and landfill space.
To minimize the component's weight and maximize its performance, Cato Composites stacked more than 50 layers of Maezio® UD tape with an anisotropic fiber orientation to exactly match the application's load paths, which had been calibrated using Reden BV's structural simulations. The resulting thermoplastic carbon fiber tree climber meets all relevant ASTM heavy load standards, yet weighs 50% less than a corresponding aluminum part. For the end user, the lightweight part increases the ease and comfort of tree-logging work.
Scalable, cost-competitive manufacturing in high volume was achieved by marrying Cato's proprietary variotherm compression molding (VCM) technology with Maezio® UD tapes. In this process, the final component was formed directly from a net-shaped stack of the die-cut tapes, resulting in minimal material waste, even at high volumes that meet Burkhard's 5,000 unit annual production target.
The automated manufacturing technique significantly increases manufacturing efficiency compared to thermoset composites. It cuts production waste to nearly zero and eliminates finishing steps. Enabling metals to be substituted with composites increased manufacturing efficiency while also offering higher composite recycling potential for industry.
This safety-critical tree climbing shank is an industry first, delivering mechanical performance and weight savings in a thermoplastic composite part that can be produced in high volumes using unidirectional Maezio® UD tapes as the material solution.
In addition to Covestro, the collaborative effort included Cato Composites BV, and Reden BV FEA and process simulations, in engineering and producing the innovative part for the German forestry brand Distel of Burkhard Baumsteigtechnik GmbH & Co. KG.
With this lightweight performance application, we have proven that Maezio® UD Tapes enable parts properties to be tuned for the highest mechanical performance and thereby maximize weight saving. We look forward to applying this knowledge in new applications from other industries.
Key Benefits
Lightweight: Maezio® UD tapes enable a strong composite part 50% lighter than aluminum.
High-performance: Unidirectional CFRTP tapes yield parts that meet ASTM loadbearing standards.
High-volume: Maezio® UD thermoplastic composite tapes suit volume production processes.
Low waste: Variotherm compression molding (VCM) enables precise die-cut stacking.
More recyclable: A thermoplastic matrix allows easier recycling than thermoset-based composites.