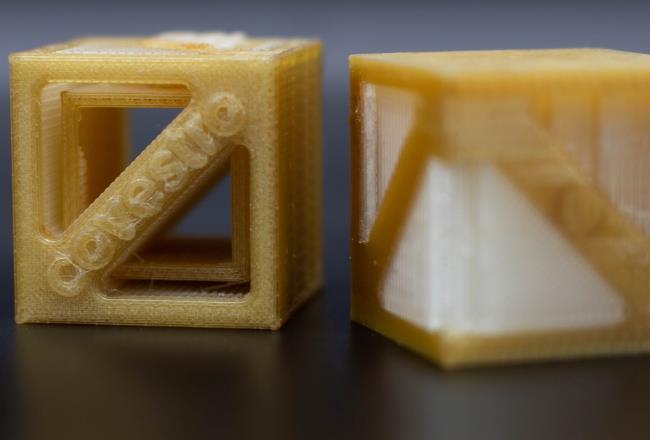 Case study
Addigy®: Heat-resistant soluble support structures for AM
New Addigy® FPC SOL1 HT thermoplastic filament is made for the printing of support structures for 3D parts made of PEEK and other high-temperature stable materials. The filament is chemically soluble, leaving strong printed parts with complex geometries and smooth, quality surfaces.
Printing strong, geometric complex parts with high temperature materials requires new material solutions for their supporting structures. Our task was to apply our knowledge as a chemical materials producer to create a material solution that ensures more convenient processing of printing with, and handling of, support structures.
In additive manufacturing, if a part requires a support structure, both the part itself and its supporting element are typically printed from the same material. Once both parts have been printed, the support structure is separated manually. Using soluble support materials can replace this cumbersome 'breakaway' process. The challenge here was to develop a material that is soluble on the one hand, but offers high-temperature stability on the other.
Developed for the 3D printing of support structures, Addigy® FPC SOL1 HT is a thermoplastic filament that is resistant to high temperatures and chemically soluble. After printing of both the part and the support structure, the latter 'melts away' in a chemical process made easy with step-by-step documentation. The manual breakaway process is eliminated, helping to lower the risk of injury to employees while also reducing material scrappage.
The process yields finished parts with smooth surfaces without any sharp edges. This means that producers can print complex geometric parts in exactly the shape and size needed, and thus generate precise parts with high-quality surfaces.
The fact that Addigy® FPC SOL1 HT is almost transparent makes it easy to distinguish the support structure from the actual part, which is a convenient bonus. The used solvent can also be reused with a simple distillation process, supporting a more circular economy.
Addigy® FPC SOL1 HT is the answer to the additive manufacturing dilemma of how to print with high temperature materials while using high-temperature stable support structures that can be easily separated from the final part. It's another example of materials producing more opportunities.
Addigy® FPC SOL1 HT is a heat-resistant thermoplastic filament created for 3D printing with PEEK, and other high-temperature stable materials. The nearly transparent support structure is chemically soluble, yielding complex parts with smooth surfaces – a true innovation that meets the needs of the growing AM market.
Key Benefits
Easy to process: Support structures can be chemically dissolved, eliminating manual breakaway.
Heat resistant: Addigy® FPC SOL1 HT has a high heat resistance but is soluble at the same time.
Smooth part surface: Dissolving support structure yields complex parts with smooth, precise surfaces.
Less labor: No manual post-processing of parts is needed, and no sharp tooling required.
Reusable: Used solvent can be re-used via simple distillation.