Story
Uralac® Ultra: The key benefits of powder coating.
Covestro's Uralac® Ultra is an innovative binding technology for power-coated MDF that delivers a variety of benefits in performance, efficiency, sustainability and cost.
With its smooth surface, ideal for painting and attractive price point versus plywood, it is no surprise that demand for MDF and similar engineered woods is growing.

Finishings for MDF boards and panels have traditionally involved liquid paint because of the extreme >150°C temperatures needed to cure powder coatings and melt them onto the surface. In turn, this extreme heat load made boards more likely to crack, bubble and pop as the material's fibers warped and raised up in the heat.

Now, thanks to advanced technologies like Uralac® Ultra, powder coating really is the best way to finish paint, for brands and coating specialists alike. Why? Because the key ingredient – the resin that binds the paint together – allows for curing temperatures as low as 120°C. This opens up a whole new world of possibilities for engineered wood by enabling bold and beautiful new designs – in furniture, for example – that will delight consumers. It is MDF time!

"We believe that powder coating technology has reached the level of sophistication where we want to use it."
Design Freedom
Expand your horizons
How do brands find imaginative ways to create a competitive advantage in the race for innovative new products? One way is to swap liquid-coated MDF for a powder-coated solution based on Uralac® Ultra.

This advanced binder made from unsaturated polyester enables powder coatings to be produced up to 10 times faster than waterborne equivalents, with the most complex designs, including hollows, contours and edges – unlike traditional UV-cured coatings. All with a solid, seamless finish produced via a unique single-layer coating process that requires just one application of sanding and is cured at an all-time low temperature.

Uralac® Ultra saves you time and money, and it helps preserve the planet with a carbon footprint 5 times lower than traditional coating systems. It is safer, solvent-free, and does not contain harmful VOCs.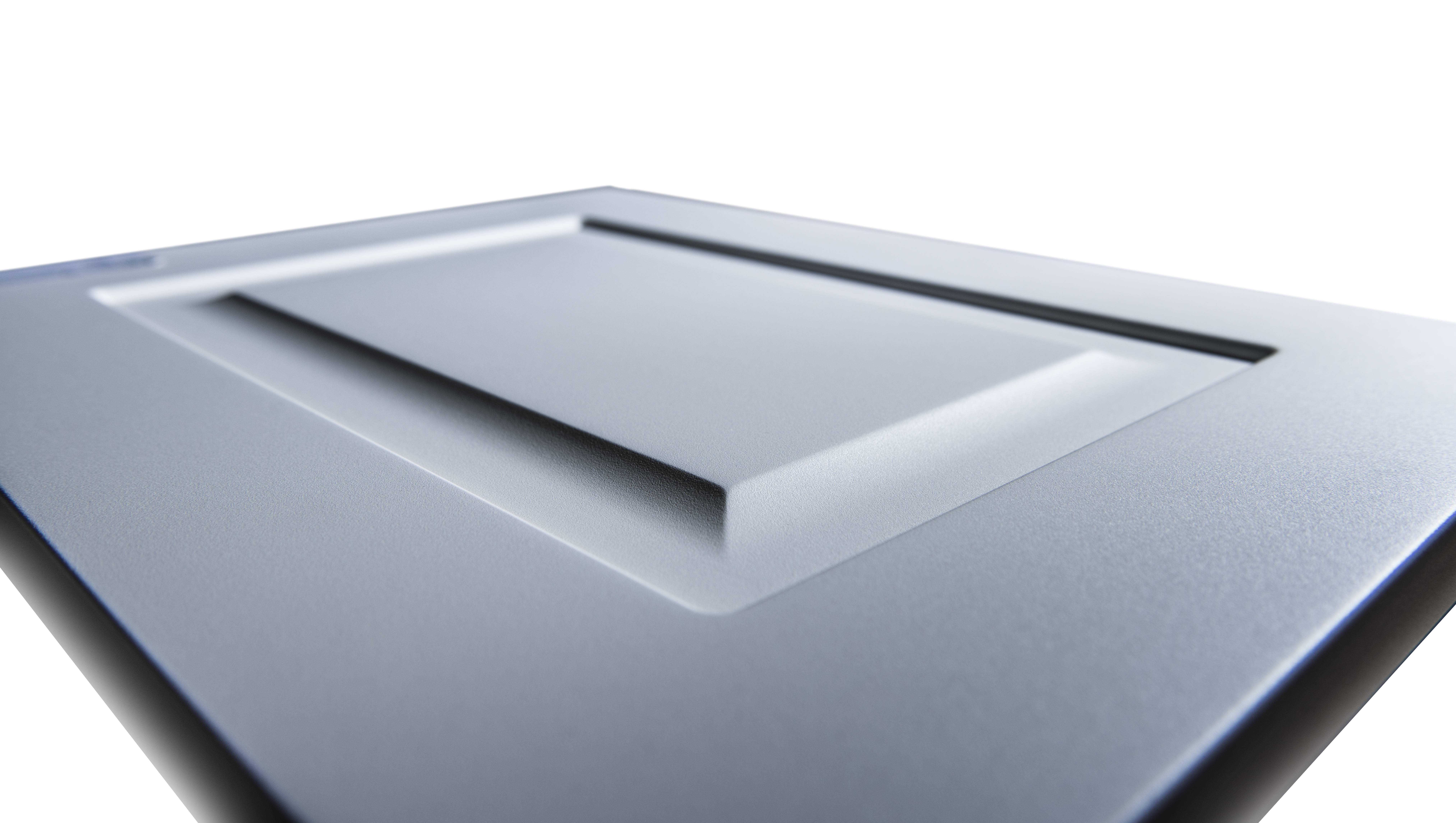 Durable
Coatings for when the going gets tough
Uralac® Ultra is an advanced binding technology that takes durable coatings and protective finishes to a new level in powder. Made with a super-strong polyester-urethane binder, this hard resin resists extreme wear and tear like scratches, abrasion and UV, with no yellowing or peeling: all with extreme flexibility.

Uralac® Ultra has passed a range of industry tests – including NEN-EN 12720, Blue Wool Scale, and hinge hole (Ledro test) benchmarking.
Economical
Start reducing your costs today
Powder coating systems with Uralac® Ultra at their heart can reduce your production costs by up to 45% compared to liquid coatings. Thanks to low curing temperatures and a unique single-layer coating process, the product requires less water, energy and time to produce; and there is less waste – with powder overspray being almost 100% recyclable.
With no sanding required between application of layers, you generate yet more savings in time and materials. The result? Customers have produced their coatings up to 10 times faster using Uralac® Ultra-based systems as compared to liquid paint. In fact, Uralac® Ultra even saves you money during storage and transportation thanks to its high chemical resistance and overall robustness compared to conventional coating solutions. So jump aboard!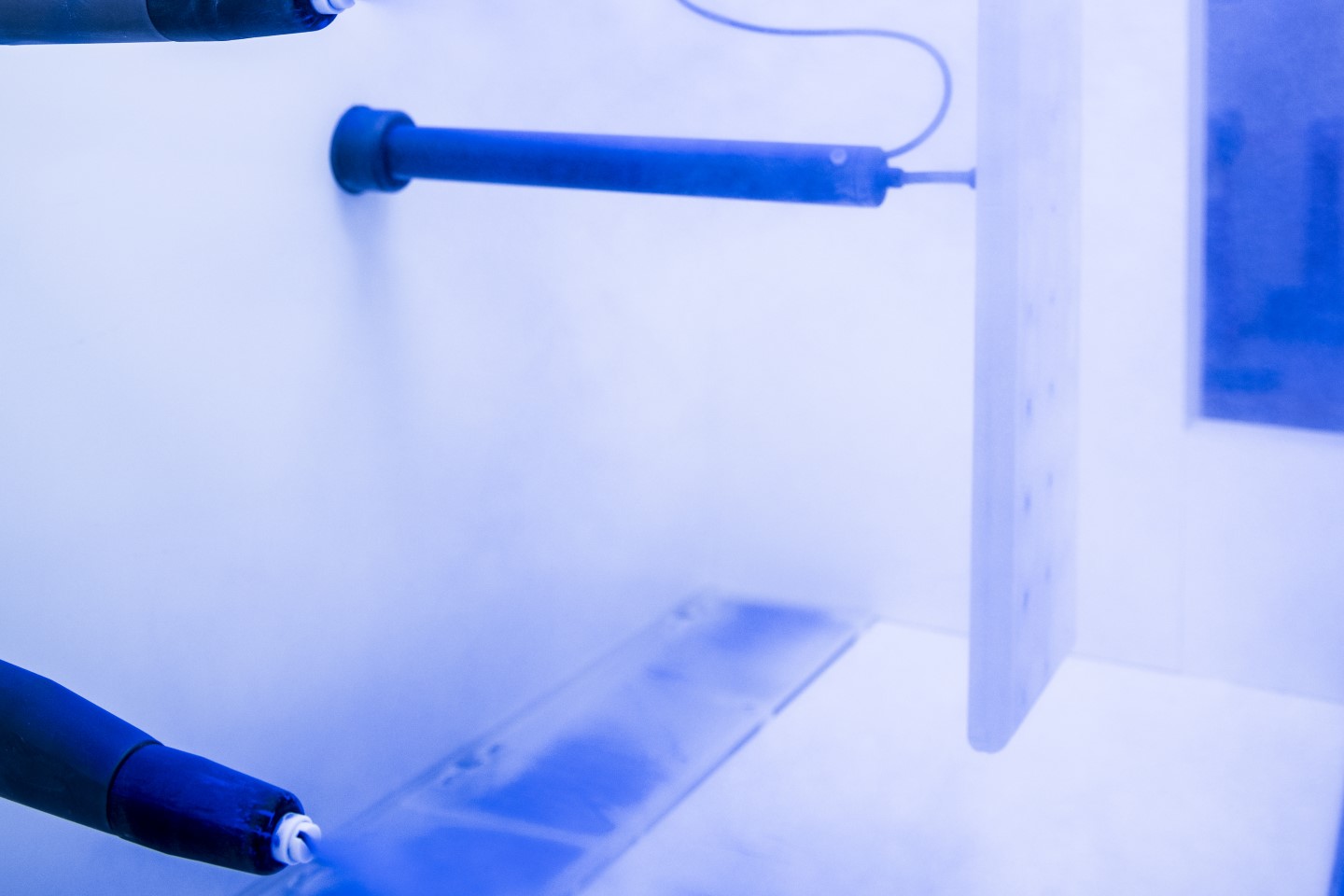 "We're always looking for ways to reduce costs without impacting quality. Fortunately, these powder coatings deliver on both."
Frequently asked questions
How do we spray powder on standard 'non-conductive' MDF?
For application of the powder, moisture within the MDF is used for conductivity. A moisture content of 4-8% of total weight is sufficient to attract the powder.
Do we require special MDF for powder coating?
No special MDF is needed for powder coating – although there are differences between available qualities and types.
We advise evaluating the type of MDF you intend to use before making your products.

Further, we recommend a conditioned storage area to control the MDF's moisture content.
Is the oven I use for powder coating metal suitable for curing MDF too?
Most conventional curing ovens are convection ovens. Best results for MDF are reached with infrared radiation (IR) ovens.

With IR ovens, the MDF's surface can be heated quickly to cure the powder coating, while its core stays relatively cool.

With convection ovens, temperatures are often too high, or the MDF's core heats up too much because of the longer period needed to reach curing temperatures.
"There are many benefits to powder coatings. First and foremost, they are totally toxin free."