Story
Covestro concept shoe with focus on more sustainability
Covestro teams up with Beira Rio, one of the biggest shoe producers in Brazil, on this women's shoe to explore what's possible in driving future design with cutting-edgematerial solutions focusing on sustainability.
Covestro is always looking for new ways to incorporate sustainability to help make the world a brighter place: In the change from a "linear economy" to a "Circular economy", Covestro is calling for immediate action. A sustainable concept shoe takes advantage of innovative and more sustainable material solutions from Covestro. Covestro teamed up with Beira Rio, one of the biggest shoe producers in Brazil, on this women's shoe to explore what's possible in driving future design with cutting-edge sustainable material solutions.
Strong innovation prowess makes us a strong and reliable partner in the footwear industry value chain
When it comes to a technically and economically sustainable solution that reduces VOC emissions and improves hygiene in the shoe manufacturing environment, Covestro provides a solution focusing on more sustainability with excellent performance and design freedom.
How to bring different sustainable material solutions together with seamless design without compromising on performance?
This concept women's shoe is made almost entirely with our Covestro materials. From upper to lining, from outsole to insole, this pair of shoes provides an excellent fit for a casual female shoe.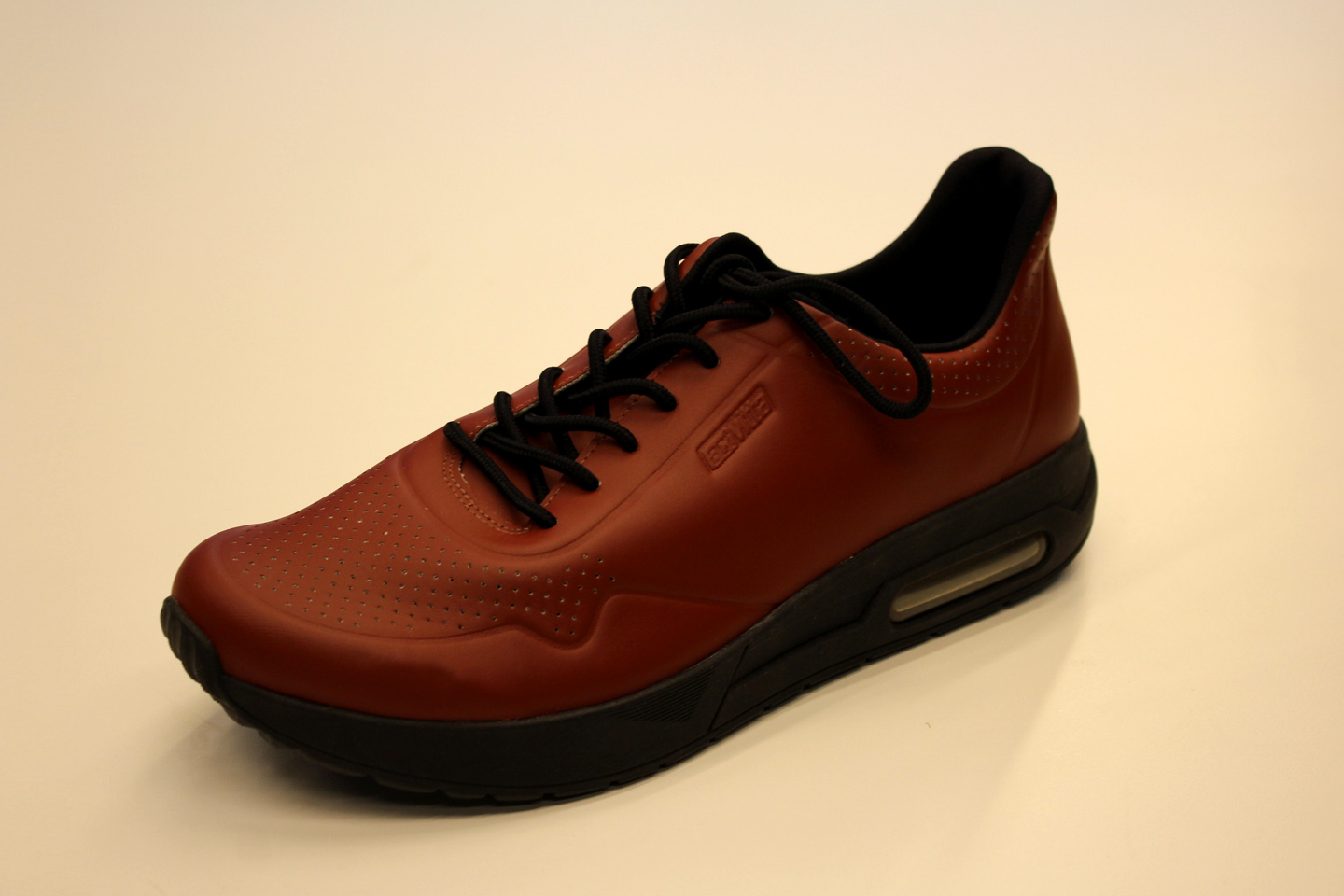 Shoe outsoles
TPU outsoles made of Desmopan® (up to about 60% of the carbon content is sourced from biomass) or cardyon®- based Desmopan® leave a lower carbon footprint and help close the carbon cycle. Dispercoll® U as a raw material for water based ADH adds excellent heat resistance, water resistance and hydrolysis resistance while reducing VOC.
Shoe stock lining
Resilient waterborne synthetic material and foam cardyon® base ensure a natural feel for the stock lining.
Shoe heel
The attractive heel of our concept women's shoe is made with INSQIN® waterborne polyurethane synthetics technology, post-consumer recycled polycarbonate regrind based on Makrolon® R and INSQIN® waterborne coating technology.
Shoe top lift
Elastomer Moca Free, produced by Baytec® T4X, brings more safety, sustainability and performance for the top lift shoe and consequently to consumers.
Shoe insole
Polycarbonate grades from post-consumer recycled (PCR) content such as water bottles, CDs and automotive lighting, beyond PET from disposable bottles collaborating for Sustainability and Circular Economy.
Shoe lining
Innovative cardyon® is produced with up to 20% carbon dioxide. Foam cardyon® based lining is a more sustainable alternative to petroleum-based raw materials.
Shoe upper
These PU synthetics made with INSQIN® waterborne PU technology together with water-based adhesive using Dispercoll® U offer outstanding washing resistance for the shoe upper.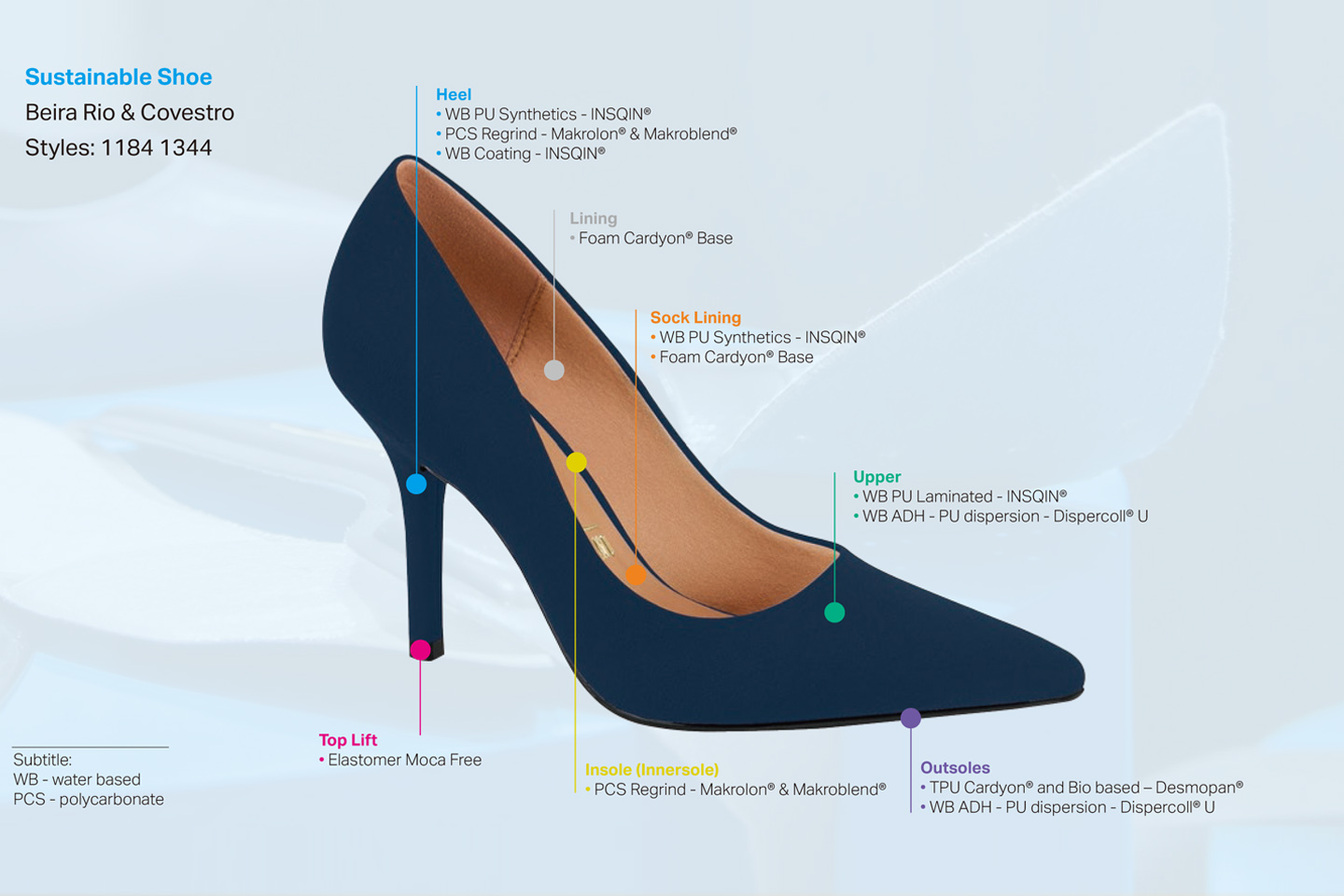 All shoe models can be sustainable
Besides high heels for women, we provide raw materials for a wider range of consumers who enjoy more comfort thanks to a casual shoe concept produced entirely by Covestro material solutions.
A good pair of shoes must firstly satisfy comfort needs, which is achievable with a PU synthetic made with Covestro INSQIN® tech. Covestro offers a great variety of materials combining appearance, excellent touch and design freedom to satisfy client needs and this includes bio-based polymer materials.
In the eco-friendlier chemistry and optimized PU synthetics production cycle, it is possible to reduce the carbon footprint almost by half, enabling material manufacturing and article production without using solvents such as DMF, DMAC, NMP, NEP in order to meet sustainability targets.
For Beira Rio, this Eco project was extremely important regarding out sustainability commitment. Focusing on the development of new products in a more sustainable way together with Covestro, we challenged ourselves and had the opportunity to expand our knowledge of new technologies, seeking to offer the market 100% sustainable footwear. This partnership has allowed us to show that the fashion world is also a market with multiple possibilities for awareness, preservation and responsibility regarding the environment.