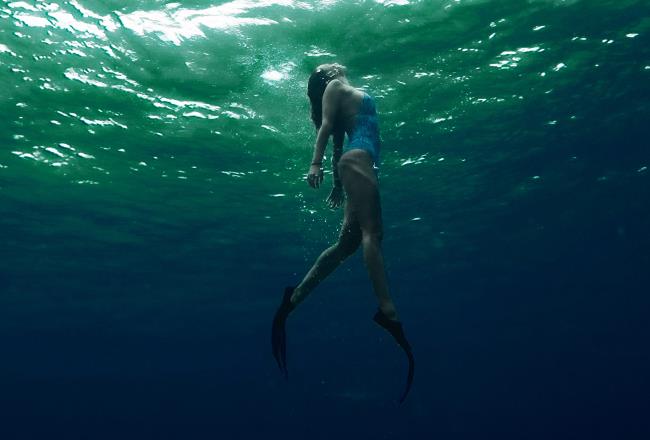 Story
Protects our bodies, protects the ocean: New biodegradable solutions for ocean-friendly sun care
Growing awareness of the effects of sunscreen on the world's oceans is motivating important revisions in sun care products. Formulations containing non-persistent ingredients reduce the ecological impact of sunscreens while providing effective protection against harmful UV rays.
Sunscreens and our oceans

There is movement in the sun care market. Studies have shown that UV filters in sunscreen are harmful to aquatic ecosystems and ingredients such as oxybenzone have received widespread media coverage. These growing concerns about the harmful effects of sunscreen have motivated manufacturers to review their formulas.

"No one wants their cosmetics to accumulate in the environment," says Covestro Marketing Manager Mélanie Dick. Yet sunscreen ingredients like chemical UV filters may be non-biodegradable. These persistent substances can build up in aquatic ecosystems and interfere with vital processes.

When it comes to reducing the environmental impact of sun care, it is important to remember that natural does not always mean biodegradable. Molecules like cellulose, for example, need more time to break down in water than some synthetic substances. "Polyurethane-based film formers demonstrate an excellent biodegradability in aquatic systems," explains Dr. Laurence Pottié, Global Business Development Cosmetic Raw Materials at Covestro.
Would you like additional details on Baycusan® or our sun care formulation concepts? Send us an email to request more information or a product sample.
Summer vacation. Cue the seagulls and rolling waves, hot sun beating down on sand, countless carefree hours – and the smell of sunscreen. Nostalgia for the warm scent of summer has even spurred new fragrances inspired by classic sunscreens. But since the sun-kissed sixties, consumers have begun to see sunscreen in a whole new light.

Sunscreen has advanced from a seasonal accessory to a daily skincare product. However, the demand for ocean-friendly formulations is growing in light of recent research. This trend is likely to continue as Millennials and Gen Z consumers prioritize products with a low environmental impact.
Biodegradable Baycusan® film formers for ocean-friendly sunscreens
An innovative line of polyurethane-based film-forming agents known as Baycusan® supplies the foundation for efficient, eco-friendly sun protection. The easy-spreading, long-lasting film-forming technology provides the ideal basis for UV absorbers to do their job in sunscreens, thus enabling more efficient sun protection. The excellent water resistance and selective SPF-boosting properties of Baycusan® make it possible to reduce the quantity of UV filters used in sunscreens – resulting in the release of fewer damaging ingredients into the environment while maintaining effective protection.

Baycusan® products were subjected to extensive biodegradability testing, including comparison tests with synthetic alternatives. Baycusan® polymers degrade and can even achieve biodegradability rates of up to 60 percent within 28 days under OECD 301-B test conditions, meeting the criteria for "ready biodegradability". The base polyurethanes in the Baycusan® range far outperformed currently used synthetic film formers, which exhibited poor and sometimes even zero degradability. Baycusan® polymers from Covestro are non-toxic and non-persistent in water.

"Our approach to improving the environmental impact of sun care products was to devise biodegradable film formers that enable efficient protection. We created a water-resistant solution that goes on and stays on. Improved UV filter coverage on the skin makes it possible to boost their efficacy," sums up Mélanie Dick.
Key benefits
Biodegradable
Non-persistent in water
Long-lasting protection that resists water, rubbing and sweat
Safe on skin and non-irritating thanks to an excellent toxicological profile
SPF boosting for more effective coverage
Elegant, velvety skin feel