Story
Reinventing mobility with the car interior of the future
The car of the future will be a multifunctional, mobile living and working space that seamlessly becomes integral to everyday life, providing the user with new experiences and the greatest possible autonomy.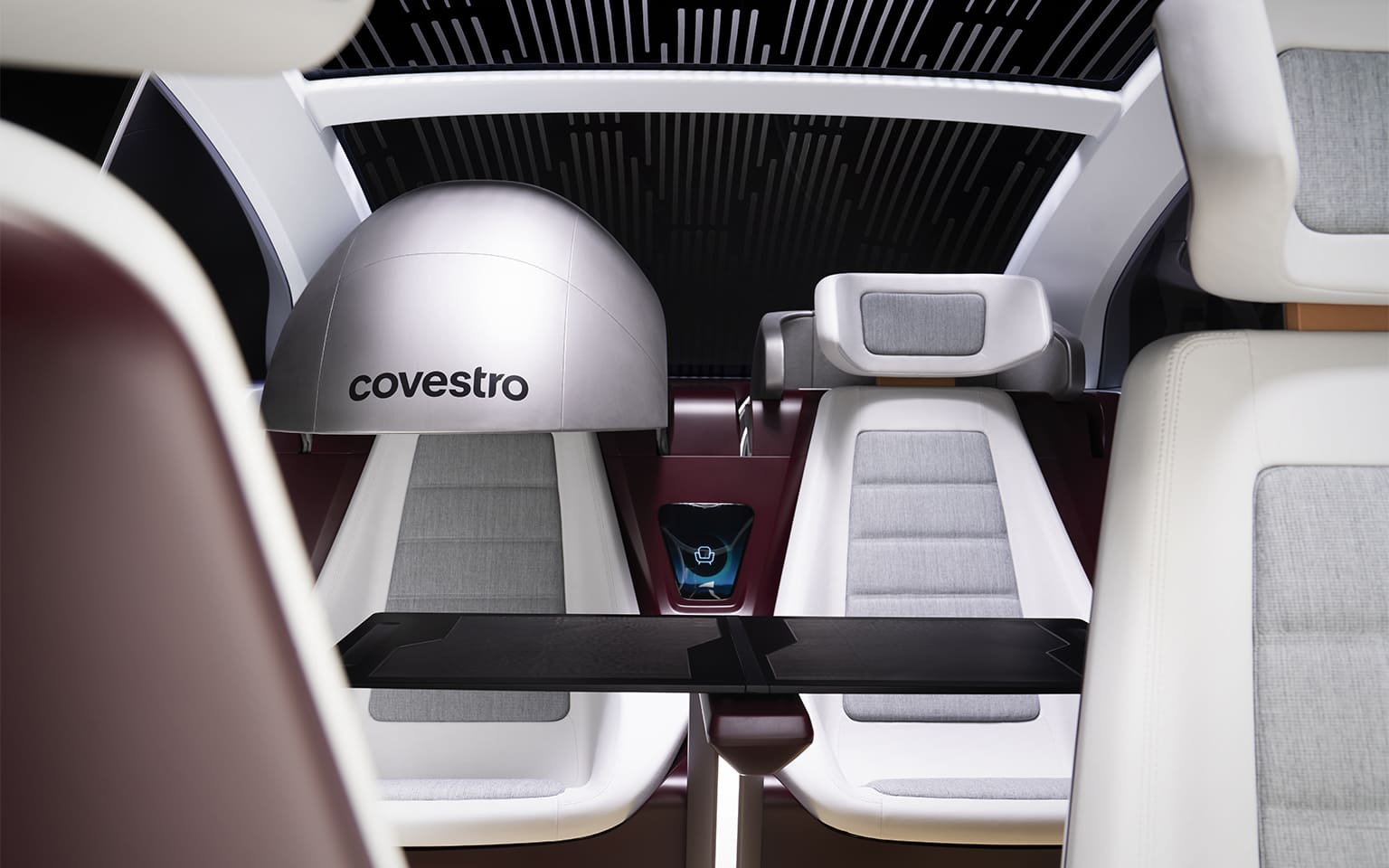 Designed ambience with polycarbonate films and textile coatings
The number of display surfaces and touchscreens in interiors will increase dramatically due to the trends of digitalization, connectivity and autonomous driving. Makrolon® Ai polycarbonate film and Makrofol® polycarbonate films play an important role in the manufacture of large, jointless decorative surfaces with a high level of perceived value and in the integration of large displays. The films also serve as formable carrier for printed electronics enabling further functional and light integration.
The designed ambience of the interior enables OEMs to set themselves apart—in more ways than meet the eye. For instance, the INSQIN® technology featured on the textile coatings for the headrest and dashboard offers increased sustainability, based on solvent-free, waterborne polyurethane dispersions. Its use in manufacturing for coated textiles is efficient and saves water and energy, compared to conventional production. INSQIN® also increases design freedom through a broad range of color integrating functions and dynamic lighting effects.
Smart polycarbonate material solutions for seamless mobility
Tomorrow's passengers will expect more from their riding experience. Covestro collaborated with industry leaders to set new standards for the look, feel and functionality in the interior of the future. By combining our rich history in automotive with an eye on the future, Covestro developed new material and technology solutions to take the functionality, design, production and in-car experience to the next level.

The interior concept features optically and haptically designed surfaces, the integration of ambient lighting, the latest high-tech human-machine interface systems and novel seating concepts, showcasing what is possible with Covestro polycarbonates, polycarbonate blends and polycarbonate-based composites.

Lightweight Makrolon® polycarbonate, Makroblend® polycarbonate blend and Bayblend® polycarbonate blend offer design freedom, mechanical stability while providing good thermal and electrical insulation. The material enables a range of glass-like surfaces and is available in a broad range of design and functional colors. These outstanding properties are vital for the integration of innovative displays, integrated sensors and cameras, functional and decorative surfaces with ambient lighting.

Future interior trim parts will feature a variety of natural materials such as wood or marble. These are combined with injection molded transparent or translucent Makrolon® Ai polycarbonate to create ambience.

Makrolon® Ai polycarbonate also opens a new avenue of lighting effects, for example in combination with innovative light outcoupling technologies like injection molded or laser engraved microstructures. Production steps can be streamlined by combining surfaces, transparent or translucent structural components, light and other smart functions, such as touch.

Maezio® continuous fiber-reinforced thermoplastic composites are based on polycarbonate, but are more robust and lightweight, due to their reinforcement with carbon fibers and are suitable for thin-walled parts. The material is featured in the interior seat back and table, showcasing how the interior cabin is flexible and adapted for new passenger activities such as working while in motion.
"Our comprehensive concept includes developments, which may become reality in a few years, but it also includes visionary ideas for the future. We are particularly focused on the interior design, which can be both living and working space in an autonomous vehicle, offering customized seamless mobility experiences. Future vehicle concepts for electromobility offer car manufacturers opportunities for completely new room concepts and additionally open up a new ground for brand differentiation."
Versatile polyurethane for comfort and style
Polyurethane is a traditional and extremely versatile material for interiors—often used in many components from the floor to the ceiling including seats, instrument panels and trim parts. Thermoplastic polyurethanes can create surfaces with properties from particularly soft to hard.

Polyurethane coatings developed with Covestro raw materials are also used for high-quality surfaces with adjustable properties. The interior concept features robust and abrasion-resistant coatings used throughout the interior concept including the seatback and floor. These coatings are available in various colors and surface structures to protect underlying substrates and offer a pleasant feel when touched.

Covestro is also a pioneer in the development of dispersions and hardeners based on renewable raw materials. The bio-based Desmodur® CQ, Bayhydur® CQ and Bayhydrol® CQ raw materials enable the automotive industry to use more products based on renewable* resources.
* Depending on the individual product up to 70% carbon content is derived from non-fossil-based inputs, confirmed by 14C measurements according to ASTM D 6866:2008.
The floor is completely reimagined with polyurethane materials, creating a welcoming, pleasant, home-like ambiance. Lighter than steel, Baypreg® is a two-component polyurethane system that offers key advantages. The combination of Baypreg® with glass-fiber mats and core materials such as paper honeycomb or expanded polycarbonate enable significant weight reduction and high mechanical strength.

Covestro also pioneered the formulation of aqueous coatings with very low VOC content. The polyurethane topcoat utilized in the floor feature Bayhydur® and Bayhydrol® waterborne coatings for durability and a customizable finish from high gloss to statin.

With Baynat® noise cancelling acoustic foam, which is usually used in headliners, Covestro created a privacy dome prototype to showcase a new mobility requirement and the need for privacy in ridesharing vehicles. The material enables the privacy dome to improve individual passenger comfort, ambience and interior acoustics, blocking out sounds from other passengers and the outside world for privacy and vice versa. Bayfit® polyurethane foam offers an additional noise canceling option. The material is directly applied at the production line and reduces structure borne noise.

Raw materials for polyurethane adhesives for solid and durable adhesive bonds round off the range, such as those used in the instrument panel and dashboard.
New styling possibilities are possible with autonomous, connected vehicles and innovative materials, creating a personalized experience for each passenger.
Long-lasting materials, and resistant to abrasion, UV, heat and chemicals
Comfortable and supportive materials enhance the riding experience
Lighter materials contribute to energy efficiency and reduce emissions
Covestro materials enable seamless mobility, allowing for work or play as the driver shifts to passenger.