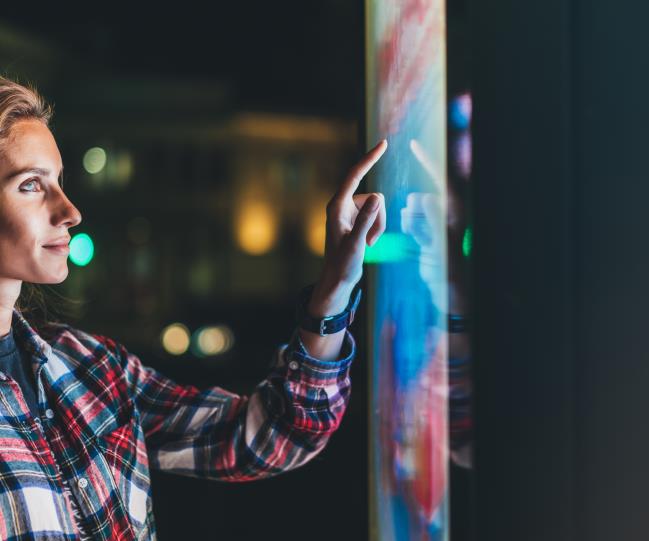 Application
Smart integration of materials and technology for innovative display designs
Multifunctional spaces feature screens and displays that seamlessly integrate infotainment, lighting and augmented reality (AR). Our advanced film and polycarbonate applications give designers and component manufacturers the ability to create these ultra-versatile spaces.
Featured Brands
Key benefits
Design freedom: Integrate new interior space design visions for unseen styles, aesthetics and curves.
Tough: Create screens and displays that are scratch, head impact and chemical resistant.
Lightweight: Enjoy functionality and efficiency while saving weight, space and process complexity.
Flexibility: Integrate screens and displays with a wide range of technical possibilities.
Clarity: Achieve glass-like optic transparency with trace-free surface usage and vibrancy-enhanced clarity.
Customizable: Adapt our holographic films and polycarbonate materials together with our application development team.
Easy production: Reduce process complexity by focusing solely on the polycarbonate material.
Interactive screens and displays are opening up a new world of design freedom and high technology.

Take car interiors, featuring augmented reality head-up displays, smart surface controls and variable ambient lighting elements. Other examples include consumer electronics with VR displays, or touchscreens on mobile devices, appliances, building automation, and wearables. These applications naturally require the seamless integration of different materials, technologies and functions. And they must enable a friendly design.

Our range of films and advanced polycarbonates provides an excellent integrated solution. Not only car and consumer electronics manufacturers benefit from comprehensive Covestro know-how – many other industries do, too, such as aerospace and medical or smart home.
Augmented reality / holographic films for head-mounted displays
New display concepts and augmented reality (AR) glasses require lightweight screen materials that meet the stringent optics and technology standards set by the industry. Bayfol® HX holographic film satisfies these requirements. Our development team works with you to customize the film to your specific screen view or display application.

When manufacturing holographic optical elements (HOE), Bayfol® HX film can be adapted to a wide range of solutions, including paper-thin, transparent, and even cylindrical 360-degree displays, light-guiding or laser beam filtering lenses and wearable devices.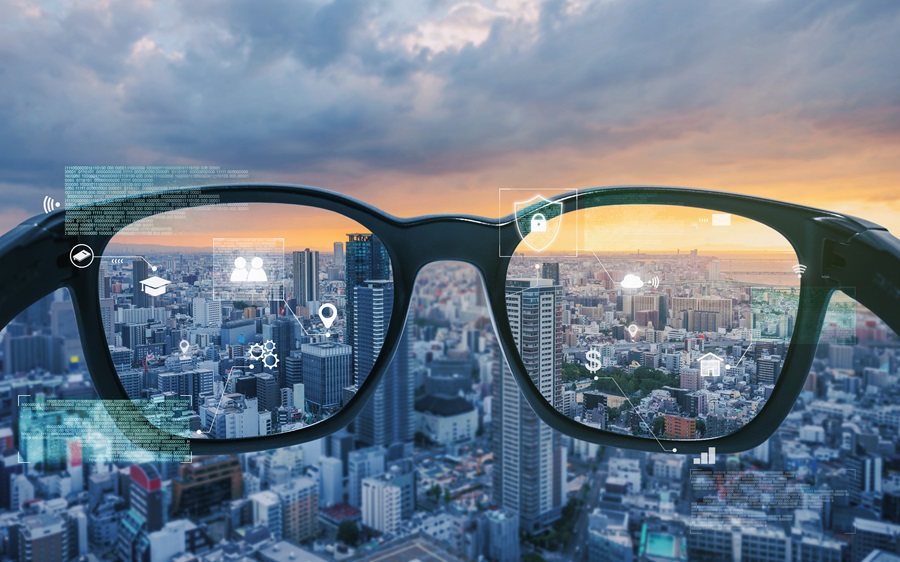 Polycarbonate films and resins for functional overhead consoles and infotainment displays
Fully functional smart surfaces integrate touch controls, display screens and lighting. Thanks to modern and advanced molding technology, electronics can be placed in slim, lightweight panels providing complex 3D shapes and content to the user's eye.

With the use of Makrofol® films and Makrolon® polycarbonate materials, a single structure is created that enables seamless function integration while offering design freedom for our customers.
Polycarbonate solutions for multifunctional screens and displays
Polycarbonates from Covestro allow designers to create unique forms for screens and interactive displays. Seamless 3D displays, combined with exceptional thinness, high optical quality and robustness, turn interiors into a multimedia stage.

Our Makrofol® films and Makrolon® polycarbonate materials give designers the freedom to create versatile, multifunctional and high-impact surfaces for all types of interiors.

With our materials, unseen curvature radiuses and complex geometrics allow for endless designs, while functionality and reduced process complexity enable heightened efficiency.