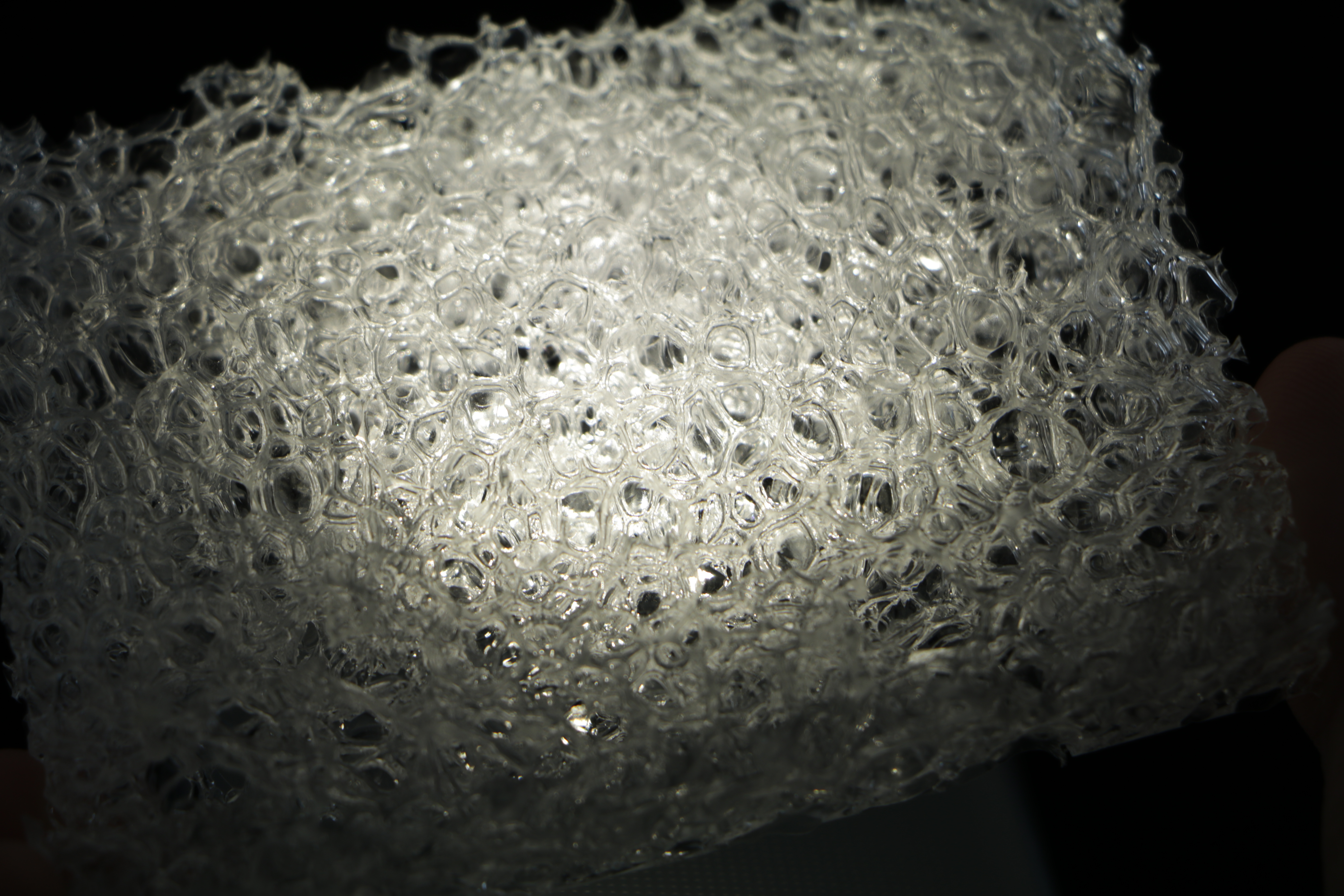 Story
Desmodur® clear: a translucent material breakthrough in rigid PU foams
Our Desmodur® clear-based translucent polyurethane foams can deliver thermal insulation and aesthetics in building construction design with no sacrifice in thermal insulation performance. The rigid aliphatic foams can combine UV resistance with colorfastness for a moisture-tight building envelope.
Exciting future for aliphatic PU foams: rigid translucent foams with Desmodur® clear
Product designers and construction engineers often turn to polyurethane (PU) foams when there's a need for high-performance thermal insulation, or for wall elements or façade panels.
Up to now, light has been brought into the building envelope by creating openings in the tight thermal insulating building envelope which creates disadvantages in the thermal properties and tightness of the building, including in terms of moisture.
In future, Desmodur® clear-based translucent polyurethane foams will shatter that convention. These innovative, colorfast and UV stable aliphatic foam materials unlock a wide range of diffuse lighting effects with natural daylight or even artificial light effects, without losing any of the traditional advantages of PU foams.
Allowing more daylight through skylights or wall panels can help reduce a building's electricity consumption for lighting, without any trade-off in room comfort or insulation R-values. Illumination of interior rooms can create a pleasant ambient lighting effect in areas with artificially lit intermediate wall elements.
Our revolutionary Desmodur® clear hardener for translucent polyurethane foams will allow more design freedom for industrial designers to bring natural lighting effects into buildings without sacrificing the excellent thermal insulation performance of PU foam-based sandwich panels.
Designed for the future: rigid PU foam for translucent panels and light bands with Desmodur® clear
Optimized for use in the construction industry, these new rigid translucent foams will be particularly well-suited for sandwich wall elements and insulation panels to secure the building envelope. The novel aspect of translucency and colorfastness in rigid foam is that diffuse (day)-light is transmitted through it, ensuring the light stability and UV resistance of the foam. At the same time, heat transmission can be reduced and a tight envelope created.
Combining 40-60% translucency with rigid foam insulation opens up entirely new building construction and design possibilities. For example, when used as an outside façade element, a rigid translucent panel can bring natural light into the building during daylight hours, allowing natural illumination and reduction in electricity consumption for artificial lighting.
The solid exterior wall can turn the façade into a glowing surface at night, and illumination from the outside can generate an additional lighting effect. It is also possible to think about increasing security at night by using translucent elements as safety night lights.
These panel elements can also be easily combined with conventional sandwich panels. Desmodur® clear-based rigid translucent foams are fast in curing, can be adjusted in thickness, and are able to meet fire requirements as well as the mechanical requirements for newly constructed buildings.
Increasing the amount of natural daylight in a building's interior can enhance the well-being of the occupants by bringing (day)-light into the building, while the translucent foam material retains the insulation properties, helping to keep the inside temperature comfortable and avoiding heat loss from the building. This can reduce electricity costs for heating and cooling, enhancing energy efficiency and reducing CO2 emissions.
With its thermal insulation, and color and light-stable properties this new material class of translucent polyurethane foams based on Desmodur® clear underlines our commitment to providing innovative material solutions for the construction industry.
Adding diffuse light transmission on top of the thermal insulation property, Desmodur® clear-based translucent PU foams are an innovation that will benefit the construction industry and other sectors. And as with other PU foams, they are versatile in terms of properties and haptics for either soft or rigid designs.
Key Benefits
Translucent: Translucent PU foams enhance design freedom using natural and artificial light.
High-performance: Desmodur® clear foams meet mechanical and fire regulations for new buildings.
Insulating: Translucency is coupled with high thermal insulation and mechanical stability.
Easy to install: Translucent PU panels & roof lights can be combined with conventional ones.
Colorfast: Aliphatic PU foams offer color stability and UV resistance.
Versatile: Desmodur® clear translucent foam materials suit a wide range of applications.