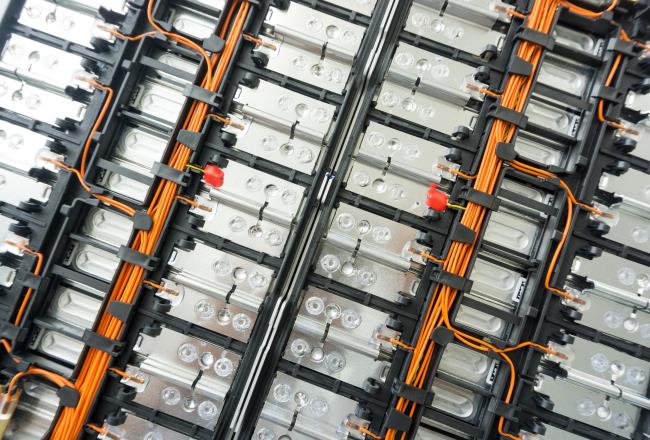 Story
Take your battery pack design for electric cars to a new level.
Players in the electric vehicle industry are today focused on optimizing battery designs. Thanks to the versatility of our Bayblend® and Makrolon® solutions, we offer several material options for a variety of designs. The result: increased energy storage and safety, light weight and reduced costs.
Bayblend® helps to meet your automotive battery pack design needs
Most lithium-ion battery pack designs involving cylindrical, pouch or prismatic automotive cell types can be realized with Bayblend®.

1. Cylindrical battery cells
Clamshell battery designs are suitable for increased energy storage and usually involve cylindrical cell types, which are normally fixed in place using adhesives. With Bayblend® FR3040 EV PC+ABS blend, the curing of the adhesives can be completed in just five seconds. This, in turn, significantly speeds up battery module assembly.

This Bayblend® product also offers high ductility and great processability, making it an excellent choice for designing parts with tight tolerances fit for mass assembly.

2. Prismatic battery cells
In prismatic cell types, Bayblend® is typically used for busbar holders due to its properties. This is especially suitable for heavy-duty e-vehicles such as electric buses and electric trucks. For designs requiring long-term vibration tests, the flame-retardant Bayblend® FR3010 PC+ABS blend is a viable solution.

3. Pouch battery cells
Due to their geometry, pouch cell types are easy to fit into tight spaces, but battery packaging designs must also account for swelling during charge and discharge cycles. Frames must also satisfy the need for precision molding.

To provide the stiffness that pouch cell types may require, we offer mineral-filled products with Bayblend® that show good ductility and great flame-retardant performance.
Choose Makrolon® to help with effective heat management for electric car battery packs
A way to improve the lifetime and capacity power of lithium-ion batteries is to enhance the temperature distribution within the modules to be as uniform as possible.

One option is to use a Makrolon® thermally conductive (TC) polycarbonate product such as Makrolon® FR110. Together with a ductile Bayblend® product, the need for stable mechanical properties can be fulfilled.

The use of plastics eliminates the need to use separate conductive metal conduits, positioning cooling channels directly on the holding frame. The result is integrated functionality for increased capacity and power, with a reduced number of components, using less space at a lower cost.

Our automotive thermal simulations and tests show that it is possible to achieve cooling performance targets despite the lower conductivity of thermoplastics. This can be accomplished by choosing high-flow materials for molding thin walls.
Contribute to high automotive safety standards with your electric cars and battery technology
Because safety is important for battery-powered electric cars, we have gathered highly valuable material data using our purposely built tool.

This data is essential when simulating the crash behavior of electric cars and battery packs, allowing engineers to fine-tune the energy capacity dissipation of such parts while fitting the battery technology within the design space.

When it comes to safety, Makroblend® products are used as crash absorbers for battery-powered electric vehicles.
Discover one of our most recent developments: lithium-ion battery covers
One of the most recent developments to come from our engineers is the manufacturing of big covers for lithium-ion battery packs.

These types of battery covers are made of Makrolon® using long fiber reinforced thermoplastic (LFT-D). This offers several advantages over other material solutions. It can offer higher productivity with lower cycle times, while also delivering better flame retardance. Furthermore, it can pass the required airtightness tests.

The sustainability of the whole battery pack has also been taken into consideration. As a result, the Makrolon®-based LFT-D solution can be recycled and used for other applications.
Rely on us to help you find the right material solution for your electric cars
The actual performance and design of the battery pack components depends on the requirements of the OEM and should be validated and verified via testing by the automotive battery manufacturer.

This is why our design team works hard to help you develop e-vehicle material solutions – after all, polycarbonates are highly versatile.

The right battery module designs call for the right materials, and we are ready to support your product development efforts with the appropriate formulations and advanced application development expertise.
Bayblend® and Makrolon® play a leading role in plastic parts when it comes to supporting the manufacturing of safe and efficient battery-powered electric vehicles. Our support team is right by your side when it comes to finding a solution that matches your needs for power, capacity and cost-effectiveness.
Key Benefitlist
Flexibility: Engineers have battery pack design freedom while ensuring high conductivity.
Supporting safety: Our Bayblend® and Makrolon® products are ductile and flame-retardant.
Lightweight: Automotive plastic parts weigh less than other materials such as metal.
Heat management: The lifetime of battery cells can be improved with effective heat management.
Mass assembly: Production ensures high dimensional stability of parts and fast assembly time.