Story
Going the distance with next-gen performance footwear
Whether running, playing basketball or wanting to have an active lifestyle, consumers want their footwear to be comfortable, stylish and perform well. When it comes to designing and manufacturing the next generation of shoes, materials make the difference.
Performance footwear is used by millions of people every day—professional athletes, weekend warriors and those who are striving for a healthier lifestyle. It's a highly competitive market, where shoe brands seek to set themselves apart by offering cutting edge designs, styling and performance.
Covestro offers a broad portfolio of material solutions that provide numerous opportunities and design freedom for next-generation footwear that can help people achieve better performance in sports, lead a healthier lifestyle and express their personality and individuality. Covestro teamed up with a Chinese footwear designer to develop innovative footwear concepts: a high-performance basketball shoe and a foot shape-based running shoe that demonstrate how consumers can have it all—comfort, style and superior performance.
Covestro provides highly innovative and sustainable footwear solutions for a more agile life
Advanced materials score points for durability … and comfort
Durability is an important quality for all shoes, but it's even more critical in performance footwear applications, such as basketball or running shoes. Shoe uppers formed from Desmopan® thermoplastic polyurethane (TPU) fibers make this component more durable, but without sacrificing softness and therefore, comfort.
The midsole is printed using TPU powder and the SLS process. Covestro TPU powder offers high tear and abrasion resistance and is ideal for running shoes as it is flexible and offers a high energy return. As an added bonus, much of the leftover powder from the process can be recycled.

The shoes also feature the newly developed Maezio™ carbon fiber-reinforced TPU (CFRTP) for the shank. This material is very light, but also extremely stiff and torsion resistant, offering a high degree of design freedom and a strong aesthetic appeal with an eye-catching unidirectional carbon fiber look. Another benefit: it is recyclable. Maezio™ composites can be cut and remelted for reuse at the end of life, or reground into short fiber compounds and used in an injection molding process.

For basketball shoe manufacturers who want to help relieve foot fatigue and provide extreme sporting comfort, visco-elastic polyurethane foam is a smart choice for the sock liner, as it offers superior energy absorption properties and shock resistance.
Because running shoes are often worn outdoors for several hours at a time, it is particularly important for the upper material to be water resistant and breathable. This functionality is achieved on the concept running shoes by using a special INSQIN® coating.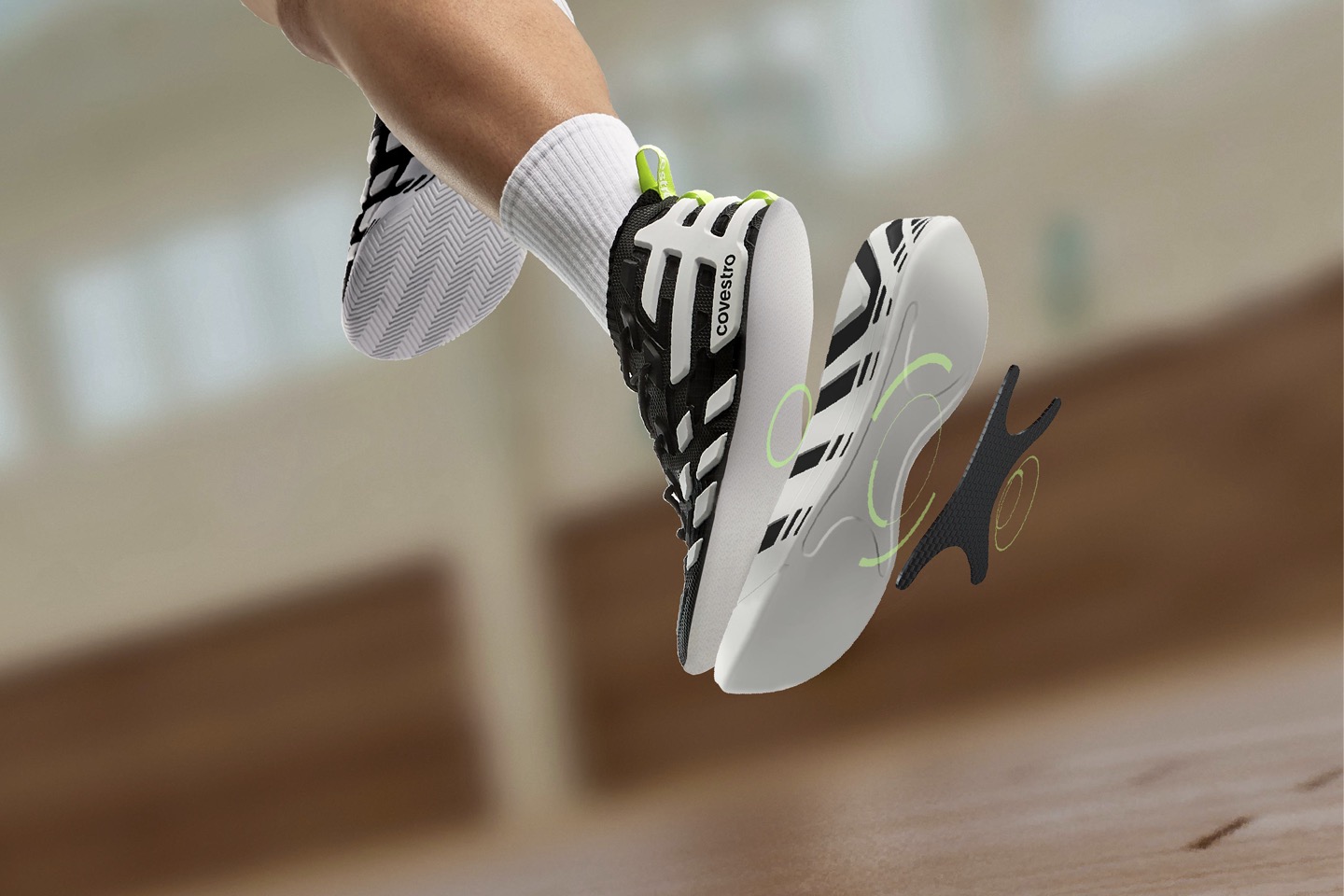 Developing a strong bond

Shoe manufacturers must keep an eye on the bottom line, ensuring their products are produced as efficiently as possible, without impacting quality. Our Dispercoll® U one-component polyurethane dispersion technology offers many advantages for bonding shoe components. The automated process is reliable and offers consistent quality. But that's not all. It also enables brands to reduce costs related to equipment, energy use, the workforce and even material waste while also offering greater design freedom. Our Dureflex® and Platilon® TPU film, which can be used on the label to brand the shoe, also offers excellent bonding to the fabric via an efficient process that offers high productivity, good printability and a pleasant, soft feeling.
Covestro is a one-stop shop for next-gen performance shoe materials.
Maezio™ composites allow design freedom with tunable mechanics and aesthetics.
Versatile TPU is a go-to material for a wide variety of shoe components.
Dispercoll® U solutions and Dureflex® and Platilon® TPU film give shoe brands efficient and reliable options for bonding.
Covestro is a strong and reliable partner in the footwear industry value chain.
Insoles made of viscoelastic PU foam effectively absorb mechanical loads.