Story
From bumper to bumper: Covestro materials for future-forward automotive concepts
As the automotive industry continues to evolve, we are rethinking the design and functionality of vehicle components. At K 2019, we showcased a wide variety of forward-looking design concepts made possible with our innovative materials.
From top to bottom, inside and out, the vehicles of tomorrow will be much different than the vehicles of today. Envisioning how our materials can enhance future automotive components, we created new mobility concepts that, with the help of our materials, will push boundaries of how passengers get from Point A to Point B.
Materials enhance exterior components
Electric vehicles (EVs) are creating new design possibilities for front grilles, such as the transformation from open grilles to closed grilles and the integration of signature light, 3D patterns and color effects using transparent and impact-resistant polycarbonate.
Dynamic light and display integration come together in our
front grille demo
: a seamless polycarbonate grille with a metallized 3D rear structure and rear projection technology. A second prototype utilizes Makrolon® AG2677 ST polycarbonate for seamless LiDAR integration into exterior parts with silver printed LiDAR black Makrofol® film. To incorporate functionalized films into the design, we developed 5D film insert molding (FIM) technology, which combines rear 3D structures with color and decoration.
Emerging automotive technologies also create a demand for new ways to incorporate styling and connectivity into traditional body components. We delivered the ultimate combination of look and function with our next-generation
roof spoiler concept
, which integrates sensors, cameras and lighting elements for enhanced safety and unlimited design opportunities. Polycarbonate materials provided an excellent material for these components.
For example, Makrolon® polycarbonate offers excellent transmission properties for 5G signals while enabling seamless design and integration of 5G modules. Additionally, our DirectCoating technology allows OEMs to create stylish and functional surfaces with an efficient two-stage manufacturing process that combines conventional thermoplastic injection molding with an in-mold coating. The result: a polyurethane-coated high-gloss spoiler with outstanding properties.
Wheels can be a key point of differentiation for automakers, but it's not enough that they look good—they also need to perform well for the long journey ahead. Recognizing the aesthetic appeal of our Maezio™ continuous fiber-reinforced thermoplastic (CFRTP) composites, NIO used these materials to take the
wheels
of its all-electric SUVs to the next level. The wheel features aluminum spokes with bolted-in carbon fiber wheel blade inserts.
With unidirectional optics, Maezio™ CFRTP composites offer an attention-grabbing look unlike that of the traditional woven fabric look of carbon fiber. These materials were also used in a matte coating system that provides the necessary protection combined with an aesthetic flare. Lastly, the wheel blade inserts are joined together with the spokes through back-molded bosses made of Makrolon® polycarbonate.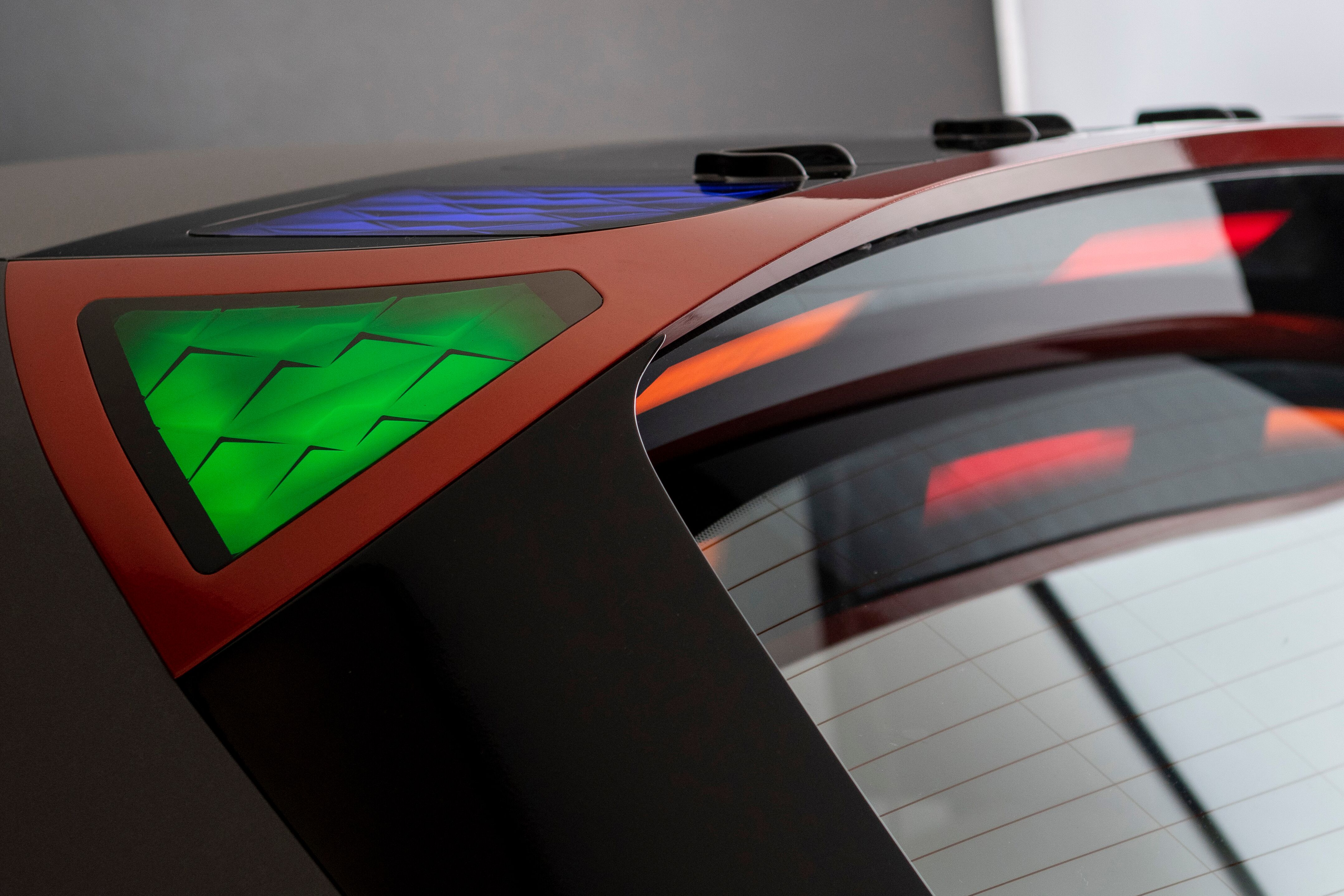 Polycarbonate resins illuminate lighting demonstrator
The automotive lighting evolution will call for smaller and sleeker shapes, new thermal management strategies, reduced system costs, integration of advanced driver-assistance systems, and enhanced branding and aesthetics for automakers. We are supporting these future challenges with a
lighting demonstrator
that showcases several forward-looking lighting components and supportive technologies.
Polycarbonate lights the way in the demonstrator, with properties to meet the optical purity, heat performance, durability and processing needs for lighting applications. Makrolon® TC 8030, DS 801 and LED 2245 polycarbonate grades are used for the lighting components. These materials, together with innovative designs, optimized processes and consolidated parts, create a lower-cost system. The demonstrator also displays different light diffusion, transmission and color options.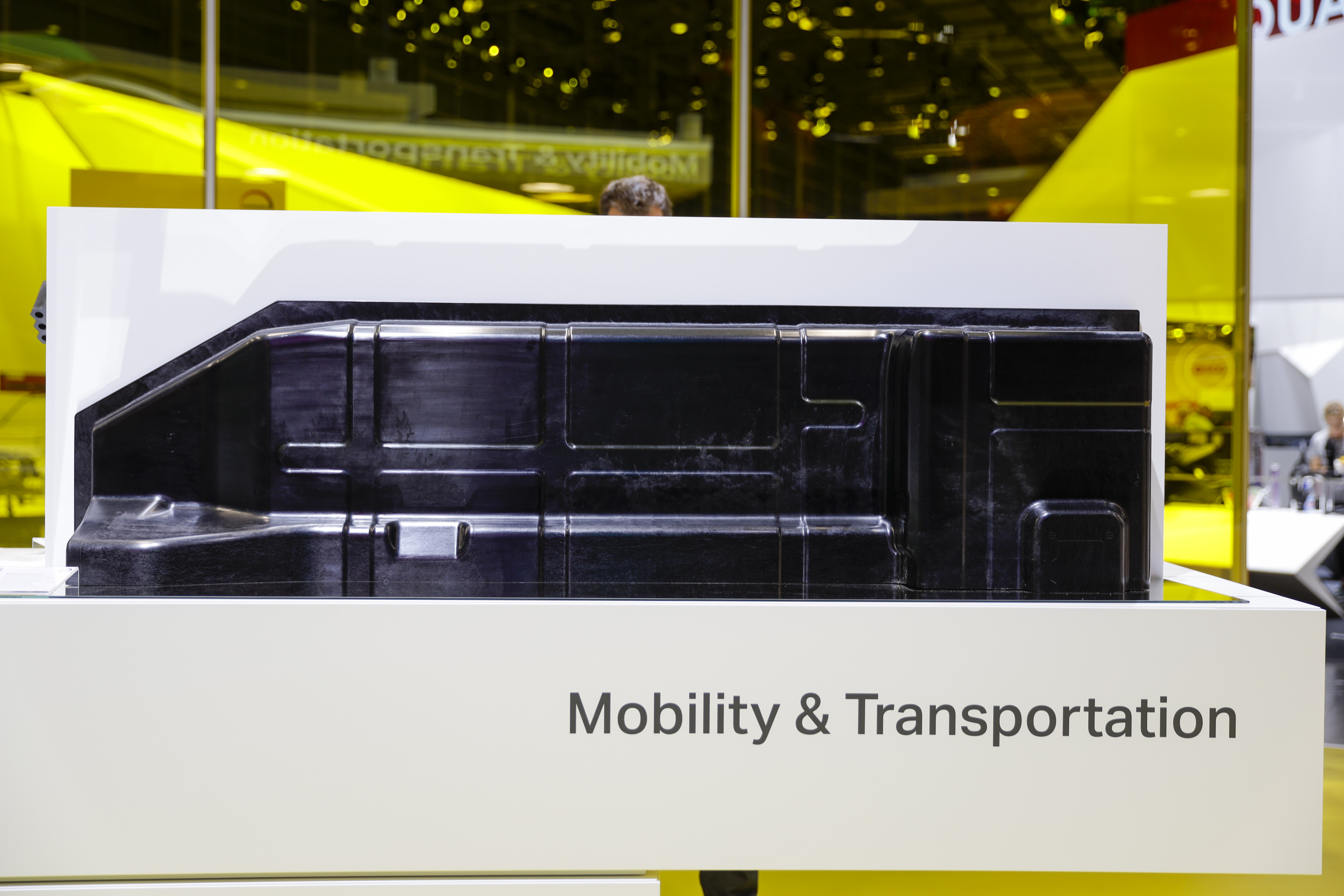 Polycarbonate-based packaging protects EV batteries
Batteries will be at the heart of future mobility technologies. A battery's packaging must be compact and safe while delivering cost-efficient, versatile and dependable energy to electric vehicles. To achieve maximum performance with minimal packaging, designs that integrate parts and functions call for versatile and tough materials. Enter our polycarbonate-based materials, which drive solutions for a wide range of
battery packaging components
, including enclosures, cell holders, cooling devices and crash absorbers. With dimensional stability over a wide temperature range, polycarbonate helps OEMs lower costs while achieving high energy density, durability and safety.
For more information, visit
www.solutions.covestro.com/en/materials/plastics
or email
plastics@covestro.com
.
Makrolon® and Makrofol® are registered trademarks of the Covestro Group. Maezio™ is a trademark of the Covestro Group.
Electric vehicles and autonomous technologies are creating new demands for automotive applications. From the car's exterior to lighting components to battery packaging, our materials have what it takes to drive innovation forward.
Lighter materials combined with design freedom: Polycarbonate materials reduce weight while enabling greater design freedom in front grilles.
Increased connectivity: In roof spoilers, polycarbonates enable good signal reception and transmission for integrated sensors, cameras and antennas.
Novel optics: Maezio™ composites deliver novel optics for automotive exteriors.
High durability: Polycarbonate materials provide dimensional stability and durability over a wide temperature range.