Case study
Covestro collaborates with Ningbo Procare in supporting China's dental care development
According to a recent study, due to the growing aging population and the rise in oral health awareness, the dental implant market in China has experienced rapid growth in the past few years and has the potential to expand even more, likely exceeding CNY 452 million by 2020 and growing at a CAGR of over 37.7%. Implant instruments are some of the most expensive devices of limited availability. With the increasing demand for such care, dental clinics are looking to accelerate instrument sterilization so that fewer instruments are needed.
The dental implant sterilization box, used for the daily sterilization of instruments, consists of a container and a transparent lid.

Ningbo Procare Packaging Material Co., Ltd. (Procare) is a leading designer in the realm of healthcare injection molding and applications in China. It was looking for a better material for the lid. The material had to meet medical grade standards and be able to withstand 134℃ steam sterilization for repeated cycles of over 15 minutes each.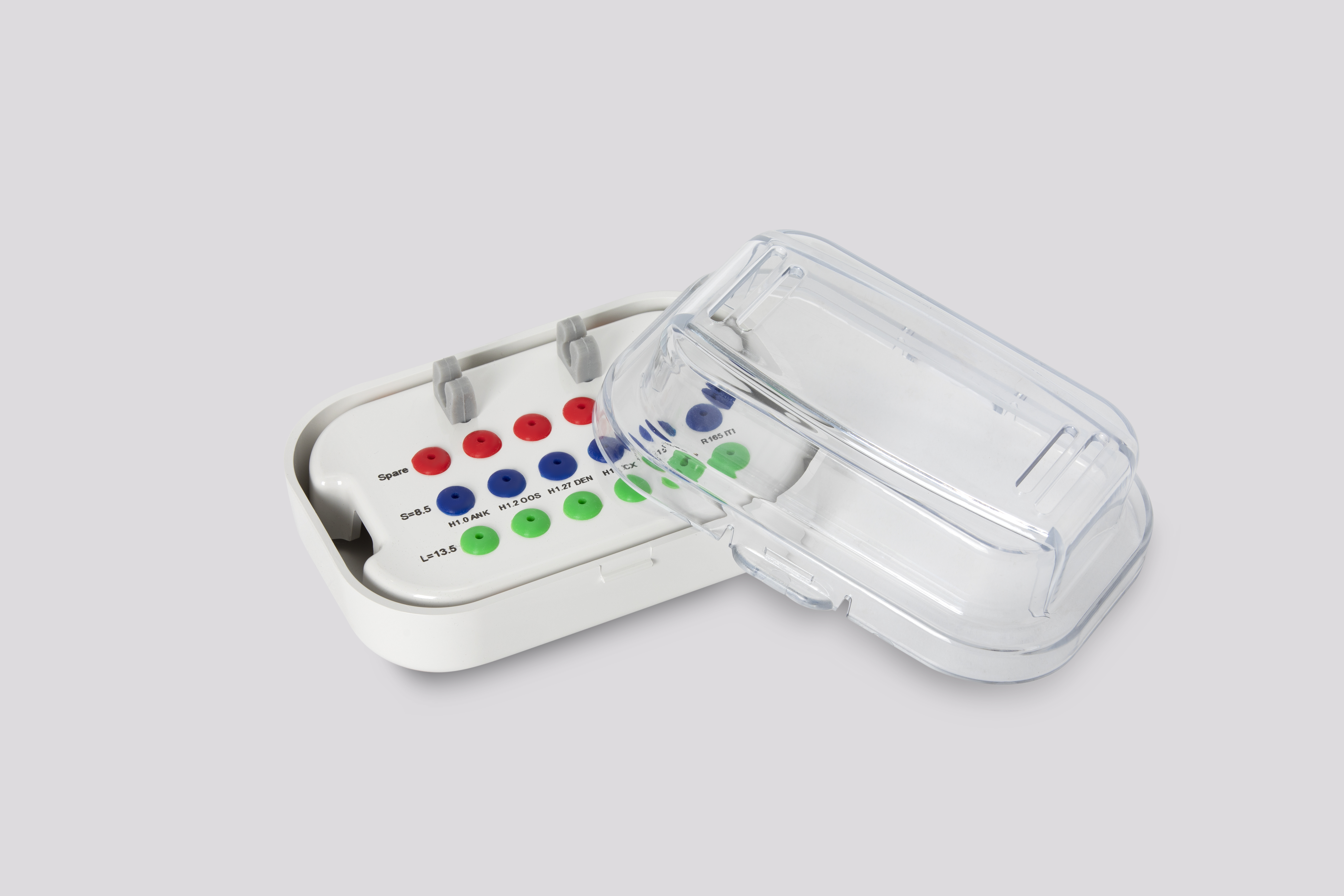 PPSU had frequently been used for these lids, as it is able to withstand 200 sterilization cycles. However, Procare found certain unresolvable problems with PPSU. For instance, it has a yellowish base color and an insufficient degree of transparency, it requires high-temperature and high-pressure injection molding conditions which are difficult to control and small cracks form after excessive repeated use which may lead to cross contamination.

With the outbreak of COVID-19, Chinese hospitals and clinics are no longer calling for sterilization boxes that can be used for so many cycles, instead preferring frequent replacement, which implies a reduced number of sterilization cycles, to better prevent cross infection.
APEC® 1745 is a medical-grade high-heat polycarbonate specifically designed for steam sterilization at high temperatures, whereas other medical polycarbonate resins lower temperatures and longer times to achieve sterilization.
APEC® 1745 allows for sufficient sterilization cycles with minimal change in color and transparency. (internal study link: https://www.covestro.com/en/media/newsletters/healthcare-polymers/2017_01_multiple-steam-sterilization-sycles-with-apec-1745) and maintains mechanical properties fit for expected usage within life time of sterilization box, thus better preventing cross infection likely from excessive repeated use.
Additionally, APEC® 1745 may be sterilized using high-heat steam and ETO and is suitable for applications requiring biocompatibility that comply with ISO 10993-1 and USP Class VI standards.
"Although current product made of PPSU is durable for 200 sterilization cycles, according to feedback from hospital end users, sterilization boxes will not break during the usage life time, but the extent of small crazing is a key factor in deciding whether a new sterilization box is needed due to higher risk of cross contamination and unsatisfactory product aesthetics.

Therefore, the potential number of sterilization cycles is not the only consideration point hospitals look at. Covestro's medical high-heat polycarbonate APEC® 1745 has perfectly solved problems related to colorability & transparency, ease of injection molding and most importantly cost efficiency"

Why choose APEC® 1745?
High heat resistant: APEC® 1745 allows for superheated steam sterilization at high temperatures (up to., 143℃) in shorter time.
Colorability: Compared with the yellowish base of PPSU, APEC® 1745 maintains glass-like clear blue tint transparency, and is a good base resin for clear transparent colors, production of different series identified by different colors.
Lower cost: Compared with PPSU, APEC® 1745 costs less and has lower density.
Less excessive repeated sterilization, lower cross infection risk: PPSU can be used for 200 – 1,000 sterilization cycles, it could be regarded as over-engineered based on new hospital preferences. Compared with PPSU, a lid made with APEC® 1745 can be used for the lifetime of the sterilization tray and up to 100 times with excellent quality.
Lighter weight: APEC® 1745 has a lower density at 1.17g/cm3 compared with PPSU's typically at about 1.30 g/cm3, so lids made of APEC® are lighter yet equally thick, reducing logistic and handling difficulty.