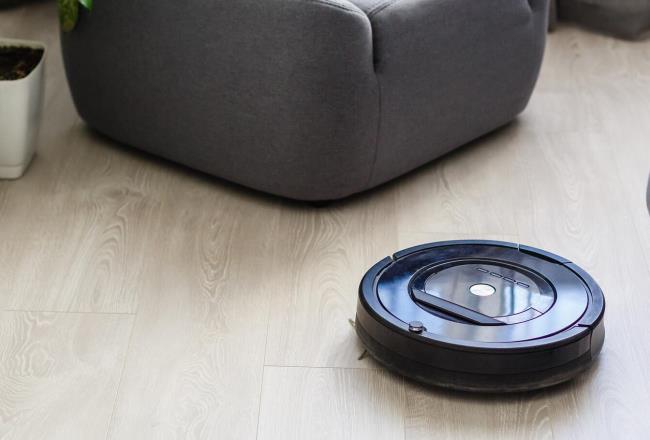 Story
Robust solution for vacuum robots: LiDAR-transparent Makrofol® ST352 films
Smart home devices such as robot vacuum cleaners use LiDAR laser scanning sensors to navigate. Our Makrofol® ST352 polycarbonate (PC) film is an excellent solution for robust, lightweight, and stylish black surfaces that are LiDAR-transparent, made with film insert molding (FIM) technology.
Smart mobile home devices require tough, integrated and sensor-transparent surfaces.
When designing and manufacturing vacuum robots and other smart home devices, electric and electronics manufacturers have a wide range of requirements to reconcile, with a set of trade-offs similar to smart cars with driving and security assistants.
Cleaning robots require an attractive design that appeals to customers. In parallel, to capture household dirt and dust effectively, vacuum robots integrate multiple sensors and scanners to ensure accurate orientation and help them navigate through a domestic setting.
The device housings are ideally seamless, closed surfaces that conceal the multiple sensors. These plastic covers must be easy to clean, yet robust enough to stand up to everyday wear and tear. At the same time, this tough surface material must be lightweight and not interfere with scanner functioning in any way. And the final vacuum robot must be able to be manufactured using proven processing technologies.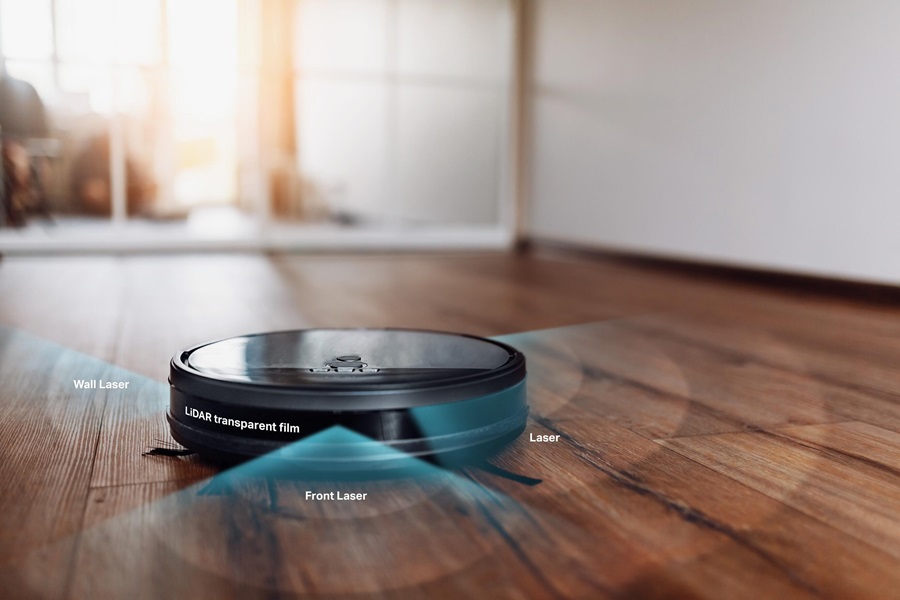 LiDAR technology is the key to scanning and mapping for vacuum robot mobility
Light detection and ranging – commonly called LiDAR – is the remote sensing technology that is most often used in mobile household devices, since traditional optical camera systems would mean added weight to carry.
LiDAR sensor technology uses light detection in the form of a laser pulse to continually scan measurements of variable distances as the device moves itself around. On a vacuum robot, multiple LiDAR sensors are busy monitoring and mapping the immediate surroundings to prevent the cleaner from getting stuck.
Ideally, a LiDAR system is housed under a cover that is functionally transparent for sensors in the exact wavelength range in which they operate. Black panel technology allows the sensor application electronics and mechanics to be concealed visually and protected physically, while at the same time allowing for easy surface cleaning.
This demands a surface material for the cover that meets all performance requirements. However, LiDAR systems may also require surfaces with decorative elements, with either printed logos or a second layer of surface printing behind the film. This added layer can also be equipped with hidden-until-lit technology, displaying the logo or information only when it is backlit.
Our Makrofol® ST352 PC film was engineered for sensor integration. Like smart cars, self-driving robot vacuum cleaners require a LiDAR-transparent material solution. The film enables the production of devices with seamless black panel surfaces using proven FIM technology.
Makrofol® ST352 PC film: engineered for LiDAR system applications
Our Makrofol® ST352 high-quality PC film is an excellent choice for producers of vacuum robots and other mobile smart home devices that integrate LiDAR sensor applications.
The film itself is darkly tinted in order to yield a deep black panel surface, and it is engineered for LiDAR and radar transparency. This means that Makrofol® ST352 couples high light transmission in the near-infrared (NIR) range with well-defined low-light transmission in the visible (VIS) range, ensuring a consistently dark visual appearance that does not impede laser scanner functionality.
The extruded PC film offers an additional one-sided cap layer for UV protection, and a smooth and glossy surface on both sides, and is lined with protective masking. This makes the film well-suited for additional processing steps such as cutting, high pressure forming or thermoforming, film insert molding (FIM), printing, and coating. It is available in thicknesses of 375 and 500 microns, and other profiles are available upon request.
Tough plastic cover panels for vacuum robots can be manufactured cost-effectively using film insert molding (FIM) technology, in which a formed and trimmed Makrofol® film which has been decorated using screen printing, is then back-molded using a transparent thermoplastic such as our Makrolon® polycarbonate. A backlit logo or information display can also be integrated.
Our Makrofol® ST352 PC film combines dark panel design freedom and formability with integrated functionality for LiDAR sensor technology applications. This combination makes our NIR-transparent and UV-protected polycarbonate film an excellent choice for designers and manufacturers of vacuum cleaning robots and other smart home devices. It is therefore also very suitable for the next generation of autonomous robotic lawn mowers when they use LiDAR technology to orientate themselves in the terrain.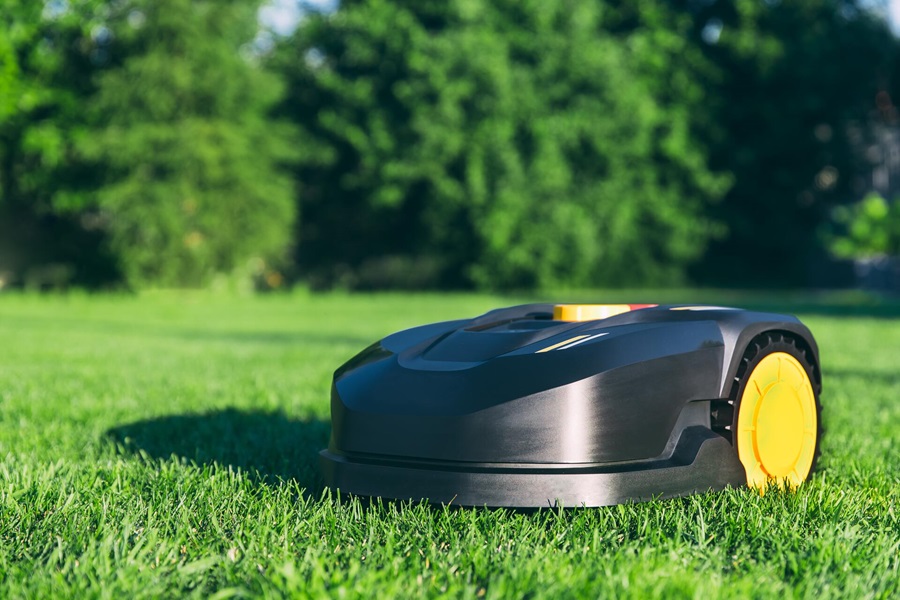 Key Benefits
Design freedom: Makrofol® ST352 film is formable for deep black panel surfaces.
LiDAR-transparent: The material offers high transmission in the NIR range for laser sensor applications.
Lightweight: Makrofol ST can be combined with lightweight thermoplastics.
Robust: The PC film is robust, with high resistance to impact and tearing.
Easy care: Surfaces made with Makrofol® ST352 film are easy to wipe clean.