Story
On the fast track to recyclable sneakers with TPU materials
The footwear industry is always striving for ways to improve the sustainability of sport and leisure shoes. But recycling is a challenge, due to the different materials used in each shoe. If one type of plastic could be used for all components, future recycling is more viable.
The unique versatility of thermoplastic polyurethane (TPU) makes it viable as the sole plastic for recyclable footwear. This is possible because TPU shoe components can be mechanically recycled to form components of a new shoe.
As an indication of its role as a strong innovation partner, Covestro teamed up with a Chinese footwear designer to develop a next-generation concept sneaker to explore what's possible in driving future material solutions for recycling concepts
Covestro's strong innovation power makes it a strong and reliable partner in the footwear industry value chain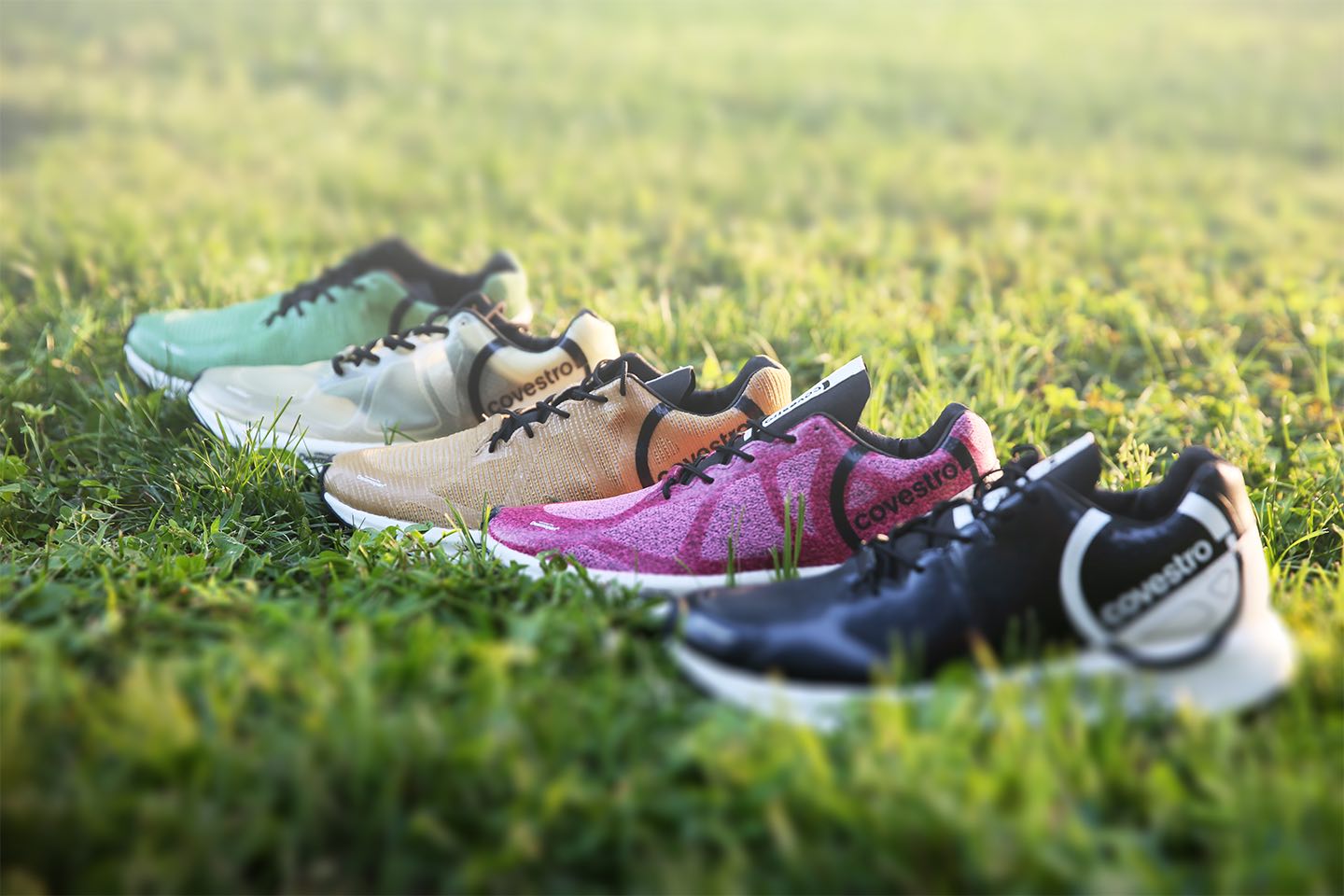 One material, many applications
Our Desmopan® TPU resins can be used for numerous footwear applications, ranging from outsole and midsole over heel-counter, toecap, torsion-bar, eyelet and logo to fiber, non-woven and film. More specifically, our TPU resin forms outsoles that are soft yet offer high abrasion resistance and grip. Meanwhile, our TPU resins for expanded or foamed midsoles provide energy return and comfort.
In addition to the conventional TPU resin portfolio, Covestro offers TPU fibers that can be knitted into fabrics for shoe uppers that are durable yet soft and comfortable. Furthermore, nonwovens and films made of TPU could be used as a protective layer or artificial leather for uppers. Finally, TPU hot-melt could be used as a thermoplastic joint between upper and sole. The possibilities are as far-reaching as the designer's imagination!
CO2-based raw materials: An even better alternative
Partly bio-based TPU or TPU containing cardyon®, a partly CO2-based* raw material, could also be integrated in various sneaker components like foamed midsole, outsole or logo. With those materials, Covestro strives to utilize alternative resources—be it CO2 or partly bio-based raw materials—to replace fossil components wherever possible.

*cardyon® polyols contain up to 20% CO2
TPUs offer a winning combination of sustainability, performance and design.
Versatile TPU materials can produce attractive, high-performance shoes that can be recycled.
Fossil components can be replaced by using partly bio-based TPU or TPU containing a CO2-based raw material.
Covestro is a strong and reliable partner in the footwear industry value chain.