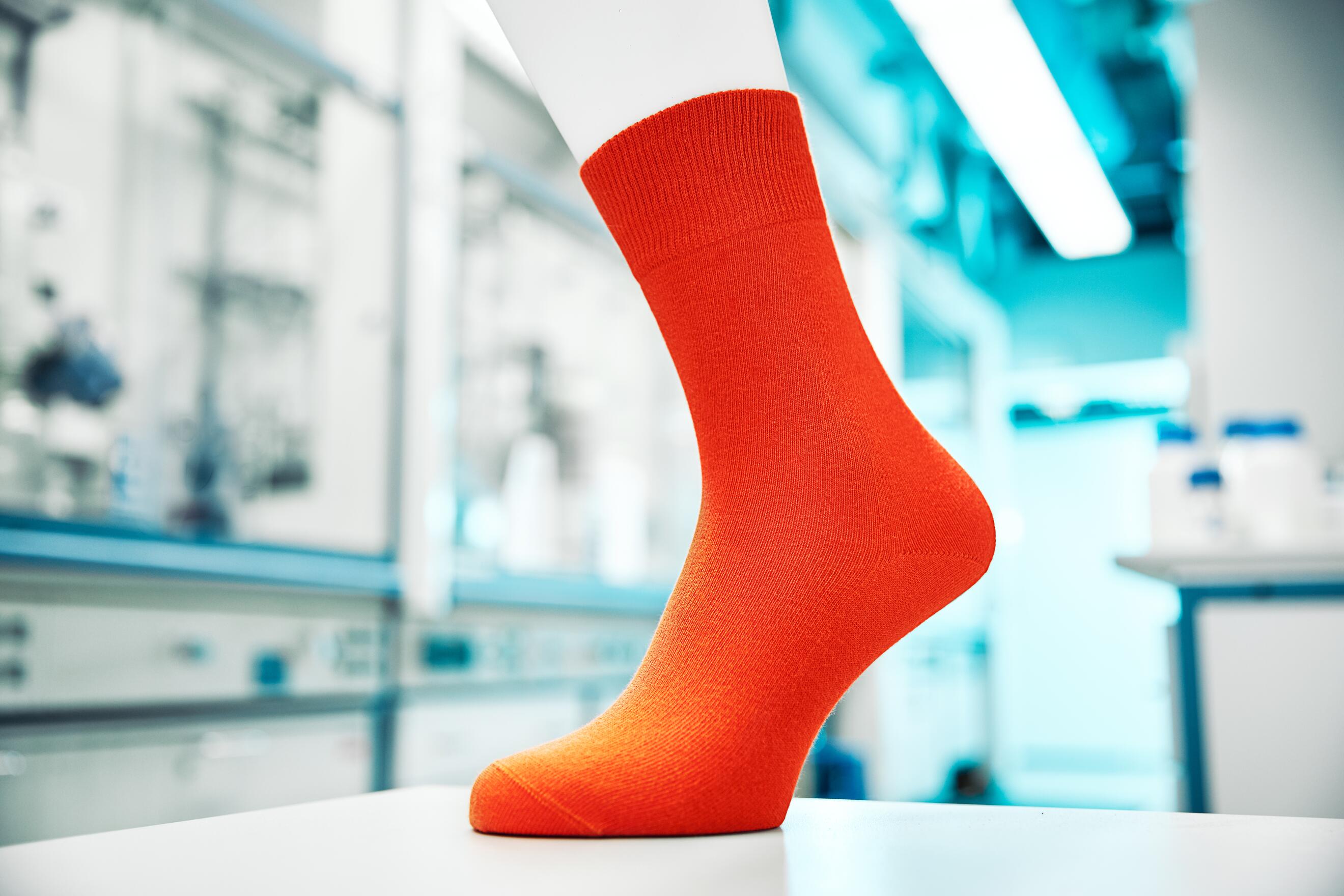 Case study
FALKE tests cardyon®-based TPU yarn to lower carbon footprint
We have been using CO₂ as an alternative raw material in polyol production since 2016, replacing up to 20% of fossil feedstock. With the German brand FALKE, we're striving to lower the impact of elastic textile yarns using our cardyon®-based TPU and a melt spinning process that requires no solvents.
Brands worldwide are trying to find ways to meet the rising consumer demand for more sustainable products.
Our groundbreaking Triturn®-technology turns carbon dioxide into added value by reusing it as a valuable raw material in polyol production. This way, up to 20% of fossil feedstock can be replaced with CO₂, yielding cardyon®, a more sustainable polyol that provides the same high quality as conventional solutions. Already used in mattress and sports floor production, cardyon® can also be included as an ingredient in thermoplastic polyurethanes (TPU). The challenge here was to spin elastic textile yarns from cardyon®-based TPU.
We collaborate with academic process researchers and textile manufacturers to develop materials and processing methods for elastic yarns that offer a lower environmental impact without compromising on quality. The German brand
FALKE
is a key partner in implementing these more sustainable solutions.
Elastic yarns are predominantly made via a dry-spinning process, which usually requires substantial quantities of solvent. The challenge we faced together was how to integrate a higher share of more sustainable raw materials, and how to produce novel elastic yarns without the use of solvents.
At FALKE we see the great sustainability potential in cardyon®-based elastic yarns, and enthusiastically support the industrialization of the melt spinning process.
Our solution is an elastic yarn made from cardyon®-based TPU.

Starting with CO₂ as an alternative raw material, which partially replaces fossil resources, we utilize a novel, efficient technologies to produce a more sustainable TPU solution. This cardyon®-based TPU already reveals attractive material properties, which predestine it to be utilized in elastic filaments.
In this case, a melt spinning process is used, which has been developed to advanced technical scale. By applying the melt spinning process the cardyon®-based TPU is molten, pressed into fine threads and then processed into a yarn of endless filaments. Unlike dry spinning, the melt spinning process doesn't require substantial quantities of solvents.

The result is an elastic yarn, which could become a more sustainable alternative to conventional elastic yarns in the near future.


It's just fascinating to see how cardyon® is proving itself. Reusing CO₂ can really open up some unexpected applications – such as helping to make textiles fit better!
Key Benefits
Circular: our cardyon® polyols are made with up to 20% CO₂, reducing fossil dependency.
Melt spinning: the melt spinning process does not require the use of solvents.
High-performance: yarns with cardyon®-based TPU can become an alternative to traditional elastic yarn.
More sustainable: using cardyon® can help underline your brand's sustainability credentials.