Case study
Premium bike parts made easy with Maezio®
The cycling world is always pushing when it comes to high performance materials. With Maezio®, a continuous fibre-reinforced thermoplastic composite material (CFRTP), Ensinger Composites Schweiz is able to produce a high-quality, lightweight carbon cranks in large quantities through automated production methods, at competitive pricing.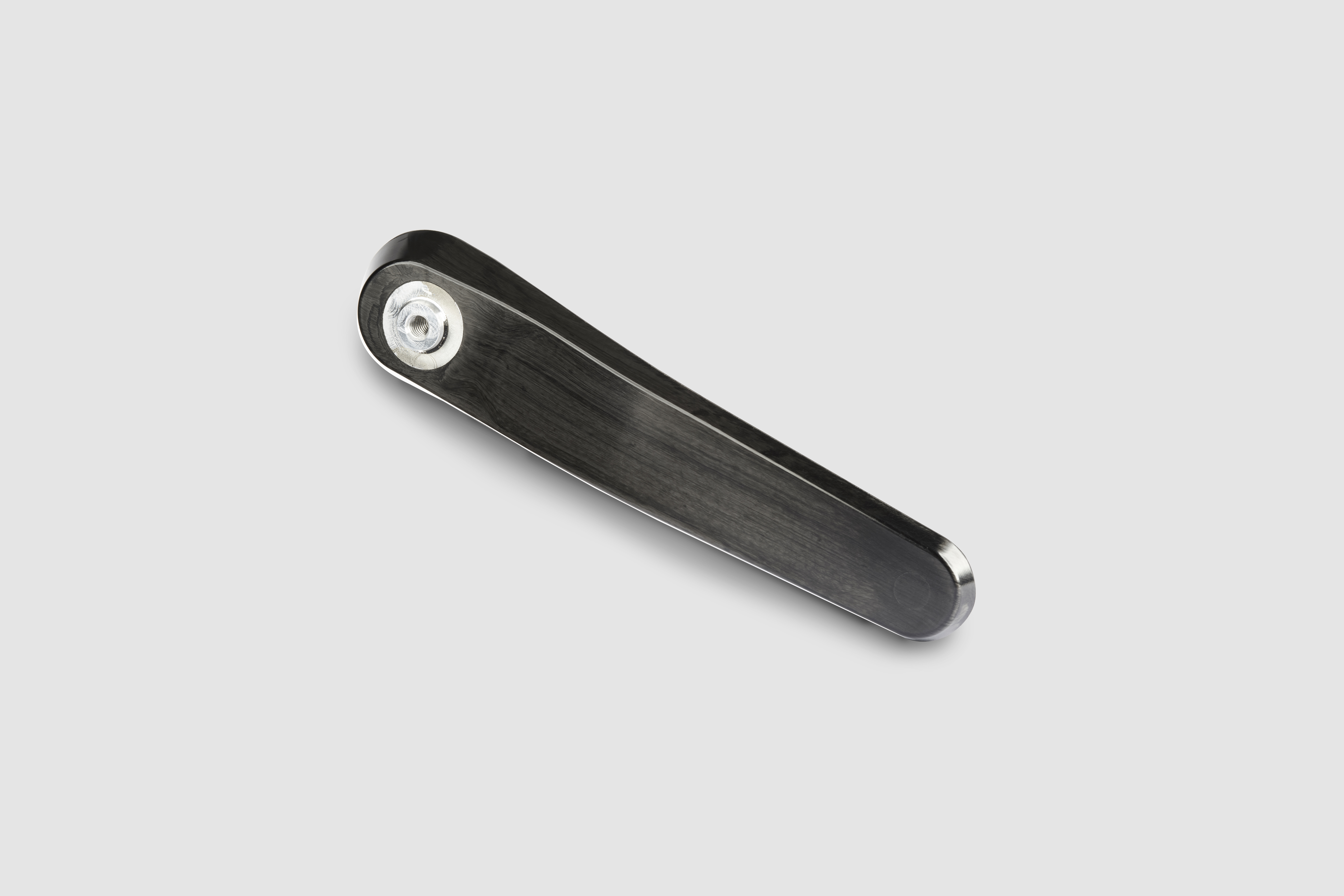 Ensinger Composites Schweiz is a manufacturer of high-performance, lightweight components for different sectors and has deep expertise in engineering of composites materials. To meet the high expectations of mountain bikers, the company needed an intrinsically durable carbon composite material for a bicycle crank lever. The solution also had to deliver high-volume output without any compromise in production quality at competitive pricing.
Ensinger Composites Schweiz faced the question of how to manufacture high volumes of lightweight carbon bicycle parts in uniformly first-rate quality, while using automated production systems to minimize cycling times and keep costs competitive. The traditional process relies on thermoset prepregs, and is labor intensive and slow. Epoxy-based structures are also brittle which can lead to part failure. The solution demanded a carbon composite material that could be molded to parts during automated production.
Polycarbonate (PC) based Maezio® tapes open up new horizons for manufacturing premium bicycle components in high volumes at a competitive price. Continuous unidirectional fibers couple low weight with high rigidity, which can be fine-tuned with cross-layering. PC matrices allow automated compression molding that uses only heat and pressure to form the part, with little shrinkage and a finely finished surface. PCs can also endure temperatures of up to 100°C and offer exceptional impact resistance.
There's a need for automated or partly automated manufacturing with constant quality and a new, more impact-resistant material. We are seeing an increasing number of manufacturers trying to get thermoplastic components developed, so the bicycle market is definitely ready for this technology.
Premium quality bicycle components made easy
Efficient production: Automated molding process means high production volumes at a competitive cost
Light and strong: Unidirectional fibers mean light weight with high rigidity, tunable via layering
Durable: PC maximizes resistance to shocks and debris, minimizes part failure
Automated production: Parts can be formed in one single automated molding process to reduce human influence
High quality: Expertly shaped and finished with automated, high-speed production